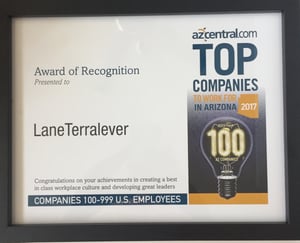 LaneTerralever is proud to announce its recognition at 2017 azcentral.com® Top Companies to Work for in Arizona. The 100 top-ranking companies in the Phoenix area were in attendance Thursday, June 29, at Fairmont Scottsdale Princess.
All participating companies completed a two-part assessment process conducted by the independent workplace research firm, Best Companies Group (BCG). Part one of the process was an Employer Questionnaire, where BCG asked about benefits, HR policies, and the fun things the employers do for their employees. Part two was the Employee Engagement and Satisfaction Survey, which measured the employee experience in eight core focus areas: Leadership and Planning; Corporate Culture and Communications; Role Satisfaction; Work Environment; Relationship with Supervisor; Training, Development and Resources; Pay and Benefits; and Overall Engagement. Using the combined data from both parts of the survey process, BCG determined the top 100 organizations that made the grade.
LaneTerralever was ranked seventh in the medium companies category. At LaneTerralever, employees have flexible working schedules and a matching 401k. The company provides a dog-friendly office with a stocked kitchen and a "speakeasy," complete with a keg.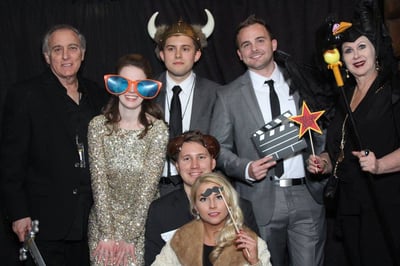 LaneTerralever also hosts company-wide happy hours and company celebrations. Employees partake in monthly relationship-building activities for employees to further their communication and teamwork in the office, plus an office Olympics to foster healthy communication.

LaneTerralever is honored to have been recognized for this prestigious award! Thank you to Fairmont Scottsdale Princess for hosting and to AZCentral for putting on such a memorable event.