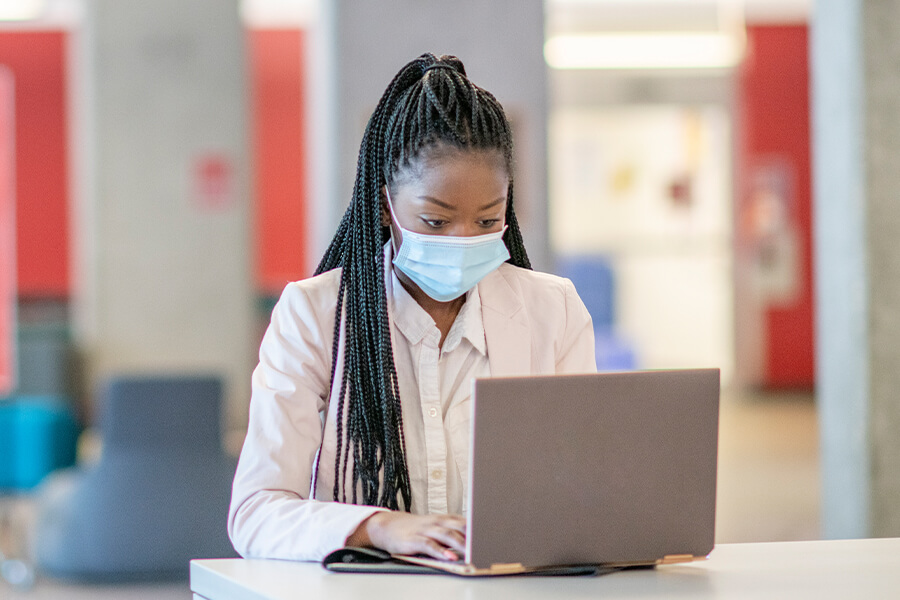 The impact of COVID-19 on higher education was immediate. Dorms emptied, classrooms moved online and everyone made the best of their spring semester. It was an imperfect transition, but it's what was required in the moment. Now that students have experienced a different approach to higher education learning, everyone is wondering if they'll return. Has the pandemic changed the way students think about attending college?
As with every question regarding huge groups of people, the answer is complicated. Some students are thriving in the online environment, removed from the standard distractions of the classroom. Some students can't find an environment in their home conducive to learning or don't have the necessary tools or infrastructure to be successful.
What we've learned is that the most important factors students are considering when it comes to whether or not they'll return to school in the pandemic are shifting.
As a higher education leader during the COVID-19 crisis, here are the five marketing and communications strategies you should consider bringing to the table.
Who Is Actually Returning to School? And Who Isn't?
The first clear trend is that not all programs and institutions are perceived as equal. The New York Times reports that universities with marquee names are experiencing different challenges than mid-size universities — those that are more vulnerable to revenue changes. Harvard, for example, can weather a lower-than-expected fundraising cycle better than a lesser-funded college. Those big schools have access to more funds required to recruit students who do plan to return to school.
However, these big schools can't rely on the robust population of international students that typically help boost their numbers (and revenue). With travel to America restricted, international students aren't returning in the same numbers. While international students certainly attend universities of all sizes, their impact will be felt most on large campuses. Smaller schools with stronger ties to their local communities have an advantage, especially in the short term, as students decide what their new path might be.
And all traditional universities are finding themselves in competition with trade and technical schools in a new way. Many students, whether they're just out of college or returning after losing their job during the pandemic, are considering trade schools and certificate programs as a new, better option.

Although it looks different, it is safe to say students are returning to school. The most important question to consider is how to focus your efforts recruiting the right student based on their motivations for your type of institution.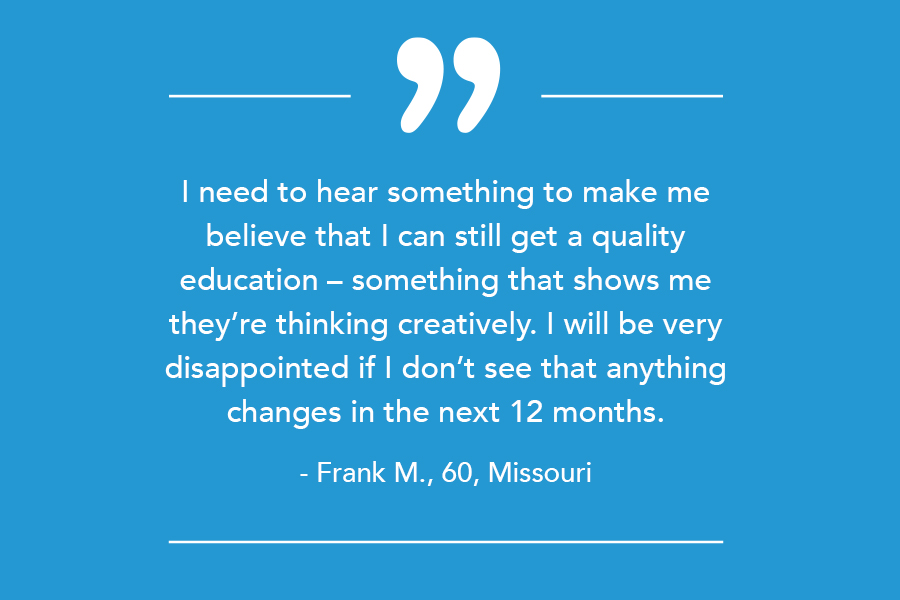 For more insight on how students are feeling about returning to school during the pandemic, download our white paper here.
How to Recruit Students Who Want to Return to School
With confirmation that some students are returning, even during the pandemic, the next obstacle to tackle is how to recruit them. More than ever, empathetic, segmented marketing efforts are necessary to ensure your university is connecting with students who have the motivations your school can deliver on. Here are a few important factors to consider as you create your marketing plan.
Rethink Your Value
Price is always a factor in any decision, and it's even more important as people consider the financial implications of the pandemic and what an education can do for them post-pandemic. While the quality of the information provided in the courses hasn't changed since before the pandemic hit, the experience is entirely different. The added benefits of on-campus learning, including access to professors, optimized learning environments and networking opportunities inherent with the price for students right now.
This is an opportunity for you to rethink how you articulate your value and to whom. Talk to your current students — especially those whose first year was interrupted by the pandemic — about their changes in perception. Get specific about the aspects of education students get from your institution and what they value now versus pre-pandemic.

These changes don't have to be a permanent change in your value proposition. However, it's critical to articulate these updates to prospective students who are focused on cost-benefit analysis in a very different way.
Broaden Recruitment
The research shows that more students are considering a gap year during the pandemic. Students who graduated during the pandemic are particularly interested in taking a gap year before returning to school. They're more inclined to consider all their options, including not returning to school.

This means you'll need to refocus your recruitment efforts to different kinds of students. Consider the people who've experienced unemployment during the pandemic; they're rethinking their plan forward, including returning to school to change industries.

While these marketing efforts will be more complicated, if you're strategic about your segmentation and targeting, this can be a very fruitful avenue to attract those who are motivated to return to school.
Stay Connected to Students Who Don't Want to Come Back
Some students won't want to return to in-person school until the pandemic is over, or until they feel safe. That window is unique for each individual at this point. If you want to maintain relationships with students while they explore other options, here are a few winning strategies.
Be Proactive
As people create their own timelines for their life, their cycle of research, deliberation and decision making will change. In order to maintain relationships with potential students, your team must be proactive about your campaigns, both broad and specific.

To be included on a list of potential schools during and after the pandemic, you need to champion the new ways you're bringing value to students. Build campaigns around your responses to the pandemic, your long-term plans and your short-term results. Those will be just as important as the specific information about cost, programs and access for each individual.
Broaden What's Possible
Above all else, higher education expands what the future looks like for each student. While the pandemic closed many opportunities for students, it also opened possibilities for non-traditional paths. With creative marketing campaigns and empathetic engagement, you can bring those new possibilities to life for students at your school.

As you consider what your marketing campaign looks like for students who may not be ready to return to school during the pandemic, focus on what else you can bring. What other ways can you connect individuals with resources or communities they're looking for? What programs can you offer without requiring full-time enrollment? How can you just be a valuable resource for them as they're exploring their options so when decision time comes, they'll think positively of their last interaction with you? Helping students think differently about their path forward out of the pandemic will improve your chances of them returning to your campus once everything is settled again.
Higher Education Marketing and Enrollment Strategies
LaneTerralever is an agency that specializes in developing higher education marketing strategies for clients, including Rio Salado College, Southern California University of Health Sciences, Universal Technical Institute, Northcentral University, and Touro University Worldwide. We often conduct primary research to understand the needs of our client's customers so we can make the most informed marketing strategies possible.
Learn More from the Pandemic's Impact on Higher Education Marketing
To get more ideas about what students are thinking and feeling as they plan for their return to school during the pandemic, download our white paper. Get a complete overview of how the pandemic affects students' decision making process, plus how to position yourself in the best way possible to bring more interest and students to your campus. Download it for free here.