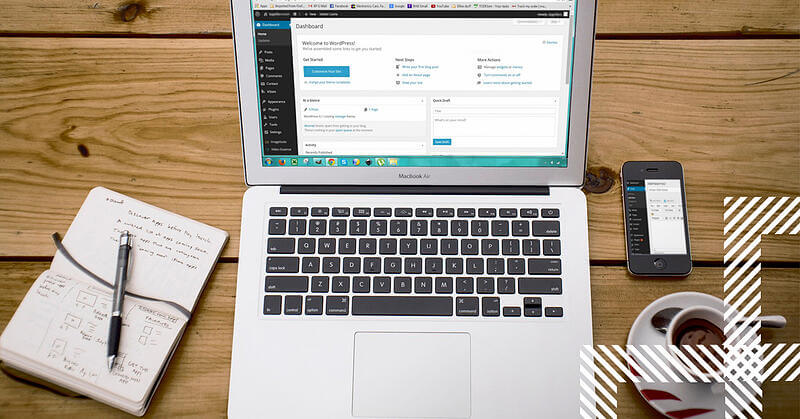 I hate to admit it, but the idea of blogging is starting to sound antiquated. We live in an age of livestreaming, vlogging and scrolling at the speed of light. And blogging? Well, blogging has been around for quite some time.
But as many things change in the world of content marketing, the importance of a blog (properly leveraged, of course) remains. It's a cornerstone of communication between brands and their audience. It's an arena where ideas and concepts are further explored in a digestible manner that brings value and trust to a reader. So set aside the connotation of a blogger as some hipster sipping coffee while slaying self-righteous soliloquies via keyboard for an audience of none, and imagine instead an area of your site that wins over new audiences, plays to the tune of search engines, and yes, may even lead to sales and conversions.
Enter the blog through my eyes. Enter the blog as a content marketing must. I'm prepared to give you a peek behind the veil with some basic tips and tricks for how (and why) your brand should still leverage this digital property.
Company blog guidelines to consider
From 1,000 feet up, your blog needs to know its space. It should be a natural extension of the content already established on your site. Don't try to play into every trending topic that sweeps the web, but certainly engage in dialogue that impacts the happenings of your niche.
Blog voice, tone and delivery
All content, be it:
Stories

Whitepapers

Premium infographics

Rich media and so, on
...ought to be communicated in a manner that is consistent with the voice and tone present on your site and its subsequent channels. If you're scholarly and buttoned up, wonderful. Keep at it. If you're conversational and lighthearted, great. Keep at it. Your blog content may be the first door into your brand for some audiences, so it's very important they get a cohesive experience throughout.
Ensure that all writers and content creators adhere to clear brand standards and blogging norms established for your brand. This goes for things like grammar, sentence length/structure preference, reading level, imagery and beyond. These all ladder up to a consistent portrayal of your brand and the way it engages new customers. Make sure that writers and content curators are in lockstep with your brand vision, its values and any taboos, every step of the way.
Content planning and cadence
Whether you're positioning your blog as a space for thought leadership, SEO opportunities, behind-the-scenes visibility into upcoming products and offerings, or beyond, one thing is absolutely certain: People love consistent publishing practices almost as much as they love Google.
Content marketers have seen it a million times over. A blog is a brand priority for three months and then it's on the back burner. Posts are going up twice a week, then there's a dry spell for nine months. The message is clear: many brands struggle to deploy and maintain routine posting plans on their blogs. Planning, creating and scheduling content on the web usually requires a fairly dynamic team. If internal marketing efforts are sidelined or employees span multiple workflows, a blog is underserved.
This is why marketing professionals rely on content calendars (aka editorial calendars, content schedules, etc.) to clearly document timelines, necessary resources and an overarching plan of attack to unify teams and ensure the blog machine stays its course. Every audience will consume said content differently, so keep tabs within Google Analytics and your supporting syndication channels (say, Facebook, LinkedIn, Twitter, Pinterest and industry sites) to establish optimal posting times, then stick to them! You'll not only condition audiences to crave your content throughout the week, but slowly snuggle up to Google and Bing as a reputable publisher, which can increase your position and visibility in Search Engine Result Pages (SERPS).
Blog optimizations and formatting
We could hang on this subject all day, but the fact of the matter is that formatting and constant grooming of content (optimizations) is of the utmost importance. In short, things like:
Categorizing content

Using proper title tags

Compressing images for web

Adding alt text to media

Updating meta and URLs

Monitoring broken links and a strategic internal linking structure

Breaking up chunky text with bullets, tables and more
… empower web users on desktop and mobile devices to better find, consume and retain your information. In all fairness, much of this work typically goes on behind the scenes and is only sexy to a seasoned content marketing nerd, but the benefits are priceless, translating into:
Lower bounce rates

Increased organic traffic

Repeat visits

Lower page load times

Lift in search

Likelihood of social shares

And more
Like I said, I could go on and on about all the little things that lead up to a healthy big picture for your brand, but I'll save the shop talk for brainstorms and working sessions with peers.
I'm assuming by now you're asking the right question: That all sounds great (and like a lot of work), so why should my brand be blogging?
The benefits of a blog for brands
We touched on it a bit earlier, but your blog is your corner. It's where your brand steps off the podium to convene with and engage the wants, needs and questions of your consumers and prospect consumers. The blog is a place to join the dialogue and drive interest for your offerings, products and beyond.
And (I feel like a marketer when I say this, but I mean it wholeheartedly) that's not all.
Increase organic traffic
SEO-informed content planning and keyword analysis allow your brand to capitalize on how and what prospect customers are looking for. You can be their answer and drive them further down your conversion funnel.
Build and manage a community
Grow and nurture an authentic following that can advocate your brand in their own circles. Moz just shared a post about this on its company blog. Read more here.
Hype up seasonal or timely offerings
Drive immediate awareness around limited offerings, events and more without having to coordinate an elaborate PR program.
Humanize your brand and its teams
Include company spotlights, missions and members as a means of furthering loyalty with your readers and enticing new hires.
Support your sales team and marketing tours
Leverage content, whitepapers and more when engaging in new business or client dialogues. Bolster your understanding of audience behaviors, demographics and interests to add insight to conferences, panels or other thought leadership initiatives.
Relieve friction points and address FAQs
Show that you not only listen to, but hear the needs of your audience by creating resourceful content that accurately answers common questions or misconceptions. Use this content as a digital "concierge" of sorts to direct web users to the proper portion of your site or team.
Repurpose content for email, social channels
An emphasis on routine blog content is an investment in marketing material for subsequent channels such as company newsletters, reshares, etc. Don't embrace the "one and done" mentality when your content could continue to engage qualified audiences in new spaces.
Mobilize influencers for content amplification and brand exposure
Strategic syndication and content partnerships can exponentiate the reach of your brand and expose your company to fresh eyes in niche industries. Contract social influencers and content creators to advocate on behalf of, or share content for your brand.
No matter what your marketing goals, I'd argue a blog has to be in the picture. The beauty is that it'll take shape and manifest itself in a way entirely your own. Whether you've got technical questions, just want to have a dialogue about what's possible, or you're in the market for an agency that make it all happen for you, we at LT would be happy to meet.
It's been nice chatting, but I've got some blogs to load ;)
Talk soon,
Tyler