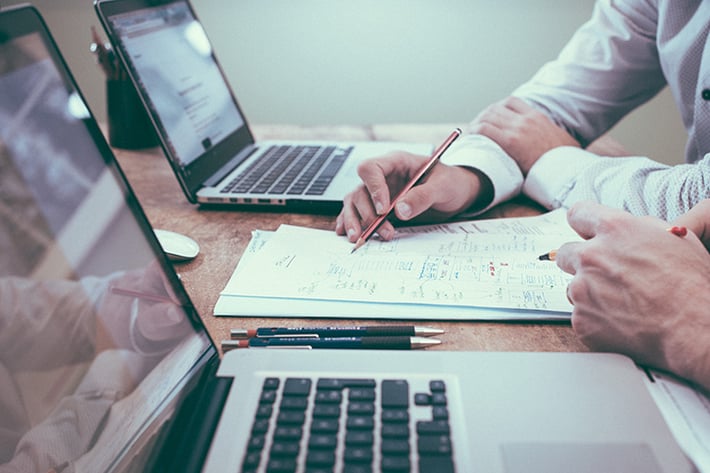 COVID-19 Will Challenge Financial Services But Opportunities Do Exist
COVID-19 has presented brand new challenges for banks, credit unions, advisors, and a number of different types of financial professionals. There is no playbook for marketing in a global pandemic. With consumers as concerned about their financial stability as they are about dangers to their own health, marketing teams at financial institutions must make careful decisions about how to communicate in the short-term.
Credit unions, banks, brokerages, individual managers and other finance companies have been forced to change their operations, accelerate the adoption of digital products and services, and respond to an environment that is changing by the hour. Brands that respond appropriately to this challenge will come out stronger than before. But first, they must get reactive communications right and fulfill their customers' immediate needs. Getting these first few steps right is key to maintaining your customer base and, for some, even growing during these times of uncertainty.
Don't Overlook The Consumer's Mindset
The current landscape has dramatically changed consumers' mindsets, needs, and steps that they will take in a customer journey. Because of the urgency with which people are reacting, these changes seem more pronounced in financial services than other industries. A recent study from Resonate illustrates that financial concerns outweigh health concerns for consumers right now.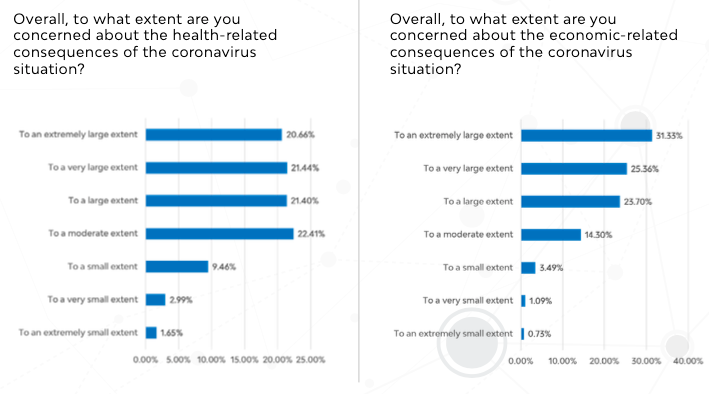 While this consumer fear is a daunting challenge in itself, the financial sector also faces a general lack of trust. In fact, in the 2019 Edelman Trust Barometer, financial services remained the least trusted industry; behind industries including technology, automotive, telecommunications, and energy, among others.
There is, however, opportunity. Most consumers are looking for guidance. Some are looking to make changes to their portfolios, banks, loans, or advisors. Most of all, they seek credible information and trustworthy help.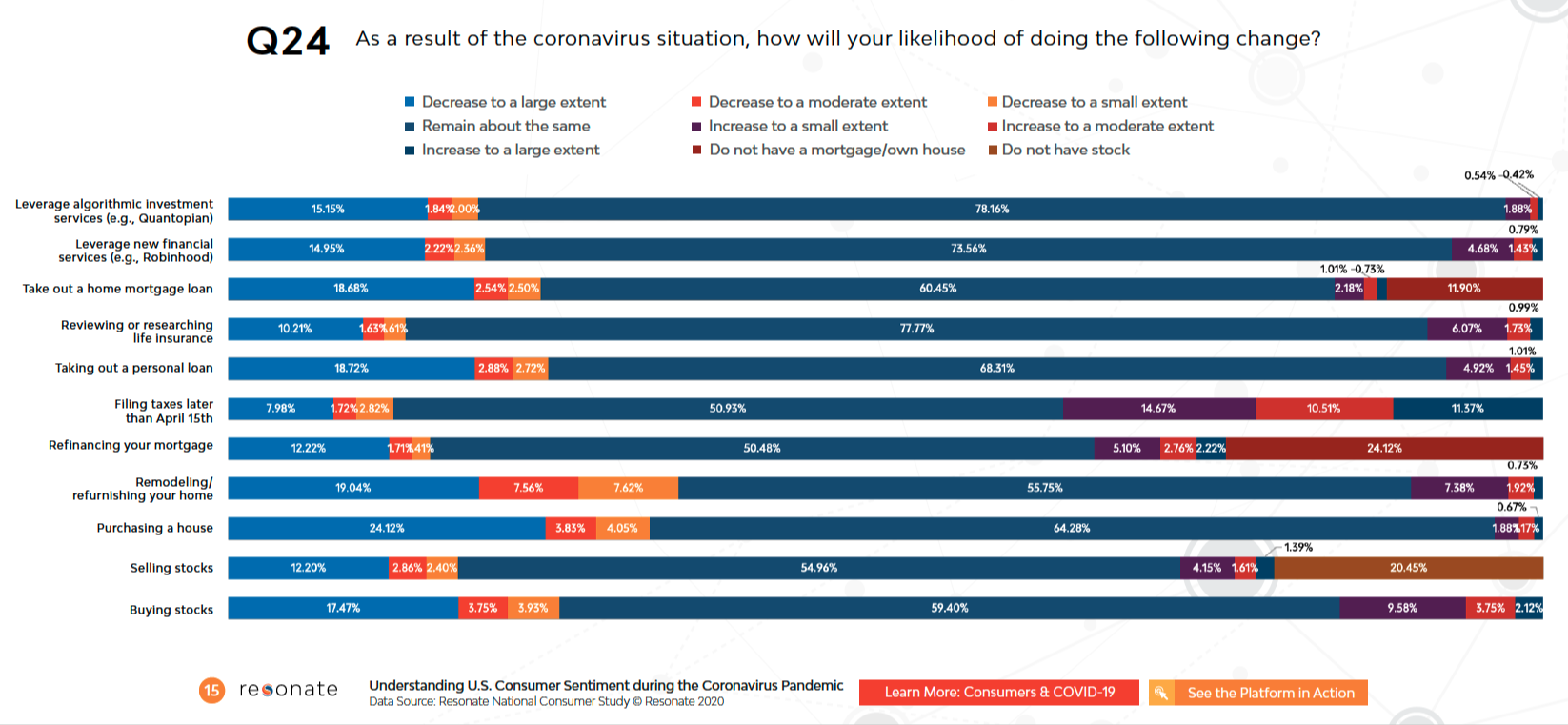 With this amount of fear, distrust, and uncertainty residing in the consumer psyche, the best approach for marketing communications is to focus on being genuinely helpful to your customers and potential customers. Being there to support and guide them in this time of need is the best possible brand statement that you can make.
Strategies For Responding In The Short-Term
Finance companies of all types are also facing a much more rapid shift to mobile banking, online payments, peer-to-peer commerce, new lending products, and other innovations that had a longer-term roadmap for adoption. At this point, you have likely made your clients or customers aware of any adjusted hours, branch closures, or customer service changes. It's easy to focus on talking about what your organization is doing in these times, but don't forget to address the things that your customers are most scared of during this time as well.
1. Focus On The Value You Create For Customers
As you continue to release messaging related to the current pandemic, it is key to keep the right tone, be sincere, and focus on what the customer needs. Similarly, messaging about philanthropic efforts won't be the silver bullet that earns you points with your clients and prospects.
"Although consumers certainly care about the "softer side" of your business, don't overplay it. Ultimately customers will care most about the value you create for them. Also, expressing too much empathy could come across as insincere and blend into the soundscape of other companies saying the same things." — Ted Waldron and James Wetherbe
You have likely assured people that your firm values the health and safety of your customers and employees as your number one priority. While these messages are necessary, they are table stakes, as everyone is saying similar things. Logistical updates aren't likely to carry your brand through the rest of this crisis, nor solve the fear that most of your customers are grappling with. Yes, you should get these communications out to your customers. However, you should not expect them to solve the real underlying fear.
2. Be There For Your Customers
Providing as much helpful information as you can to make life easier for your current or prospective clients will pay dividends in both the short and long-term.
Most financial institutions have already responded with special messaging, directing people to assistance programs and various customer service options. These actions are most effective when carried out concisely and messaged across multiple channels.

America First Credit Union's concise and helpful page dedicated to providing COVID-19 information to customers.
Some companies are using these communications as a means of offering new products. While many traditional sales or outreach methods are likely paused for your institution, including products that are highly relevant during this crisis can lead to new business. A great example of this is Riverfront Credit Union in Pennsylvania.
Not only did they offer loan payment extensions, reduced fees, and other more common assistance, but they are marketing other helpful and timely products alongside their messaging to current customers. This includes specialized lines of credit for businesses, a 90-day delay on payments for refinanced auto loans, and $100 given away each week to a random member, without requiring entry.
This method of marketing products alongside your customer service messaging can work when the products align with what customers and prospects are looking for and do not come off as too self-serving for the financial institution.
A great rule of thumb for messaging during this crisis can be adapted from Gartner's Augie Ray, who recommends only messaging your customers if you can say "yes" to all four of these questions:
Am I telling customers something different from other brands versus saying the same thing as everyone else?
Am I telling customers something they don't already expect of my company or brand?
Is the WIIFM (what's in it for me) conspicuous in the subject line and opening paragraph?
And, most importantly, is the WIIFM attuned to your customers' needs right now?
3. Only Make Promises You Can Keep
Right now, financial institutions, managers, and advisors are likely overwhelmed with the flood of incoming requests for information. With requests ranging from help applying for assistance to more general customer service inquiries, it is tempting to use marketing channels as a method of redirecting this onslaught. However, you should only begin this approach if you are currently set up to fulfill the promise that you make to help your customers. Use the right channel for whatever type of communication you are offering your customers.
A good (bad) example of this comes from Chase, who we know is overwhelmed with customer service inquiries right now. They reached out to their customers on social media to gather their "most pressing questions."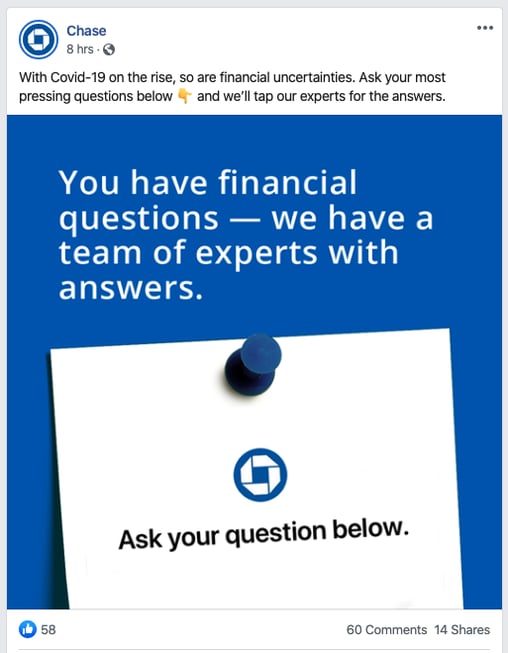 Here, we see a great example of delivering a genuinely helpful message that they are there for their customers in a time of need. The problem is, this message was delivered on Facebook, a platform where users expect near real-time feedback. This led to the opposite effect of what Chase was trying to do, leaving customers waiting for answers and checking back repeatedly, receiving no help from their bank.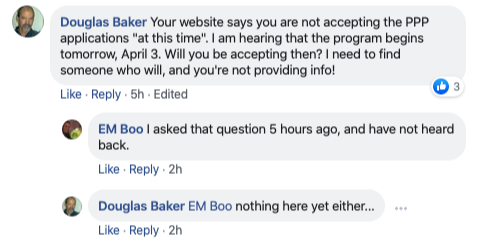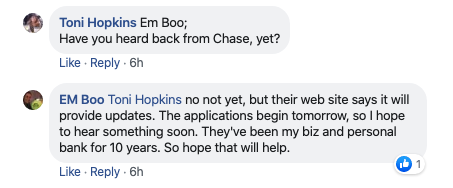 Chase most likely posted this with the intent of gathering questions, having experts answer them, then publishing that on social media or across other channels. But wouldn't they have been better off gathering these questions via email or a form on their website where an immediate response wasn't the expectation?
Remember that being helpful to your customers is more than a one-time activity, so before publishing any messaging offering assistance, ensure that you can deliver and exceed their expectations. Living up to the promises that you are making as a brand is the most important statement that you can make right now.
4. The Playbook For Financial Marketers
Focusing solely on short-term communications that can win you points with your customer base, it is important to approach the next few weeks with a few key actions. Brainstorm with your teams on how your services and people can help customers address their fears. Determine how to remove emotional and practical barriers that prevent your customers from getting the help that you can offer them. For example, offering 1:1 appointments by phone or video chat or personalizing an FAQ page and sending it to individual customers.
The basic steps break down into the following:
Tell your clients that you can solve their biggest concerns.

Identify how your services can do that in the short-term and medium-term.

Tell your clients how they can get those services without risk to themselves or their families.

Determine which channels you can use to get this information to customers in a way that is most convenient for them. Be sure only to employ tactics that you can consistently deliver on.
There will undoubtedly be new strategies that you employ as the COVID-19 crisis progresses. For now, continuing to provide transparent, helpful updates as new information and new customer needs arise will cement your brand as a reliable partner to your customers. Retooling your customer personas, journey maps, overall marketing plans, and product launch schedules will likely follow. But first, get the right message out there in the short-term so you can gain customer trust and loyalty instead of seeing it diminish during this crisis.
Strategies for Financial Services Marketing
LaneTerralever is a marketing agency focused on creating meaningful customer experiences based on deep strategic insights. We develop growth marketing, branding, and digital innovation strategies for a variety of institutions, including regional banks, mortgage lenders, and payment providers. We're proud to have called OneAZ Credit Union, Heartland Payment Systems, and TSYS our client partners.