The pandemic has done more than create a new normal for everyone; it's reforming the future in big and small ways. With job security threatened and plenty of time to consider other options, individuals from all demographics are thinking about continued education in new ways. For some, there has never been a better time to earn a new degree or certificate. Others, who may have seen higher education as the next obvious step, need more convincing now.
Colleges and universities have a unique blend of challenges and opportunities to consider if they want to successfully recruit students during the pandemic. The recruitment plans and marketing campaigns that your school planned will require a critical audit to account for the new normal each student is experiencing.
To get you started, we've identified 6 marketing strategies to attract new students to your school. These approaches will help you identify gaps in your current marketing and build a foundation of successful recruitment in the future.
Optimism Is Important
Despite the devastation of the pandemic, most of today's traditional students remain optimistic about their future. According to our research, only 36% of students are less likely to pursue higher education than they were prior to the COVID-19 outbreak. That means that a large majority of traditional students still want to attend college or university.
The majority of traditional students also believe that colleges and universities reacted extremely effectively to the new safety guidelines during the pandemic. Overall, the prospective traditional students of today express positivity about their future, and your marketing should reflect that optimism.
That's not to say that your marketing campaigns should be unrealistic. Most of today's traditional students are part of Gen Z, the generation that wants to be aware of all the facts. But many are passionate about getting involved in change and starting as soon as possible. That optimism and opportunity should be included in all marketing strategies for traditional students. Not only will it speak to their internal motivations, it will prove that you're listening to what they think and want them to be included in the future of your institution.
Download our white paper for more insights about today's prospective students' barriers and shifts in mindset.
Leverage Diverse Paths Forward
One thing that traditional students aren't confident about during the pandemic is finding a job. In our research, only 20% have reported being extremely confident about securing a job. It makes sense because the long-term effects of the pandemic are unknown at this point.

Schools have the unique opportunity to present traditional students with a more hopeful outlook for their job prospects post-pandemic. Use your marketing materials and communications to discuss the different degrees, certificates, and career development programs available at your school, so that traditional students feel excited about what's possible. Speak directly about the variety of courses offered and provide specifics on the professors they can meet to find the best career path for their skills and interests. Rather than marketing the general college experience, which is sure to be different during the pandemic and beyond, lead with details on opportunities available to anyone who is interested.

The more clear your school can position itself in terms of career preparedness, the more you will be able to motivate traditional students to enroll.
Speak to Value of Now
One trend that higher education institutions must overcome to attract students during a pandemic is the number of traditional students considering a gap year. Between the socially distant campus experience and the unknown job market, some traditional students may not see the immediate value of higher education. They are considering delaying enrollment for a year or two until the effects of the pandemic are better understood and they can get a more traditional college experience.

In order to attract traditional students right now, your marketing materials should speak to the value of getting a head start. Talk about the value of preparing now for post-pandemic success. Schools that offer a direct connection from graduation to career are in a great position to attract the traditional students who are worried about jumping right into higher education. Trade schools or universities with certificate programs should leverage their position in the market and relationships with potential employers as an advantage in speaking directly to the traditional students who are considering a gap year. If you can make them excited about the possibilities and efficiency your school provides, you'll have no problem recruiting students during the pandemic.
How to Attract Non-Traditional Students During a Pandemic
Non-traditional students have a different perspective on higher education. The factors they consider when making decisions about continued education are different than traditional students. Therefore, your efforts and messages to attract non-traditional students to your school during a pandemic should be different. Here are a few strategies we recommend based on what we've learned about non-traditional students during the pandemic.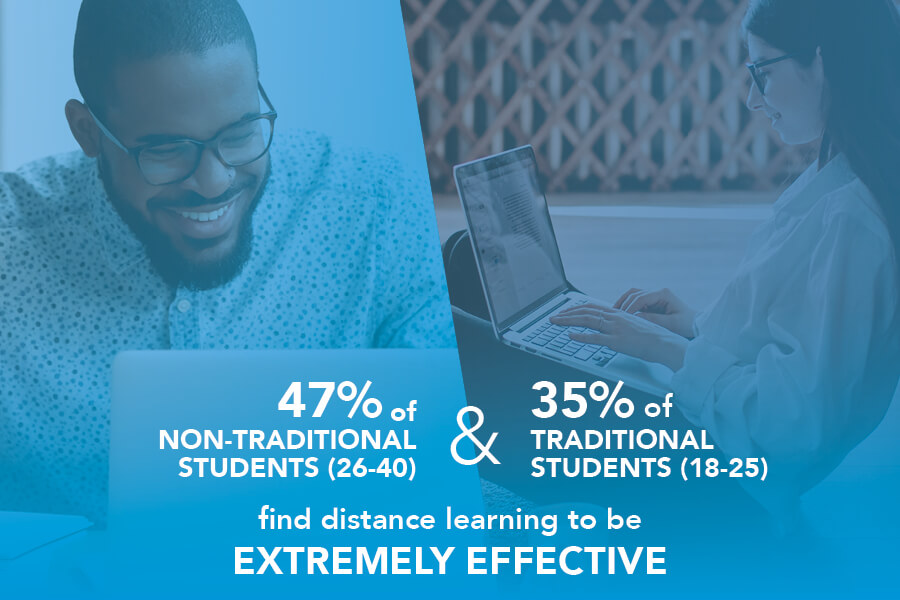 Highlight the Possibility of Distance Learning
Compared to traditional students, non-traditional students have a higher opinion of distance learning and its effectiveness. Almost half of non-traditional students believe that distance learning is extremely effective. Remember, non-traditional students are usually those who have full-time jobs or families. They often prefer online or distance learning because it is easier to fit into their current lifestyle.
When planning how you'll recruit non-traditional students to your school during the pandemic, highlight your online learning success. Talk about the changes you've made to address the social distance mandates, the online learning opportunities you'll keep and the new ways you'll provide for students. While these will not be the most compelling messages for traditional students, it will be an added value for some non-traditional students.
Be Specific In Your Value
Some non-traditional students with full-time jobs or family responsibilities may feel more nervous about making big changes during the pandemic. With an unpredictable job market, people often take fewer risks, including assuming the debt of higher education, without the promise of a better job prospect.
Higher education institutions can't just speak to their value in general terms if they want to attract non-traditional students during the pandemic. Your value propositions must be specific and segmented for each kind of non-traditional student interested in your school. Many of them are confident in their ability to secure a job, especially compared to traditional students, because they've been working for some time now. Your college, university or trade school will only add value. Ensure that your marketing speaks to the added value and lower risk of attending your school in order to get more non-traditional students to consider enrollment.
Use Financial Aid Opportunities
Before the pandemic, non-traditional students were less likely to consider financial aid for their continued education. They had access to the resources necessary to pay for their education in a way that many traditional students did not. Since the pandemic, that is starting to shift. Based on our research, about 45% of non-traditional students are now considering financial aid available to them.
Use your marketing and communications material to highlight the different financial aid options you provide. Speak to the various timelines and financial support options available to lower the risk of enrolling in continued education. When non-traditional students feel safe about the risks involved in continued education during the pandemic, they will be more likely to enroll in your programs.
Higher Education Marketing and Enrollment Strategies
LaneTerralever is an agency that specializes in developing higher education marketing strategies for clients, including Rio Salado College, Southern California University of Health Sciences, Universal Technical Institute, Northcentral University, and Touro University Worldwide. We often conduct primary research to understand the needs of our client's customers so we can make the most informed marketing strategies possible.
Attract More Students Using LaneTerralever Research
To learn more about what information traditional and non-traditional students use to make the decisions about continued education, check out our newest white paper. We'll give you the results to our survey, plus provide more information on marketing to all kinds of students during the pandemic. Get the white paper for free by filling out the form.