The struggle to create purposeful, quality content is real.
If the task doesn't intimidate you, you're probably not estimating it correctly.
Before putting any pen to paper (or fingers to keyboard) you must consider what users actually want to read, where they are in their experience, what they need in that moment and what next steps you want them to take, then weigh all that with what content must achieve for your business.
It's a time and budget-consuming process.
However, if you don't go through these measures before you write or design a web experience, you'll end up creating content that no one wants to consume, that doesn't help achieve your goals or, worst case scenario, creates detractors for your brand or business. It would almost be better if you never created anything at all...
So, how do you take on the task of creating quality web content without blowing your budget (or losing your sanity)?
Enter the core content model: an easy-to-use template that houses the communication design of content.
It breaks down each page or piece of content into these key elements:
Business goals:

What are the goals or initiatives this content must help support?

User needs:

What did a user come to this page or content to do? What information do they need most at this point? What are their top questions we must answer?

Inward paths:

Where is a user coming from in their experience?

Forward paths:

What is the next step we want a user to take?

Core content:

What are the key messages that must be conveyed through content, and what visual form should they take?
Your Core Content Model Template
Here's an example of a core content model template: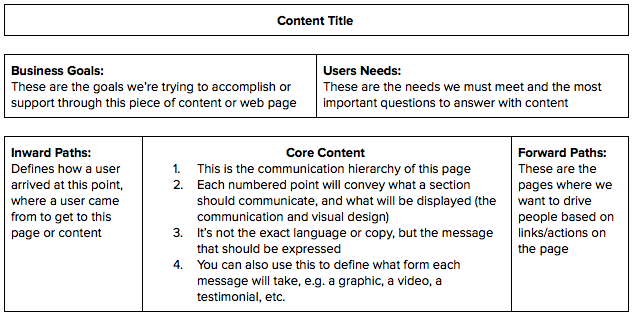 You can use this model to create any piece of content, whether it's for a web page, a blog post or even print materials.
Here's an example of a template filled out for the homepage of a fictional bakery's website: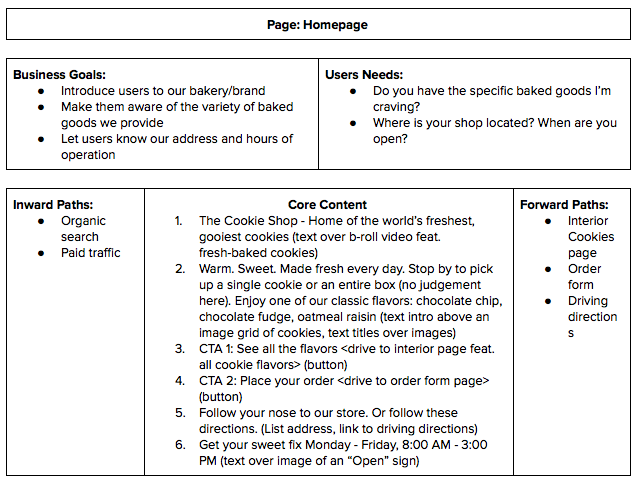 Creating a core content model requires some upfront work -- you've got to know or establish business goals, have some insight into your audience (their needs and questions) and understand the way users are currently navigating your site.
However, once you have this info, the core content model becomes a powerful tool to inform the communication and visual design of your web content.
The Benefits of Creating a Core Content Model
For Copywriters… They provide a helpful, streamlined template. A core content model can be easily translated into a copy template that provides a copywriter everything they need to do their job faster and easier.
For User Experience Designers and Creatives… They help UX and creative designers know what experience to create. Core content models not only define the written communication, they also can be used to shape the look of the site. As you start to build the communication hierarchy, you can determine the UI elements, images, video content and any other visual elements that will house each message.
For all content creators… They define the business purpose for any content created. Whoever is writing copy or designing the visual content will know exactly what business goal their work must support.
For your audience… They help create user-first communication. Taking the time to consider your users' questions or needs at the point helps you create empathetic communication. Empathetic messaging helps your audience connect increases the likelihood that they'll engage.
Conclusion
Core content models are powerful tools that help you establish the right foundation for setting up your team of content creators to produce purposeful, user-first communication that gets results.