Don't Nip or Tuck the Patient Experience
You know and understand the current beauty standards AND what your clients seek. What you might not know is what they require from you before they even step foot into your office!
A Multi-Billion Dollar Industry (Even During a Pandemic)
Despite elective medical limitations imposed by the COVID-19 pandemic, Americans spent $9 billion on elective cosmetic treatments and plastic surgery in 2020. According to the Aesthetic Society's 2020 Statistics Report, procedures ranged from invasive liposuction treatments to noninvasive dermal filler appointments.
While $9 billion is a large share of the elective healthcare industry, in 2018, the number was much larger at $16.5 billion for the entire year, according to the American Society of Plastic Surgeons.
In our latest patient insights report, based on a 617-participant survey, we uncovered a large gap between providers and patients in all categories of the elective healthcare industry. This gap was found in the communication between both parties and the patients' experience—what they wished to experience versus their reality.
As a multi-billion dollar industry, providers in the elective cosmetic and plastic surgery space have huge opportunities to grow and improve how they approach the patient experience, bridging the gap in communication.

Twenty-seven percent (27%) of survey respondents considered an elective cosmetic or plastic procedure, yet they faced a number of deterrents that kept them from getting out of the consideration phase with cost being a major reason. If providers can understand and empathize with these patient pain points, then they might be able to appeal to more potential patients and give them all the ultimate experience.
Sell the Lifestyle, Not the Procedure
When marketing to those considering elective cosmetic treatments or plastic surgery, keep in mind that patients are coming to you because there is a high chance they wish to enhance or alter their appearance. These kinds of procedures are typically optional with some exceptions in the case of medical reconstruction or development issues, such as deviated septums or cleft lips.
To give patients the best experience to the endpoint, providers should focus on what kind of future the patient will have after their procedure. While patients want to be confident in their selected provider's skills and qualifications, they also want to get through the ordeal and feel great about themselves.
According to one study on factors that motivate plastic surgery, lower ratings of self-esteem and life satisfaction were all significant predictors of the likelihood of undergoing cosmetic surgery.
When talking to potential patients who are in your office, expressing genuine understanding and empathy of their situation instead of simply boasting professional achievements might be the way to secure the lead.
From before and after photos on your website, connecting prospective patients with established patients who have undergone a similar treatment, going over post-op care, to following up the week after, make it clear you are with the patient every step of the journey and will help them achieve their dream of higher self-esteem and greater life satisfaction.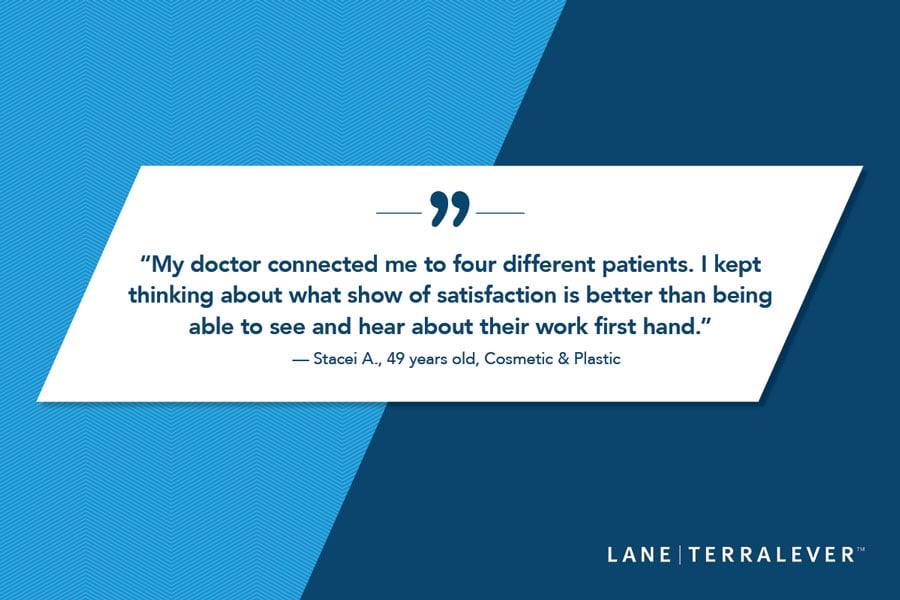 Cost is a Big Deterrent, Prove It's Worth It
Regardless of the healthcare industry, many surgeries and treatments are considered cosmetic and not medically necessary and, consequently, not covered by insurance. This means many cosmetic or plastic surgery patients are responsible for the bill on their own. Therefore, it is no surprise that 72% of respondents indicated that cost was the primary reason for not moving forward with their cosmetic or plastic procedure with 54% paying for their treatment out of pocket.
Since some of your patients are already hesitant to spend out of pocket to have you work on them, ensure the entire experience feels worth it from their first time on your website to their recovery.
Only 30% of cosmetic or plastic surgery providers are proactively following up with their patients after the treatment. For those paying out of pocket, this lack of post-op care could cause the patient to feel a bit short-changed when reflecting back on the experience.
Are you part of the 30%?
If not, this is an opportunity for you to grow and enhance your digital presence to accommodate patients needing a bit of post-op TLC.
Beyond before and after photos, use your website to tell your story before they ever step foot in your office. Provide detailed procedure breakdowns, post-op care, detailed timelines for each treatment, blogs, patient testimonials, and payment options. All of these examples should point to both the lifestyle benefits of the procedure and the deeper value beyond the out-of-pocket costs.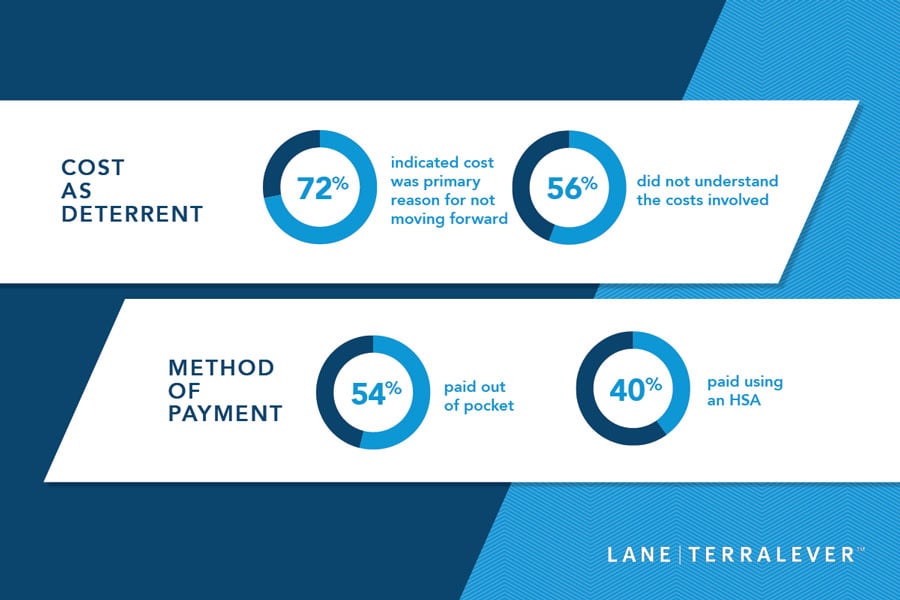 Treat Patients Like People, Not Like Numbers
From a cosmetic provider's perspective, we understand the motivation to sell procedures and make money for your office. That is, after all, how you keep the lights on and continue providing for your patients. But, from the patient's perspective, they do not want to feel like they are simply being sold a procedure that they don't actually need.
Sixty-six percent (66%) of respondents who had received a cosmetic or plastic procedure did not notice significant improvement post-surgery/treatment. And considering that 67% of cosmetic treatment patients shared about their experience through word of mouth and 51% turned to social media, providers should definitely feel pressure to provide a high-quality patient experience that ends with a satisfied patient and raving reviews.
If a bad review does materialize, use it as an opportunity to improve your reputation management beyond a reply. Take the time to personally connect with that disgruntled customer and make it right for them. Then when they go tell their friends and family about how well you fixed their problem, you just opened up another door to new patients, including a potential return client.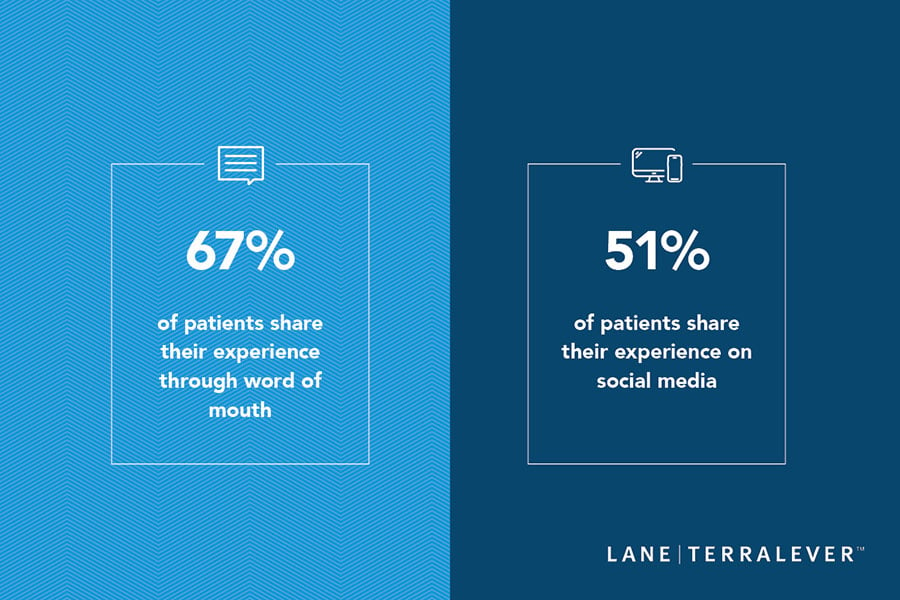 One plastic surgeon in Austin, TX actually turned away a potential rhinoplasty patient because he did not feel she aesthetically needed the procedure. This refusal was actually viewed with respect because it demonstrated to the patient that the provider was interested in performing quality work that would truly benefit the patient and was not simply motivated by money. While the patient did not receive plastic surgery, she did become a loyal customer of the dermatology branch of their office.
Get Marketing Strategies for Elective Healthcare Providers
To learn more about these marketing insights and others for patients considering elective cosmetic procedures and plastic surgeries and how to improve the patient experience, download our latest patient insights report. We'll show you how to close the gap between patient and provider communication and arm you with service marketing strategies that keep the patient experience top of mind.
Healthcare Digital Marketing Agency
LaneTerralever is a full-service marketing agency that helps healthcare providers attract qualified patients and improve satisfaction with creative lead generation and seamless digital patient experiences. We are proud to have increased patient volume and satisfaction for providers including HonorHealth, American Vision Partners, Landmark Recovery, NextCare Urgent Care, The Joint Chiropractic, Phoenix Children's, and Risas Dental and Braces.