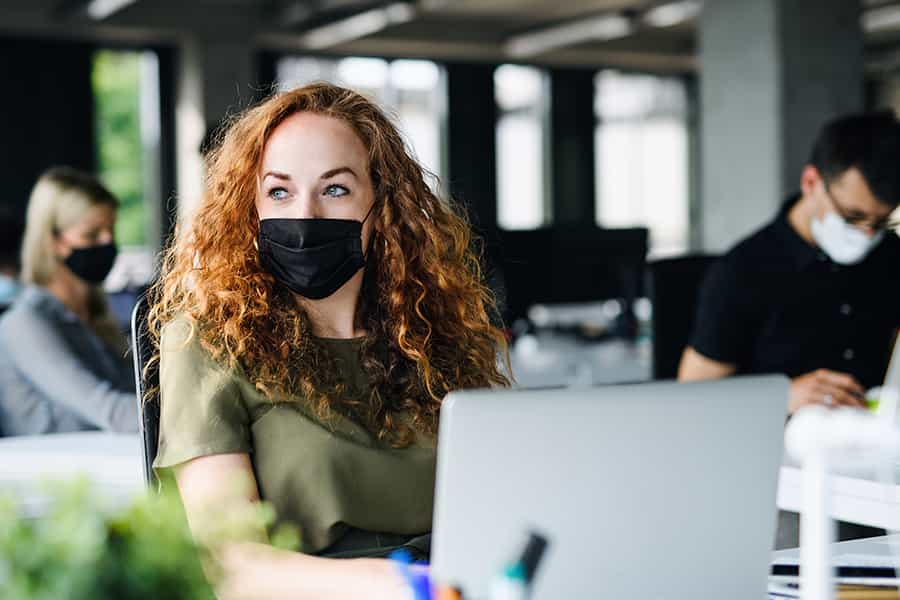 Traditional students – those who attend university right after high school – are often the focus of many higher education marketing campaigns. While traditional students make up a significant portion of the student body, older students – non-traditional students – are becoming increasingly more important to enrollment numbers.
Older students, who may have previously felt restricted by in-person-only programs, now feel excited about the opportunities available to them in a more remote-learning accommodating world. But that's not the entire story. With the effects of the pandemic on the job market, older students are considering complete shifts in their career, including in-person degree programs.
To help universities craft compelling, effective marketing strategies to recruit these older students, we surveyed potential students to discover what options appealed most to them when considering online and in-person classes. Here's what we found.
The Benefit of In-Person Classes
It's no surprise that many non-traditional students, which is what the older student is classified as, prefer the option to take online classes. What may surprise you, however, is how much they enjoy in-person classes, especially since the pandemic hit. Although each individual will have their own reasons for what makes the in-person classes better than online classes, here are a few trends we saw.
Connection to Professors
In-person classroom environments provide immediate and regular engagements between the student and the professor. Whether it's through office hours, questions during lecture or feedback in a lab, communication is easier in an in-person environment for many.
Traditionally, older students may have deprioritized access to professors, but now that many are reconsidering the jobs and careers available to them, that connection to professors has risen in importance.
When you're strategizing your marketing campaigns to engage with these kinds of students, don't forget to include these added benefits of making a connection, building a network and learning directly from your accomplished staff. It could be the deciding factor for some of the older individuals.
Increased Opportunities to Network
On the topic of building relationships, networking is a new priority for some older students post-pandemic. Specifically, your university should focus on older students looking to establish themselves in a new industry. These are individuals who will value networking opportunities and the on-campus benefits you can provide.
In your marketing strategies, highlight access to resources and networking. Talk about featured speakers, events you host or traditions that bring together current students and alumni. Historically, these messages may have converted more traditional students – it's worth testing on older students, especially right now.
Instant Access to Tools
Older students are interested in learning new skills as soon as possible. With a more established lifestyle, it's important to them to be able to implement their learnings quickly. To that end, access to resources and tools is a deciding factor when considering online vs. in-person classes.
The more access your school can provide, both during the pandemic and after, the better able you'll be to recruit motivated, high-performing students who are engaged in the work. Use your marketing and communications materials to highlight what's possible with tangible proof from existing and alumni students, what's available and how you're ensuring that everyone stays safe while using the resources on campus.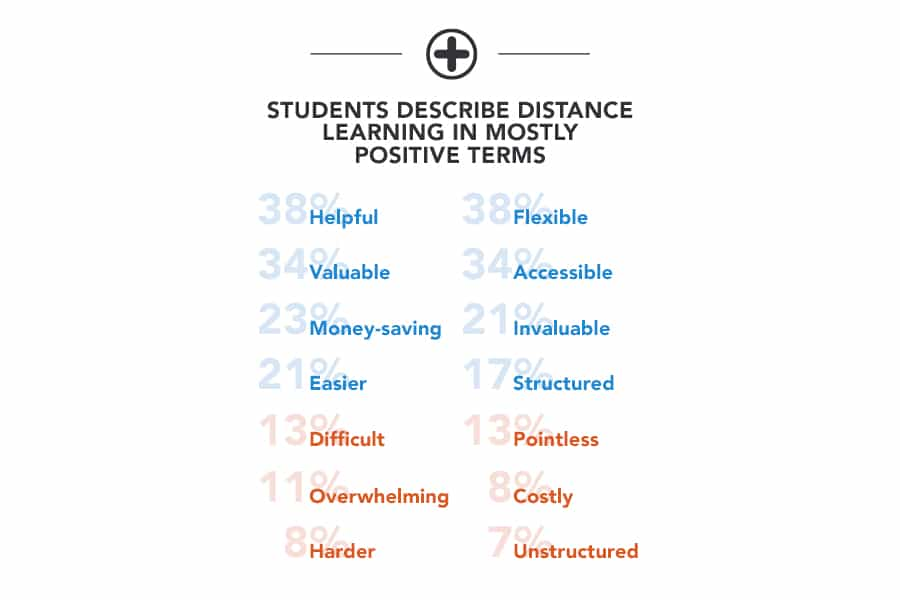 For more insight on what students are considering when choosing a college during the pandemic, download our white paper here.
The Benefit of Online Classes
For the majority of older students, online classes will still be the smarter choice between in-person and distance learning. Balancing the logistics and responsibilities in their current life is easier with the flexibility of online learning. Plus, the majority of older students are more confident in the effectiveness of online classes.
To make the most successful marketing and communications strategies, consider the following benefits that are especially resonant with older students.
Flexibility for Uncommon Schedules
One of the most important deciding factors for older students is whether or not they will receive a quality education that fits into their existing schedules. Many juggle full-time jobs, families, and other responsibilities that can't be paused to earn a degree or certificate. They need options and flexibility in their schooling. Online classes are the perfect answer for that.
In your marketing, it's important to not simply talk about the courses available online, but also emphasize their quality and the success previous students have found through online classes. Share about professors' expertise, use quotes from previous students that discuss their experience and any other important facts about that online course's success rate. Remember that these older students often need more assurance in the quality of the education, because they'll be giving up their limited free time. The flexibility of an online class is great, but only if it will also provide them with the best information possible.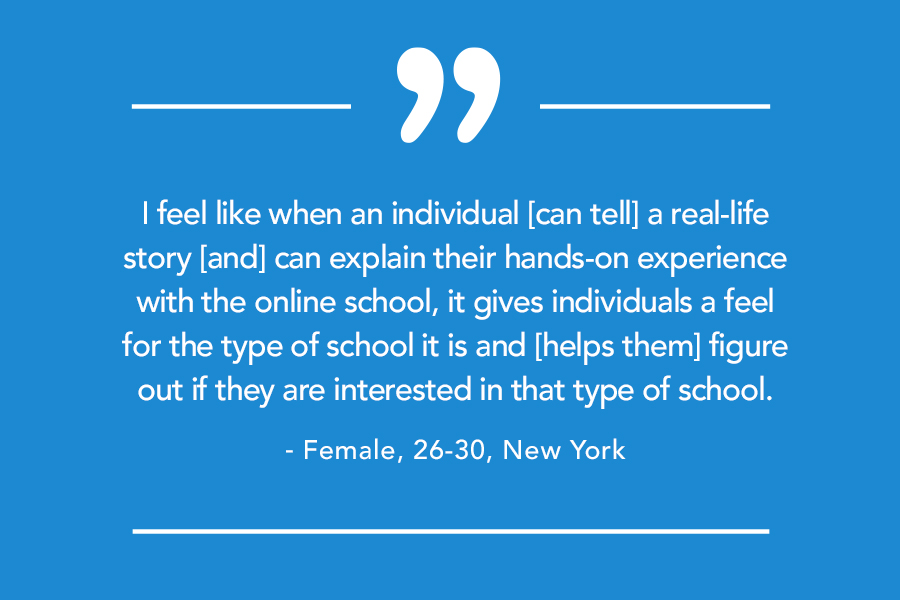 More Personalized Learning Experiences
Another benefit to online classes is the control each older student has over their learning experience. In-person classes don't always allow for things like volume control, playback features, access to presentation materials post-lecture and more. Luckily, these are all standard for online classes.
The ability to pause a lecture, rewind an important point or learn a topic at any hour of the day are all important benefits for older students who may be living at home with small children, work odd hours or have learning limitations. By broadening your school's accessibility and highlighting all the innovative ways you're making online learning easier, you are making older students more likely recruits.
More Productive Timeline
Finally, and perhaps most importantly, online classes ensure that older students can be productive about their coursework. Instead of forcing them to adapt their life to a Monday, Wednesday, Friday in-person schedule, online classes allow for work to be done when it makes sense for each individual.
If you can adapt your courses and programs to be self-paced, you will likely get more older students interested in attending your school. They want to know that your school is interested in improving their future rather than keeping them on campus for a set amount of time. Mention the ways they can personalize the pacing of their education in order to make your marketing materials more effective on older students.
Higher Education Marketing and Enrollment Strategies
LaneTerralever is an agency that specializes in developing higher education marketing strategies for clients, including Rio Salado College, Southern California University of Health Sciences, Universal Technical Institute, Northcentral University, and Touro University Worldwide. We often conduct primary research to understand the needs of our client's customers so we can make the most informed marketing strategies possible.
How to Combine the Benefits of In-Person and Online Classes for Older Students
Get more information about how non-traditional students are thinking about higher education post-pandemic in our newest white paper. We'll show you how their opinions stack up against traditional students, plus what you can do with your marketing and communications strategies to enroll as many students as possible. Get it for free by filling out this form.