For many people, going to the dentist is an ordeal. Most dread their bi-annual cleaning appointment, let alone more complex work. So it begs the question: why would anyone elect to go to the dentist or an oral surgeon? We aimed to find out what providers could do to improve the dental patient experience at their practices during this post-pandemic era.
Elective Dental Procedures: The Gap Between Provider and Patient
In our latest patient insights report based on a 617-participant survey, we uncovered a large gap between providers and patients. The gap was found in the communication between both parties and the patients' experience from end to end (what they wished to experience versus their reality).

As the COVID-19 pandemic is better controlled as a result of vaccines and therapeutics, elective procedures will begin to pick back up. All different types of healthcare providers can use this as an opportunity to adjust and refresh their marketing efforts and make enhancements to their digital patient experience.
Healthcare providers can use this as an opportunity to adjust and refresh their marketing efforts and make enhancements to their digital patient experience.

Click to Tweet
Definition of Elective Patient Experience
To start, what exactly is an "elective procedure"? It may sound optional, which it can be in some cases, but it can also mean it should be done eventually. However, the symptom it is fixing is not life-threatening; instead, the focus can be more on improving quality of life. The main defining feature of an elective procedure is that it can be scheduled in advance.
Patients Postponed Elective Dental Care Due to the Pandemic
Providers in the dental/oral treatment space have a special opportunity right now to innovate. These elective surgeries and procedures were some of the first to be put on a halt, both to conserve staff and PPE for COVID-19 care. Forty-two percent (42%) of survey respondents considering elective dental care postponed their procedure due to the pandemic.
You Must Provide a Cultivated Experience For Patients
From the patient's perspective, they have much more agency to select a provider than if they were being rushed into an operating room for emergency surgery. They have the power to research and select the provider of their choice, which means that ideally, every step of the patient journey is a cultivated experience. From initial website browsing to consultation to post-op care, providers have considerable opportunities to make the patient journey a great one.
From initial website browsing to consultation to post-op care, providers have considerable opportunities to make the patient journey a great one.

Click to Tweet
The Pandemic Impacts the Financials of Patients
Not only were elective surgeries halted during the pandemic, but thousands of Americans also lost their jobs. As unemployment equals no insurance coverage, those who could get an elective dental surgery likely could not pay the high cost out of pocket.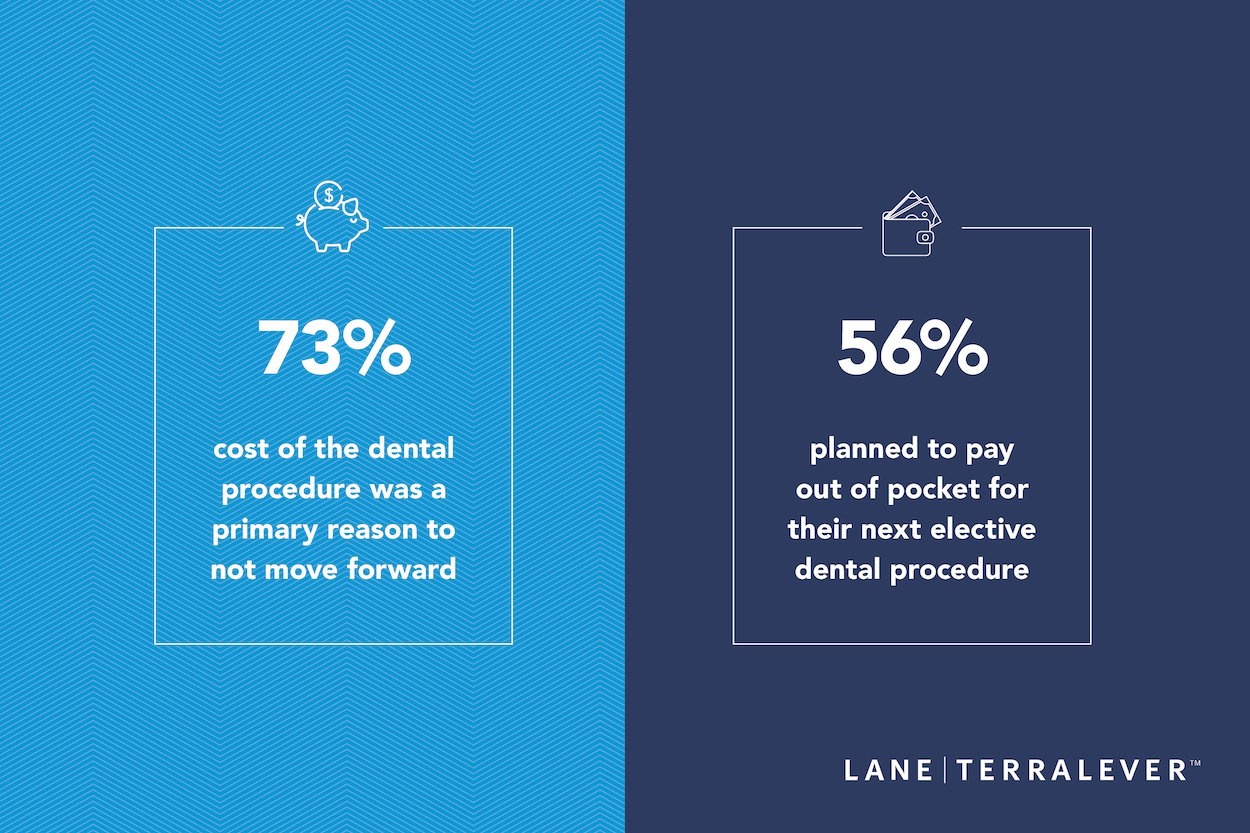 More People Prioritize Health & Wellness as a Result of the Pandemic
While many potential patients have pulled away from elective healthcare due to the pandemic, high costs, and no coverage, there is also a large subsect of people who care about their health and wellness more than ever and are more likely to consider cosmetic dental procedures. Instead of fighting the uphill battle of trying to entice those scared off due to the pandemic, this is the time to focus on the growing population that prioritizes health and well-being.
Focus on the Future, Not the Present
When marketing to people considering elective dental procedures, it is important to keep the focus on the future, not the present. Consider adjusting your marketing messaging to highlight positive outcomes for the patient, such as improved confidence, loving their smile, or living pain-free.
Focus less on the cosmetically imperfect attributes in the present. They know they have crooked teeth, need whitening, or have chronic discomfort; that is why they are coming to you for help. Use your marketing to show them what you will help them achieve. Be forward-thinking.
Post-Op Engagement a Missed Opportunity For Most Providers
From our patient insights report, 39% of respondents indicated significant improvement post-operation. This was the second-highest percentage of any procedure type we surveyed.
Yet, it's the quality of the complete experience – not just the quality of procedural outcome – that principally determines their feelings toward providers. Unfortunately, 46% of providers are not following up on the status of patients' health beyond the days following a procedure; 28% are only following up regarding billing.
it's the quality of the complete experience – not just the quality of procedural outcome – that principally determines their feelings toward providers.

Click to Tweet
This extra care and attention will also go a long way for your business's bottom line. For example, of the respondents who had an elective dental procedure, 80% of them mentioned they would recommend a provider to friends and family by word of mouth when sharing their experiences. If they do nothing but sing your praises, then their words directly become more prospective patients for you.
Providing an Exceptional End-to-End Patient Experience Will Drive More Patients
While putting a big budget behind advertising and website optimization is a key part of the marketing puzzle, remember that leaving patients with an amazing overall experience to share is one of the best ways to reach new patients. Especially since 64% of dental survey participants are likely or very likely to refer their recent elective medical treatment facility to friends and family.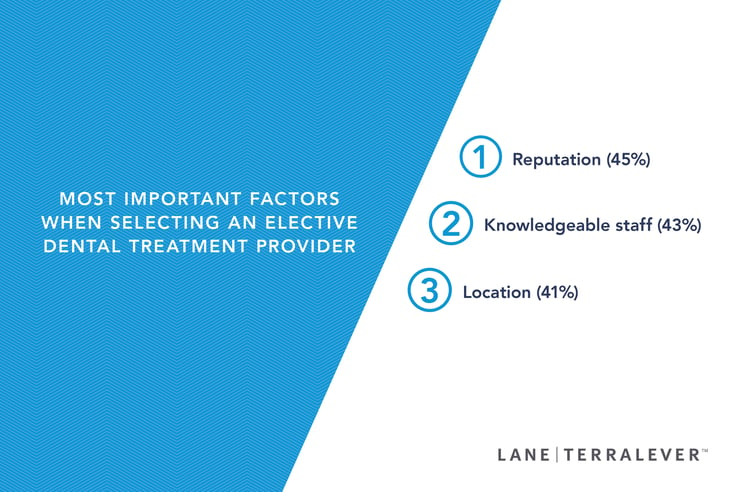 Get to Know Patients' Research Process - They Evaluate Fewer Provider Options Than You Might Expect
To know your patients' desires is to know their research process. If you truly tap into their research process, then you will be better able to address patient pain points at specific milestones in their journey and improve the entire experience.
Our elective healthcare report gave strong insight into how long patients typically research before setting up a consultation appointment. Sixty-three percent (63%) of dental survey respondents spent three months or less researching providers before making a decision and 76% only evaluated one to two providers. So the window between initial search and final selection is short and you only have a brief opportunity to make a lasting impression.
Provide Educational Content Early in the Patient Journey
Another thing we uncovered is the need for patient education. Consider using your website as a stronger educational tool than just a basic information vessel. Forty-three percent (43%) of potential dental patients did not feel they had all their questions answered from a provider's website when considering elective treatments.
Answer their questions before they even step foot in your office. Be the authority on treatment information, so they know what to expect from consultation to post-op recovery — not just the days and weeks post-op but six months to a year.
Looking for some website inspiration? Explore our recent website redesign case study for American Vision Partners. While they are not an elective healthcare provider, they took the proactive step to make their website a seamless digital experience that is patient-centered and highly informational. They understood what their patients needed to experience and we designed their website to fit those needs.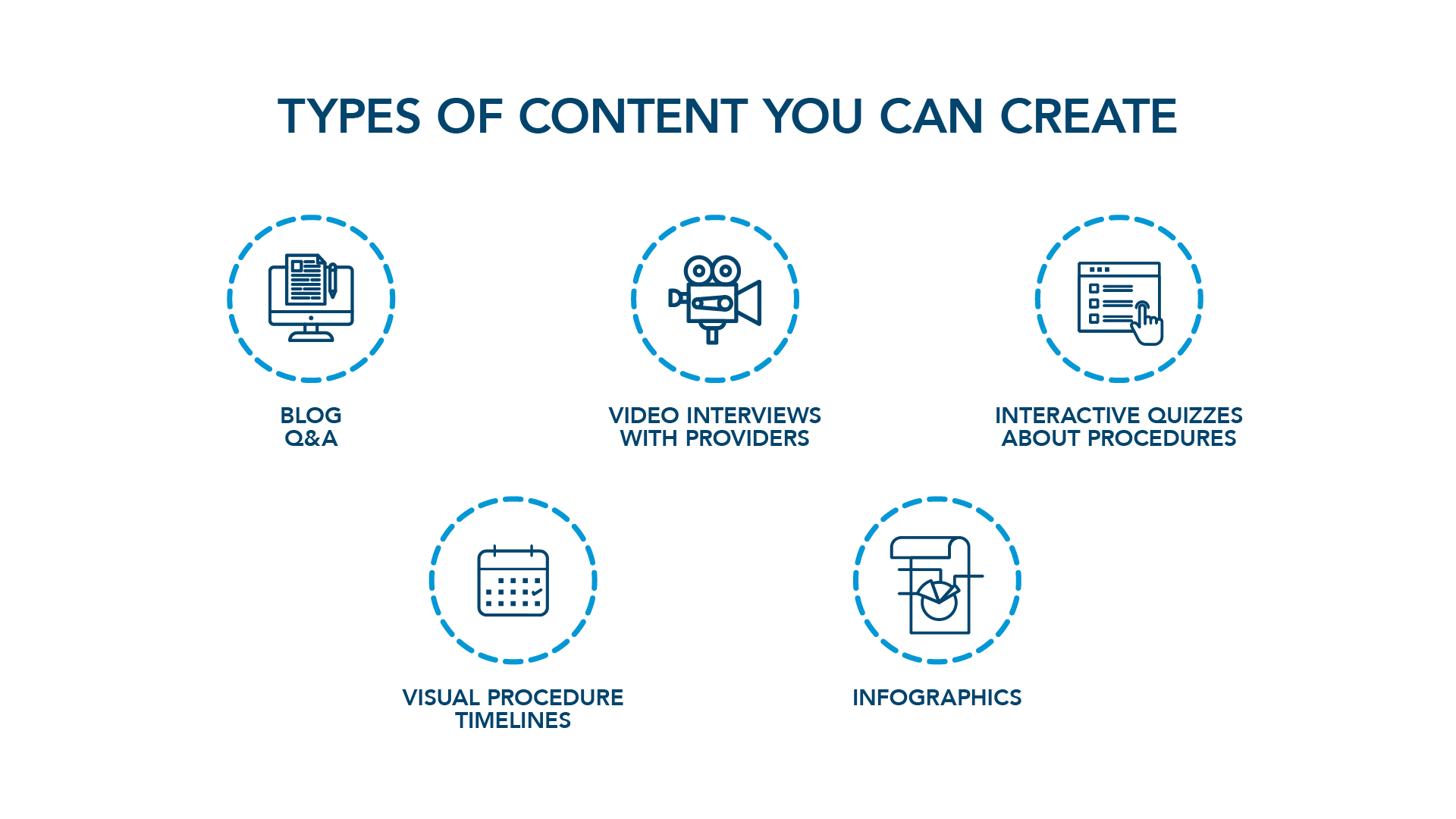 To Telehealth Or Not To Telehealth
As digital health continues to advance every day, Telehealth and virtual patient experience options are becoming a larger part of the patient journey. The same goes for automation of patient outreach such as appointment bookings, reminders, and follow-ups. Just because you can dive into Telehealth and automation, should you?
"Primary care is fine for Telehealth, but when you're talking about your face; I want to have them examine me. Camera video quality may not capture everything accurately," Stacei, A., 36 years old, Cosmetic

Click to Tweet
Here's your answer: Sixty-three percent (63%) prefer to book their initial consultation on the phone, with a much lower 20% comfortable booking through the provider's website. Post-op, respondents preferred to stay in touch via phone (50%) with 28% preferring email and 13% preferring text messages.
Specific to elective dental procedures, only 29% of respondents are likely to use Telehealth for some part of the elective treatment process, not including the procedure itself of course. Patients still crave a human element when embarking on the patient journey and while there might be elements that can be handled virtually, you'll want to make sure the personal interactions still happen in person.
Get Marketing Strategies for Elective Healthcare Providers
To learn more about these marketing insights and others for patients considering elective healthcare and how to improve the patient experience, download our latest patient insights report. We'll arm you with 5 strategies that will help you close the gap between what patients seek in their journey and what they actually experience.
Healthcare Digital Marketing Agency
LaneTerralever is a marketing agency that helps healthcare providers attract qualified patients and improve satisfaction with creative lead generation and seamless digital patient experiences. We're proud to have increased patient volume and satisfaction for providers, including HonorHealth, American Vision Partners, Landmark Recovery, NextCare Urgent Care, The Joint Chiropractic, Phoenix Children's, and Risas Dental and Braces.