Elective healthcare is a big business. It generates upwards of $200 billion in revenue for United States hospitals every year and plays a large part in holding up the healthcare industry as a whole. Not only is it a driver of revenue, but a huge profit center for most healthcare providers. The significance of elective treatments and procedures was felt by all in the industry when the 2020 pandemic put elective surgeries on hold as hospitals re-routed personnel and PPE for COVID-19 care. Some state governments even issued mandates that put elective healthcare procedures on hold for months, devastating the industry.
Patients Rethinking the Value of Elective Healthcare
In 2021, as COVID numbers decrease, elective surgeries are on the rise again. Although much has changed in patients' minds during this time, 66% of patients surveyed postponed an elective medical treatment/procedure/surgery due to the pandemic, and 39% of those don't plan to reschedule. Instead of going back to business as usual, providers can take this opportunity to reevaluate and improve both their patients' experience and their marketing efforts to those considering an elective procedure.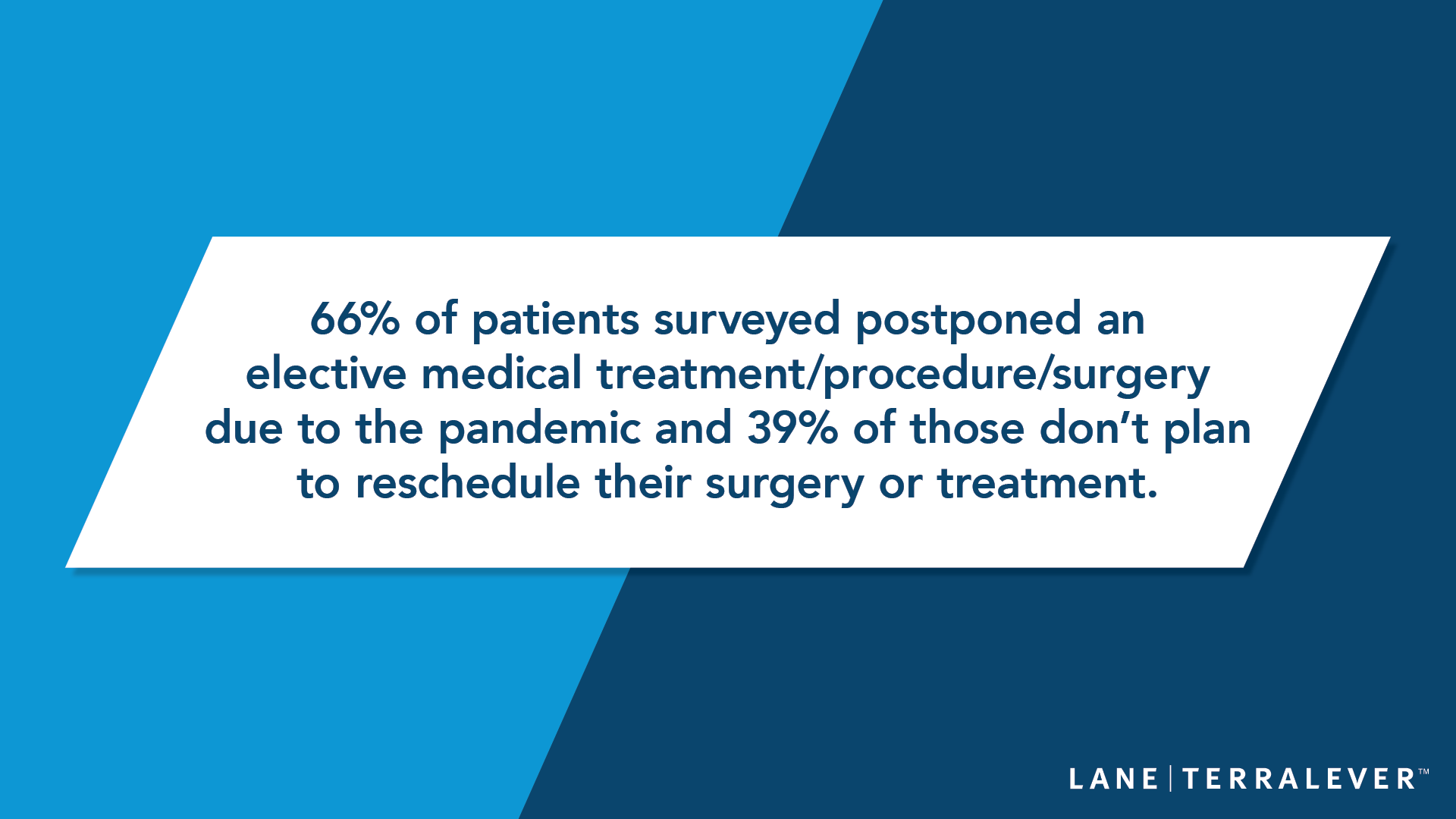 People considering elective healthcare are an intriguing patient audience. There is often no medical urgency ushering them into this decision; they are electing to undergo a procedure or treatment. As a provider, how do you get someone who is considering elective healthcare to turn their consideration into action and commitment? Not only that, but how do you ensure your marketing and communications efforts provide them with the ultimate patient experience?
Elective Healthcare Modern Patient Insights Report
In our latest patient insights report on elective healthcare, we explore some of those questions and outline the biggest opportunities for healthcare providers to improve marketing and digital patient experience. The report is the result of a 617-patient national survey that focused on the topics of elective healthcare, the effects of COVID-19, and the overall patient journey. From the findings of this survey, a clear gap emerged between what patients actually experience and what they wish to experience (pre-and post-operation).
Elective Patient Experience Definition
To start, what exactly is an "elective procedure"? It may sound optional, which it can be in some cases, but it can also mean it should be done eventually. However, the symptom it is fixing is not life-threatening; instead, the focus can be more on improving quality of life. The main defining feature of an elective procedure is that it can be scheduled in advance.

From the patient's perspective, they have much more agency to select a provider than if they were being rushed into an operating room with that particular hospital's chief of surgery. They have the power to research and select the provider of their choice, which means that ideally, every step of the patient journey is a cultivated experience. From initial website browsing to consultation to post-op care, providers have considerable opportunities to make the patient journey a great one.
Patient Experience Insights & Digital Marketing Opportunities
While each type of specialty provider will have its unique things to consider, here are a few key patient insights and marketing opportunities every healthcare provider can consider whether or not they are focused on elective care.
The Research Phase of the Patient Journey Is Shorter Than You'd Think
For many, this is not a long and drawn-out process. Sixty-four percent of survey participants took less than three months to research their last elective procedure. During this research period, most patients only evaluated one to two providers. After conducting their research, many respondents scheduled a consultation appointment in under four weeks, indicating that turnaround time from initial consideration to provider selection can happen fairly quickly. Then, it is up to the provider of choice to seal the deal with the prospective patient.

As a medical provider, it is your job to make sure the patient's research is accurate and corrects any misinformation they may have found on their initial Internet search. A huge opportunity for providers is to use their website as an effective marketing and educational tool, not just a place for basic information about them as a provider. Consider leveraging your blog as a place to put out detailed procedure information and use email and text as a way of getting it in front of patients before an initial consultation. These steps demonstrate to patients that you truly want to improve their patient experience every step of the way.
For more insight on how patients are researching elective healthcare providers, download our patient insights report here.
Rethink Your Reputation Management - Providers Can Instill Trust With Proactive Approach
Providers who monitor ratings and generically respond to reviews are doing the bare minimum job of appealing to prospective patients. However, there is a lot of potential in this area to really connect with future, current, and past patients and demonstrate the high quality of care from the whole team. Dedicating time each week to personally address any patient issues or complaints can go a long way. Of the over 600 people we surveyed, 74% of patients share their experience through word of mouth, and 33% share on social media, both important channels for medical providers trying to reach new patients.

In Jay Baer's book on customer experience, Hug Your Haters, Baer shares a story about one oral surgeon, Dr. Gorab, who sets aside time every weekend for patient phone calls with the goal of humanizing him to his patients and alleviate any doubts or concerns. A handful of calls each week is all it takes to connect with all of his first-time patients before their appointment and make sure each of his post-op patients hears from him personally.
Leverage Digital Tools To Enhance Patient Experience But Don't Automate Everything
Just because new technology and digital platforms allow you to automate nearly every stage of a patient's journey doesn't mean you should. The bottom line is, this entire process is an uncertain one for patients. Patients want a doctor who can improve the patient experience and provide comfort, support, and confidence to ensure they feel cared for. After all, they are choosing to, in some cases, put their lives in this doctor's hands.

Automation can be great for certain marketing operations like simple follow-up emails, appointment reminders, and various check-ins. However, we concluded from this study that people still appreciate more traditional channels of communication, such as talking on the phone or face-to-face. Retaining a personal touch will ensure both prospective and committed patients feel confident in their provider selection.
A personal touch will ensure both prospective and committed patients feel confident in their provider selection.

Click to Tweet
Value in Post-op Engagement - Avoid Dropping Off After Surgery
What better way to show you only care about money than to completely neglect your patient after they've left the table? We found that nearly 56% of providers are not proactively following up about the status of the patient's health post-op and 28% of providers are only following up with their patients post-op regarding billing. Those numbers could make it easy for you to stand out amongst the rest with a bit of extra attention and care.

Instead of dropping off like so many other providers, place high value in the post-op experience for the patient. For example, personally calling the week after treatment, providing detailed recovery plans, and sending personalized greetings from the rest of the team are all great ways to prove to the patient that they are more than just a number and that you truly care about their entire experience.
Three Patient Marketing Personas Emerged From the Survey Findings
While each patient journey is unique to the individual person and the specific elective surgery they are considering, we were able to distill down three primary marketing personas under the overarching umbrella of elective healthcare. These personas include "The Casually Interested," "The Decider," and "The Contemplator."

When it comes to marketing their real-life lookalikes, it is beneficial for providers to know how these personas operate as they search for and select elective procedure providers. Although these personas are not a one-size-fits-all recipe that will ensure conversions from prospect to a patient, these personas serve more as a guide based on strong trends, not a cheat sheet. You can download our 2021 Elective Healthcare Modern Patient Insights Report to access these personas and actionable strategies you can bring back to your team.
Get Marketing Strategies for Elective Healthcare Providers

To learn more about these marketing insights and others for patients considering elective healthcare and how to improve the patient experience, download our latest patient insights report. We'll arm you with 5 strategies that will help you close the gap between what patients seek in their journey and what they actually experience.
Healthcare Digital Marketing Agency
LaneTerralever is a marketing agency that helps healthcare providers attract qualified patients and improve satisfaction with creative lead generation and seamless digital patient experiences. We're proud to have increased patient volume and satisfaction for providers, including HonorHealth, American Vision Partners, Landmark Recovery, NextCare Urgent Care, The Joint Chiropractic, Phoenix Children's, and Risas Dental and Braces.