The impact of COVID-19 on colleges and universities in the United States will be felt for years to come. Not only are faculty and staff having to rethink everything about campus life moving forward, but students are weighing the value of education that looks and feels very different.
In addition to deciding which degree or program they want to enroll in, students are thinking even more carefully about whether they want to enroll at all. Of course, there will always be students to recruit to higher education programs, but given the effects of the pandemic, all schools must be more thoughtful about their messaging, marketing campaigns and how they deliver their value propositions.
To help you build more effective marketing campaigns to recruit students post-pandemic, we've compiled the top factors students are using to choose a college. Use these to make your marketing materials more compelling to potential students and improve your recruitment results.
Value and Affordability
The debate surrounding the true value of a degree was not sparked by the pandemic. The truth is, many degrees and certificates are not affordable for most students. Most assume debt to attend college; considering the pandemic has created a less stable job market, students are considering what it's going to take for them to get a decent return on their investment for their future.
Your institution should consider these factors when thinking about marketing and communications. Ask your teams if there are ways to speak directly to potential students to hear what is most valuable to them. Do you know how to speak to value and affordability in a way that reduces their anxiety about the future? How can you shift your value propositions to directly address the new factors driving their decisions?
The good news is 84% of potential students still see a degree as extremely valuable, even with the impact of the pandemic. What we don't know, however, is whether that number will decrease as we navigate the year. To keep your school competitive and recruiting the students excited about their continued education, plan for multiple types of value messages. Speak to career preparation, network expanding opportunities, and diverse classroom experiences to include online and in-person learning. By presenting multiple options for potential students, you're letting them decide the value for themselves. Allowing them to take ownership of the value of their degree will encourage enrollment and overall satisfaction with the decision to continue their education.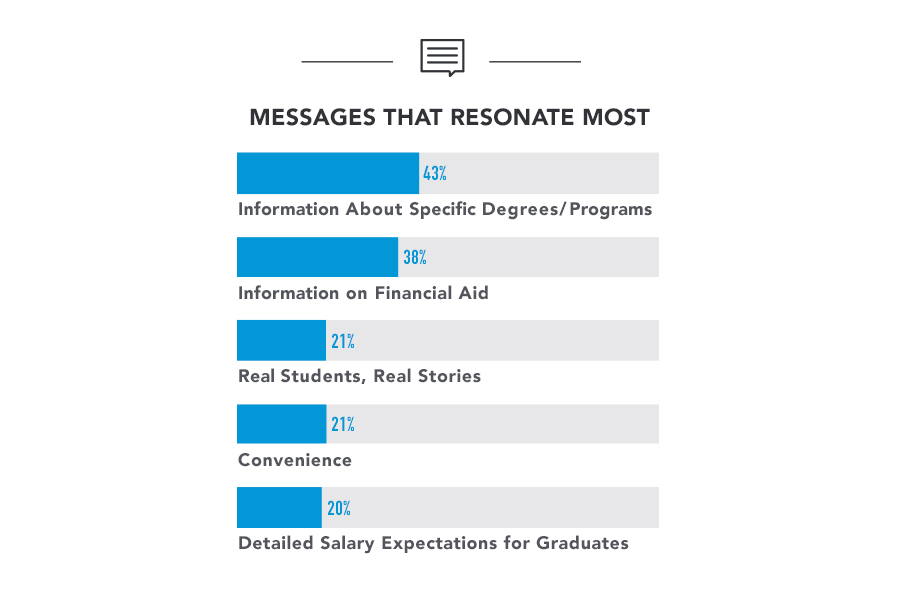 For more insight on what students are considering when choosing a college during the pandemic, download our white paper here.
Program Fit
On the note of personalization, program fit is a very important factor for students who are considering higher education right now. While our research showed that 32% of prospective students were likely to pursue the same programs as before the pandemic, 27% of students said they were unlikely to pursue higher education.
It's no longer feasible for higher education institutions to rely on generic messages of bettering your future in their marketing and communications. Students now, whether traditional or non-traditional, require more specificity in order to consider a college or university. Traditional students – those entering college right out of high school – benefit from hearing success stories of other students like them. Non-traditional students – those who have full-time jobs or enter college later in life – want to know you have exactly what they need to be more competitive in their industry. Prospective students of all kinds need to see that you have a program that will not only earn them the degree they're interested in, but also set them up for a prosperous career after completing your graduation.

If your school typically leans on broad marketing strategies, consider shifting some of that effort to program-specific messages. Introduce students to lesser known programs at your school. Highlight the accomplishments of your professors. Experiment with new messages that are important to targeted segments of potential students. With so many prospective students considering delaying continued education altogether, the changes you make in your marketing strategies will help you reach your enrollment goals with a more disparate group of students.
Flexibility
For many students, and particularly non-traditional students, in order to consider continued education, they need to trust that the courses will be flexible enough to fit their lifestyle. Those who were lucky enough to maintain their job during the pandemic will be much less likely to make decisions that might put that job at risk – including taking on the added responsibility of a degree.

While non-traditional students are more likely to think that colleges adapted to the pandemic extremely effectively, 41% are also confident about their ability to secure a job if they need to. It's likely that, unless your school can fit into your students' current lifestyle, they will delay continued education or take it off the table altogether.

Use your marketing materials to explain the flexibility offered to students looking to earn a degree or certificate. Highlight the values and virtues of your specific distance learning programs. Identify unique ways that your faculty and staff can help each student through their degree program and use that to get prospective students excited about their possibilities.
Trust in Your Institution
Of all the factors to highlight in your post-pandemic marketing materials, trust is one of the most important. Students around the country have seen how dramatically everything can change in an instant. The pandemic created a sense of insecurity in many prospective students, and your job is to make sure they can trust your school with their future.

Use your marketing campaigns to highlight the plans your institution has for the future. Are you making new plans for distance learning? Can you share any new ideas about networking online if students can't make it to campus? Do you have new degree programs that set students up for a career immediately?

These are all signals that your school is constantly thinking about the best interest of your students. If they can trust that your school will give them the best change for a prosperous and secure future, students of all kinds will be more likely to enroll as soon as possible.
Higher Education Marketing and Enrollment Strategies
LaneTerralever is an agency that specializes in developing higher education marketing strategies for clients, including Rio Salado College, Southern California University of Health Sciences, Universal Technical Institute, Northcentral University, and Touro University Worldwide. We often conduct primary research to understand the needs of our client's customers so we can make the most informed marketing strategies possible.
Get Marketing Strategies for Prospective Students
To get started with new marketing plans that speak directly to students worried about higher education post-pandemic, check out our free white paper. In it, you'll see how both traditional and non-traditional students feel about the investment of continued education since COVID-19 and how you can connect with them to improve enrollment. Click here to get the research delivered directly to your inbox.