Whether it was by choice or by forced adoption, the COVID-19 pandemic shifted how many industries do business. Attractions and entertainment venues have been particularly affected not only by new rules such as mandatory lockdowns and capacity limits but also the enormous shifts in consumer behavior as ticketing becomes completely digital.

In the U.S., parts of the attractions industry are booming due to pent-up demand from the pandemic, and attendance is reaching an all-time high. However, this boom won't last forever, which is why we are focused on the types of customer experiences that attractions are providing to their guests. Those that get it right will have an opportunity to stand apart once things return to "normal."

Our 2021 Attractions Digital Customer Experience Report found that only 44% of attractions are actively engaging with their audiences on social media in a meaningful way, which is especially important to entice previous customers to return. Meanwhile only 42% of the attractions assessed weren't effectively communicating the benefits of their loyalty or membership programs. So, while almost all venues are taking advantage of digital tools, many are also missing a very lucrative area to hone in on.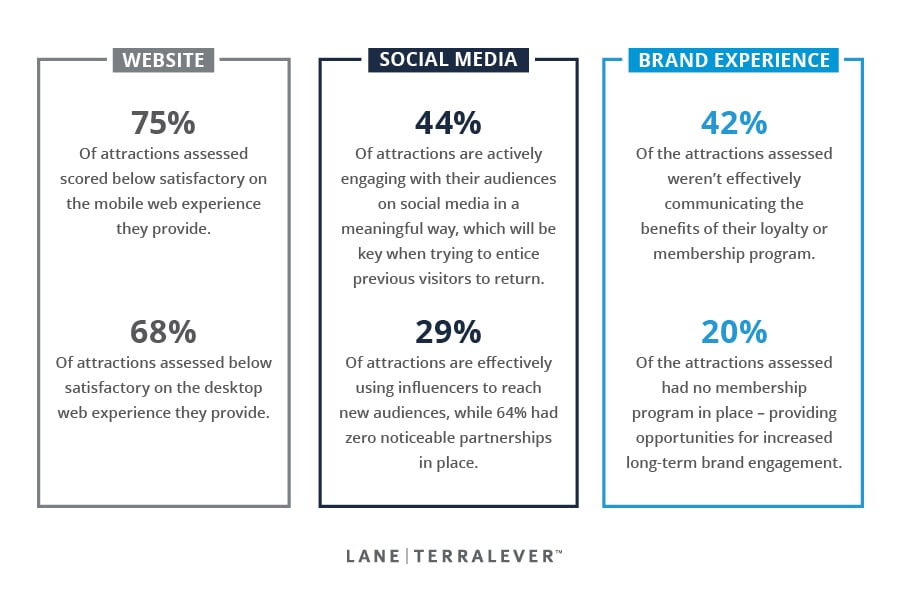 Statistics compiled from an evaluation of 100 U.S. top attractions in LaneTerralever's 2021 Attractions Digital Customer Experience Report.
Pandemic Accelerates Digital Adoption for Attractions
Before COVID, many attractions venues already had an online ticketing component, but they also served many 'on the fly' customers that would buy ticket in-person. COVID changed that. We sat down with TJ Christensen, co-founder, and CEO of BlueGator and authority in the attractions industry, to find out how. According to TJ, COVID was a major "accelerator of digital adoption" for both venues and their guests.
COVID was a major "accelerator of digital adoption" for both venues and their guests.

Click to Tweet
For venues, this meant online ticket volume went from 30-40% of total ticket sales to 100% of tickets being purchased online overnight. For guests, they now have to plan in advance and buy on their computers or phones, often with a particular date and time frame for entry.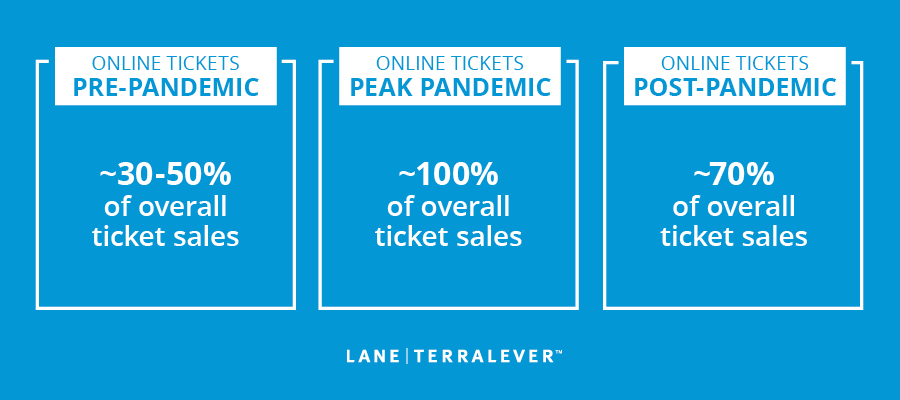 Change in percentage of online ticket sales through stages of the COVID-19 pandemic
But Why is This Shift So Important? It Starts With Access to Customer Data
Access to customer data is important because right now is a prime opportunity for venues to leverage all of the guest data they have built up from a period of significantly increased online ticket sales. We're left with a wealth of purchase data, most recent visit date, email, phone number and so much more — all of which can be used to enhance the guest experience through an improved digital strategy.

To uncover specific ways attractions can maximize this experience, we wanted to hear more from TJ, who has worked with attractions for over 20 years. He has vast experience in operational leadership, sales, marketing, and strategic planning. In addition, he co-founded BlueGator in 2020, and the company is dedicated to improving guest experience operations.
LaneTerralever 's Director of Content Marketing, Hannah Tooker, discusses how digital guest experience can make or break attractions' revenue as part of Blooloop's Innovation Session. View the full webinar here.
Attractions Must Put Greater Emphasis on Digital Technology
The people behind attractions and entertainment venues are known to be world-class operators and curators in their field, and while many have been able to roll with the punches of an ever-changing landscape, their technological prowess is often lagging behind in a world now dedicated to digital.

With COVID as an accelerator of digital adoption, TJ says this shift has had an enormous, and in some cases, permanent impact on consumer behavior.
Attractions are world-class operators, but their technological prowess is often lagging behind in a world now dedicated to digital.

Click to Tweet
Now Is the Time to Leverage the Customer Data You've Already Captured
Before COVID, parents might have the idea of taking their kids to the zoo on Saturday. But, life is busy and things get in the way, so they opt to skip and go at a later time. Pre-sale tickets actually ensure more commitment from customers. This is why a pre-purchase strategy paired with dynamic pricing can be beneficial in both the short and long term.

Two of the biggest benefits of purely digital ticketing include better planning capabilities for the venues and capturing more detailed and accurate customer data, which is often an afterthought for ticket agents trying to move through a long line of customers on a summer day.

If a venue knows how many tickets have been pre-purchased at a specific time, they can better plan staffing, food stands, and other elements that will improve the overall on-site experience.

Putting a continued emphasis on online ticket sales leads to better customer data as it is input by the customer themselves. Simple pieces of information like email, phone number, zip code, and birthday can make retargeting and personalized marketing efforts seamless if used correctly.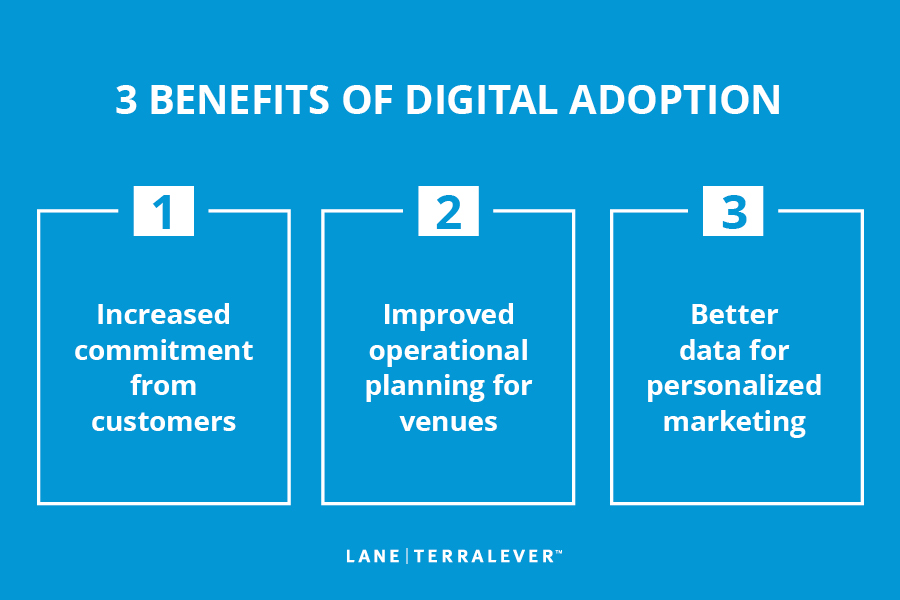 The benefits of digital adoption for entertainment and attractions venues
Since COVID has fully shifted things into the digital space, the predictions for the future show a lasting integration of digital strategy that has high potential to drive enhanced guest experiences when implemented properly.
How Do You Enhance Digital Guest Experience?
So, what are some actionable items that venues can start implementing right now to enhance their guest experience?

Using all of the data acquired through digital ticket sales, venues have more opportunities to not only reach new customers through lookalike audiences (through the Facebook ad platform) but also reach out to previous customers and pull them back into their marketing funnel.

This funnel should follow the path of Day Guest to Member to Donor. With emails and text messages, venues can reach out with customized messaging that guide an individual through this journey.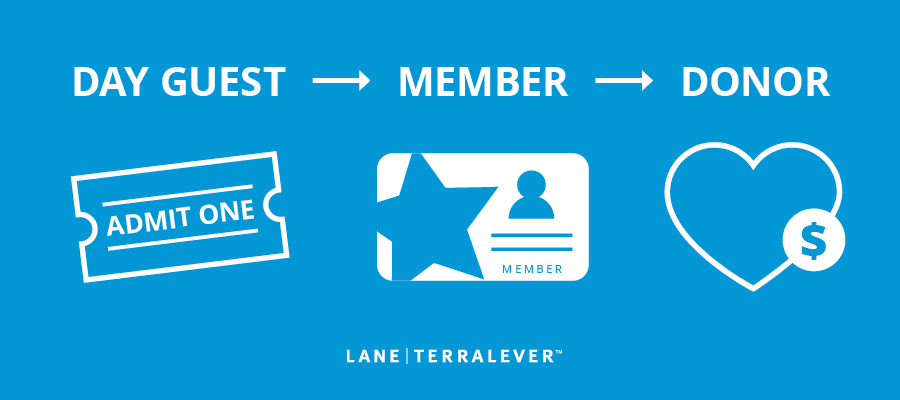 Personalize Content by Lifecycle Stage, Geography, and Interest Areas
To do this effectively, it is important to find the delicate balance between promotional content and value-added content. Always pushing sales and deals can be great reminders, but if you know specifically what that customer enjoys at your venue based on data you have captured, you can invite them to a members-only special event or mention fundraising efforts for the mission side of the organization. The most effective strategy is to tailor the content to what that individual likes.

Second, ensure they are in the right geographic market. Sending mass campaigns to all zip codes in your database has a part to play, but chances are a $10 ticket discount isn't going to convince someone four states away to jump on a plane and visit. So, take care to send these messages to those who are in the local area or within driving distance.

In-Venue Messaging Gets Visitors to Extend and Spend
While pre-arrival messaging could always be optimized better, TJ believes in-venue messaging is the silver bullet when it comes to improving a guest's experience.

If a customer buys tickets online and opts into text messages, creativity can abound. After arrival, texting that customer with special food deals, exciting new exhibits, concierge services, and other relevant content will both enhance their time at the venue and get them to extend and spend.

Here are some examples of three attractions doing it right:
LaneTerralever's Director of Content Marketing, Hannah Tooker, shares examples of attractions getting their digital guest experience right in a webinar with Blooloop.
Leveraging the RFDS Framework
In order to help venues get started with implementing a more robust digital strategy, TJ and his team utilize the RFDS Framework, which stands for Recency. Frequency. Duration. Spend.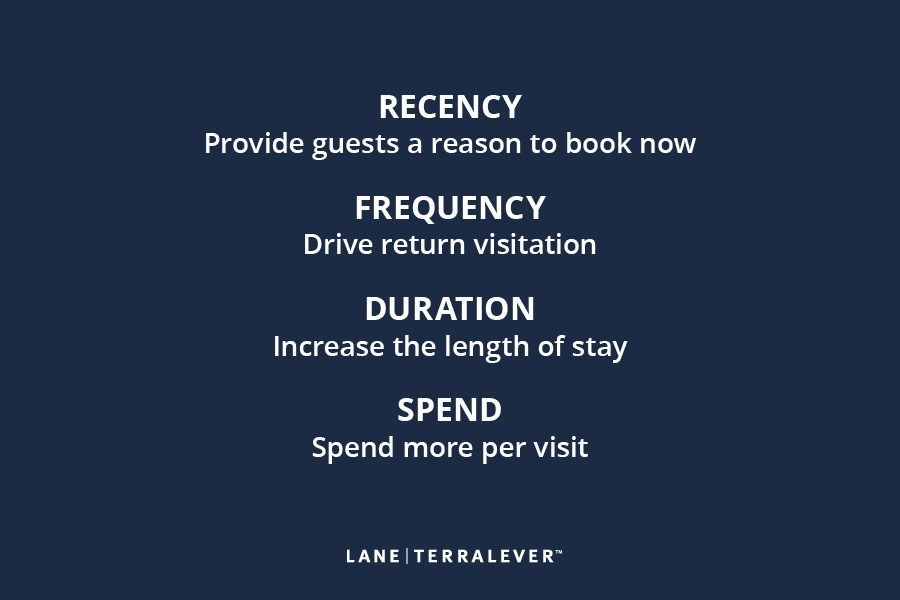 BlueGator CEO TJ Christensen explains the RFDS Framework
This framework is a great place for marketers to start when building out actionable items and tactics that will bring more customers into the upgrade funnel. While one-size-does-not-fit-all, TJ stresses that you don't have to boil the ocean to make your marketing go further.

Start with a couple of tactics and see how they do. Prove ROI. Do more. Add more layers. Something doesn't work? Back it up and pivot in the right direction. It doesn't have to be a stressful or overwhelming experience.

For more insights on the attractions industry, download our 2021 Attractions Digital Customer Experience Report that assessed and ranked 100 of the top attractions in the U.S. based on their web, social media, and brand presence.
BlueGator
Run by hospitality veterans with over 30 years of attractions experience, BlueGator provides strategic Salesforce consulting, utilizing Salesforce and technology, so clients have deeper insights and visibility into guest behavior and can make better business decisions. Their team helps businesses and venues get the most out of their Salesforce investment, whether its focus is sales, marketing, or service. From implementation to data analysis, automation to training, BlueGator believes technology should be the solution, not the problem.
TJ Christensen is a global executive with experience in operational leadership, sales, marketing, and strategic planning. TJ's rich background includes most recently serving as Executive Vice President, Sales & Marketing at Accesso Technology Group (accesso), a global leader in ticketing and guest experience for 10 years. Prior to accesso, TJ held positions with Wyndham Vacation Ownership, RCI, and Walt Disney Parks & Resorts. He received his MBA from the University of Florida and graduated with a BS in Business Administration from the University of Delaware.
Tourism & Attractions Digital Marketing Agency
LaneTerralever is a marketing agency that helps attractions and entertainment destinations develop a deep understanding of how visitors select an attraction or entertainment experience and the marketing strategies and digital customer experiences that move them to take action. We're proud to have increased ticket sales and loyalty membership program engagement for partners including The Phoenix Zoo, Heard Museum, Desert Botanical Garden, Blue Man Group, Red Bull Media House, Arizona Boardwalk, and Charles Schwab Championship.