Just like in any other industry, a great casino guest experience is vital as this can increase the value of each unique player and even expand the customer base. Besides making it easier for the casino player to navigate the landscape, a great customer experience builds trust between the casino and the player. It lets the player know that the casino is willing and able to listen to meet or exceed their expectations around experience. While focusing on the bright aesthetics found in brick-and-mortar casinos can certainly appeal in the short run, casino operators must focus on having players stay long-term. Therefore, developing a top-tier customer experience should be a priority that becomes key to everything operating teams do.
As a casino marketing agency with years of experience in the industry, we wanted to do a deep dive to better understand the nuances of the casino customer experience and how expectations differ across generations. We surveyed 1,384 players nationwide. Based on the insights derived from the survey, we gained a better perspective on the motivators and barriers casino players have when it comes to casinos.
Evaluate Your Customer Experience Across Generations
While a one-size-fits-all approach to a casino gaming experience may have worked in the past, in recent times, casino operators have customers of all ages with varying expectations. Delivering a personalized gaming experience created to suit each unique player's preferences and requirements is one of the best ways to gain a competitive advantage in the market. Despite disparities in customer service expectations, one aspect is shared by all generations—they want to be heard, they want their time valued, and have their individual needs and wants to be addressed. Our report found that 56% of all players were very satisfied with the in-person customer experience, whereas only 46% were very satisfied with the digital/online customer experience.
Nonetheless, a bad customer experience can leave players feeling disappointed and less likely to return or become long-term customers. In fact, we found that 32% of players are willing to give a casino only one chance to make up for a bad customer experience. To further propagate this, 49% of Gen Z-ers were the most willing at giving casinos more than two chances, while 25% of Boomers were less likely to do so.
What this ultimately tells us is that casino operators have plenty of room for improvement in order to find new and unique ways to heighten the player's end-to-end customer journey.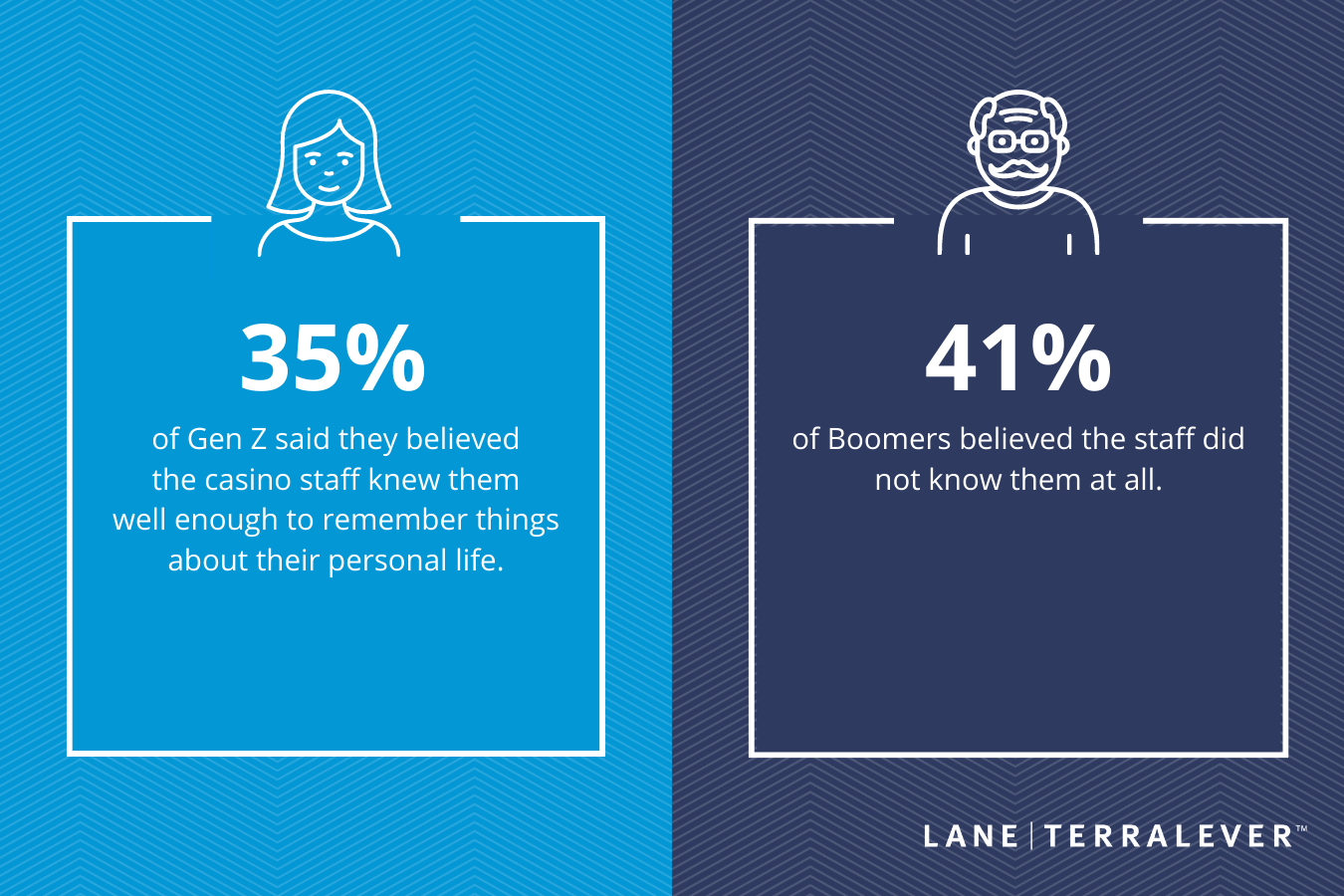 Consider the End-to-End Player Journey
Casinos have an opportunity to connect with players in new, compelling ways–both in-person and online. They must first discover what draws players into brick-and-mortar casinos and what compels these same players to take part in online gaming–learning the discrepancies between both. Disruptors like online gaming do not always negatively impact traditional slot players. Sometimes, they help to push the boundaries, re-strategize and foster innovative thinking.
Casinos must make the investments necessary to create a seamless online-to-in-person guest experience.

Click to Tweet
In fact, the online and in-person experience does not have to be two separate experiences. They can actually work in tandem with each other in order to create a more holistic player experience. Our study showed that 74% of players expect the casino they most frequent to have a mobile app. This helps further support the fact that players across all generations mostly want an in-person and virtual experience that will help bolster both avenues. What casino operators must do in order to achieve this interconnected experience between online and in-person is to identify the needs and wants of each individual players' interests that leave them feeling satisfied.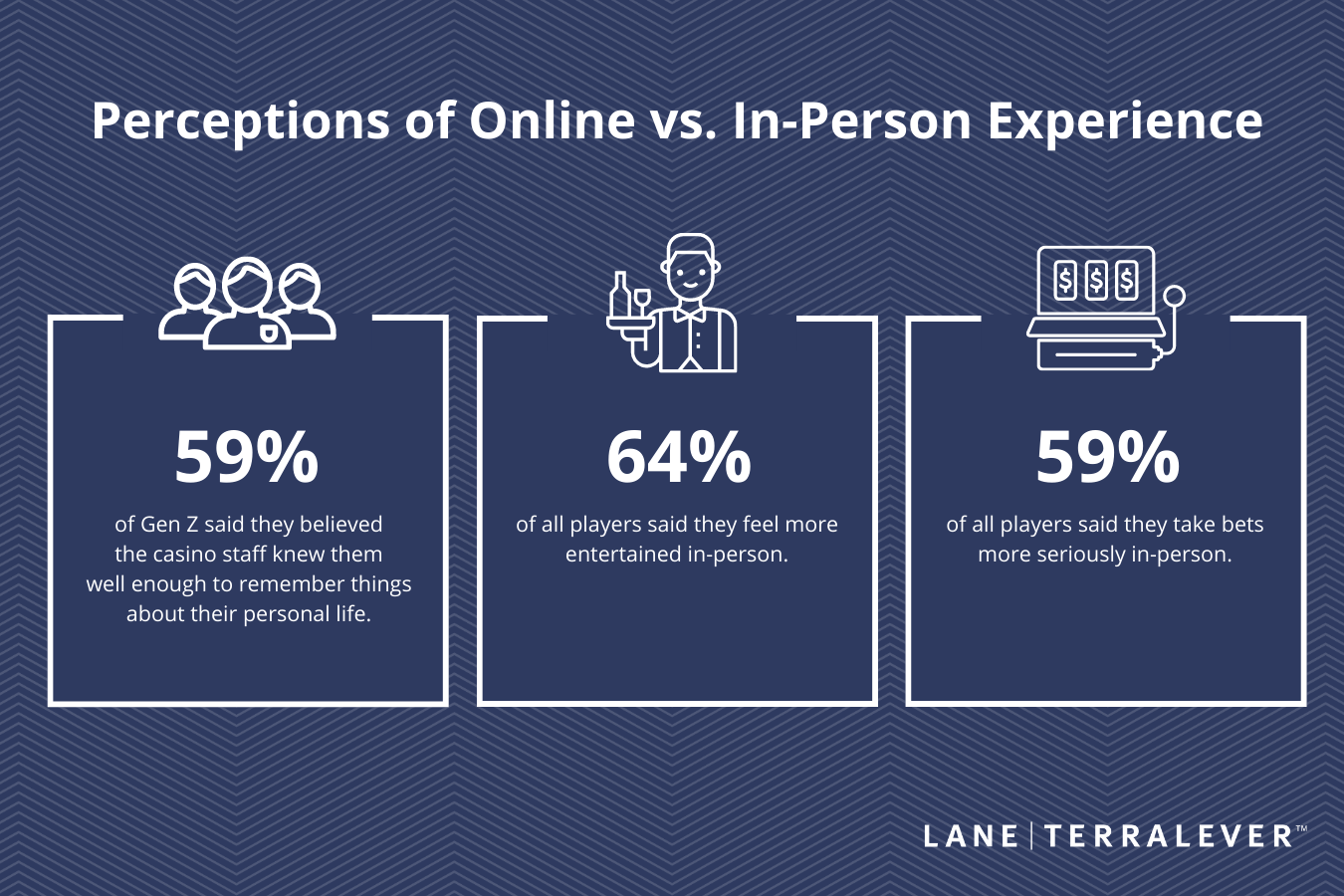 Utilize Technology To Enhance - Not Hinder - The Experience
Technology trends are constantly evolving to improve the gaming experience for both players and casino operators. While some of these changes can seem small, they can significantly impact how players enjoy their time at the casino. Operators who want to stay ahead of the curve should be aware of these latest trends. They must also consider the best way to implement them in their casinos. In fact, casinos must work to find the right balance between too much technology—too much that it takes away from or complicates the experience—and insufficient technology—where the experience is slow or underwhelms.
Our study discovered that 44% of players believe technology has worsened the customer experience at casinos. This brings to light on the fact that players view casino technology as a deterrent in their gaming experience. However, therein lies the opportunity. Casino operators must protect personalized gaming experiences even when the waves of technology are demanding change. The goal should be to allow casino players to craft their own experience, allowing for a customized experience, making it as individualized as each person desires.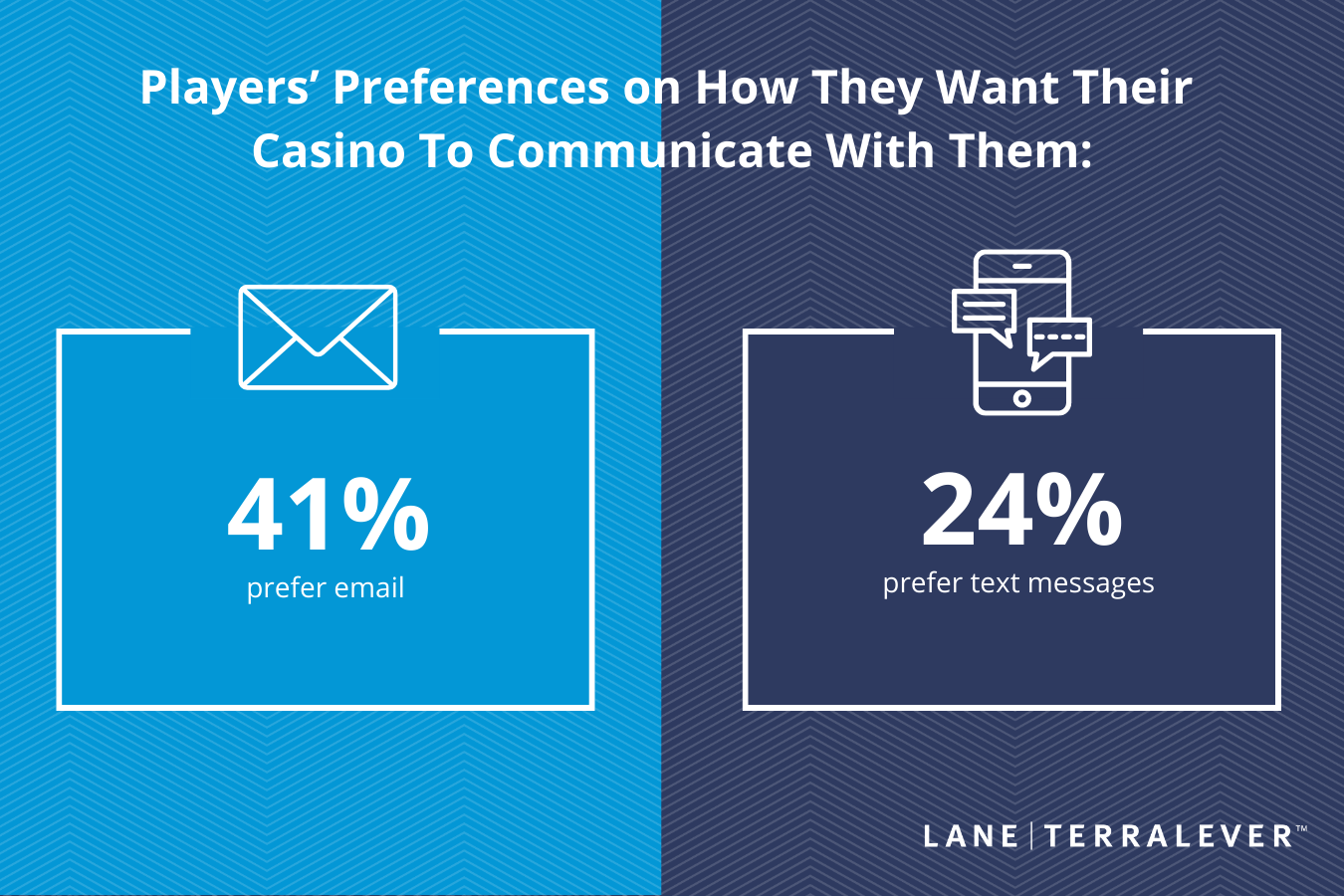 Casinos Are Now a Social Experience–Not Just About Gaming
Over the years, casinos have continued to expand and evolve into so much more than a place to press your luck by pulling levers, pressing buttons, playing cards, and spinning the wheel. Today, casinos have created a full resort experience, perfect for a day escape or a weekend getaway with friends and family. So, what did we find in players' behavior when it came to the destination casino and their local casino? When planning to travel to a destination casino (which we identified as more than one hour's drive or flight from home), 72% of players tend to increase their gambling budget, and 77% spend more time playing. Furthermore, 58% of all players are only planning destination casino travel one-two weeks in advance.
Casino players of today aren't just trying to win big; they're also in search of a social experience, whether it be at their local casino or a destination casino.

Click to Tweet
This discovery helps casino operators understand that players are not just wanting to game but are looking for ways to connect with both their local and destination casinos through loyalty rewards, entertainment, dining, and nightlife.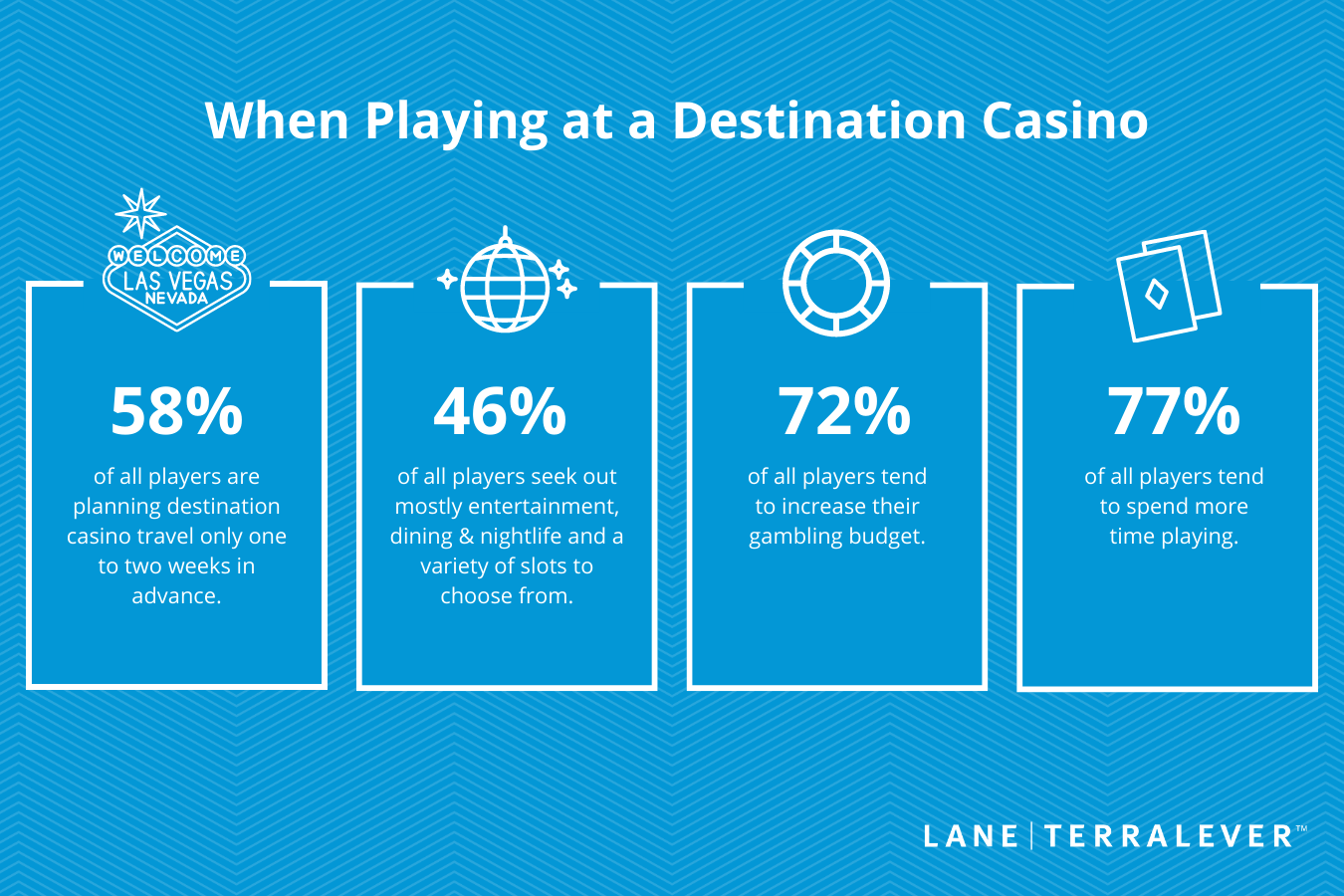 There is Great Opportunity for Casino Operators to Improve the Casino Player's Journey
Operationalizing a well-thought-out customer experience strategy will empower casino operators to maintain strong relationships by providing opportunities to interact with players authentically and, in turn, provides players with the optimal experience they seek. The player experience will always be the cornerstone of the casino industry, and as expectations and preferences continue to evolve, operators must adapt to meet them. Through these different avenues, casino operators can get to know their players, figure out what makes them tick, and explore opportunities to expand their reach beyond the traditional base.
Market to Casino Customers with LaneTerralever
LaneTerralever is a marketing and customer experience agency focused on creating meaningful customer experiences based on deep strategic insights. We've helped tackle challenges like rebranding an entire gaming enterprise, launching new properties, developing seamless digital experiences and increasing the adoption of loyalty programs for everyone from Tribal gaming operators to nationally recognized gaming and entertainment brands across the country. We're proud to have increased visits for partners including Palms Casino Resort, Yaamava' Resort & Casino at San Manuel, Desert Diamond Casinos, The STRAT, MGM Grand, Arizona Lottery and Blue Man Group.
For more detailed insights and marketing opportunities, access the full report here.