Ever wish you could compare your audience data in Google Analytics (GA)? Well, with GA's new audience report, now you can. Before, we would only be able to send these audiences to Adwords and DoubleClick; now we can easily see how these audiences are performing against GA metrics. The difference in functionality between audiences and segments is that the data is unsampled and you're able to target and act on each audience. You're also able to create and view up to 20 different audiences per property versus only being able to view up to four segments.
Why is this important?
You'll be able to make better decisions based on user performance on the website and allocate your marketing budgets towards those audiences. In terms of GA's ABCs (acquisition, behaviors, and conversions) you'll be able to use these reports with your defined audiences to better understand how they are engaging with content, which audiences are converting, which ones are not, and how they navigate the website. Once you collect enough data to understand your audiences, you'll be able to create lookalike audiences and adjust spend depending on performance.
How do you view this on GA?
You won't automatically be able to see data in this report. Follow the steps below to start using this function.
1.Make sure you have Demographics and Interests Reports enabled in the Property settings

2. Go to Admin > Property, select the property where you want to create the audience(s)
3. Go to Property > Audience Definitions > Audiences and Select New Audience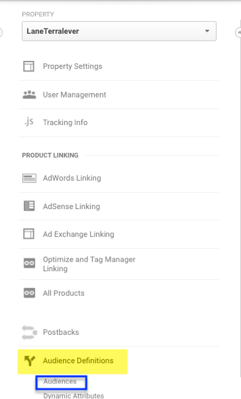 4. Here you can create your audience by importing segment, selecting a predefined audience, or creating a new one. After creating your audience and naming it, you can select your destination. Here you can click multiple destinations, but for the purpose of setting it up on GA, you will click on Analytics
5. Once you've made your selections and given your audience a name, you can save it and you will soon start seeing data in the Audiences report.
What do I do now?
It's easy to set up and start collecting data, but if you need help defining and adjusting your audiences and providing you with decision-based insights, then get in touch with our analysts!