How do you win the attention of your audience and create content they actually care about?
It happens when you take the time to understand and address their thoughts, feelings, and motivations as your own; it happens through empathy.
"Empathy is about entering the conversation that is already going on in a person's heart." – Aaron Orendorff
There are a variety of techniques you can use to develop this kind of empathy for your users. One tool that can help you empathize with your audience and enter this conversation is empathy mapping.
What Is Empathy Mapping?
Empathy mapping is an effective way to tap into the head and heart of your desired audience.
It's a workshop activity that takes your team from simply knowing your audience to understanding and identifying with them. It also creates alignment on user needs, goals, and pain points, and bridges the gap between an audience's personas and the content you create.
Here's how it works: The empathy mapping process allows you and your team to examine your target user's greatest motivations, desires, and hurdles when it comes to your business or product, in turn, allowing you to make meaningful content and design decisions.
When created correctly, empathy maps serve as an excellent, lean user persona.
The process reveals many of the underlying "whys" behind your users' actions, choices, and decisions.
Here's a step-by-step guide to hosting your own empathy mapping session.
How To Create An Empathy Map
Set a time and date. This step might seem obvious, but it's worth mentioning because it's important to be intentional. Determine a date and time for your session. You should plan to set aside an hour for each persona you map.
Do your research. The process of creating an empathy map works best if it's informed by real data, so, if you have time and budget, perform as much upfront user research as you can.
Don't have time for that? You can still map. Empathy maps can be built on the team's anecdotal knowledge of the audience and stakeholder input.
Prep your supplies. You'll need Post-it notes (1 pad for each participant) and pens or sharpies for them to write with. In your empathy mapping session, your team will use these to document their answers to the questions listed below.
Also, make sure to bring any persona-related info or insights about your target audience.
Assemble the team. Your empathy mapping group should include anyone who will create something that will touch this audience (everyone from writers and designers to development).

Also, include any team members who know your customers best. Think sales department, customer service roles, or any other job that involves direct customer interaction.
Book the right space. Make sure you have a space or room booked with either a whiteboard or wall space large enough to place or draw your empathy map. Here's the typical layout of a map: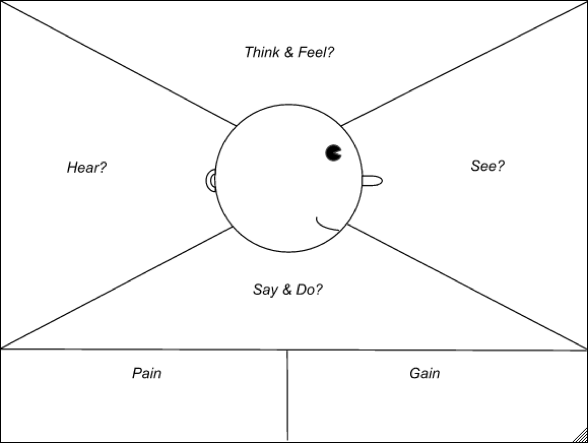 Draw out the four quadrants: See, Think & Feel, Hear, Say & Do, and two columns below the quadrants: Pains and Gains.
Create your map. Kick-off your meeting by introducing the persona or personas you'll be mapping for. This is a time for the team to share any insight or data they know about this audience.
Next, you'll work together as a group to answer empathy map questions. There are a lot of variations of empathy maps, but these are the categories that can be the most helpful to have your team ideate around:
Thinking

- Capture what the user is thinking as it relates to your business or product. Make sure to consider where they are in the journey (Awareness? Consideration? Conversion?) and capture thoughts as quotes, e.g., "I wonder where I can find _____."

Feeling

- Analyze and document the user's emotional state during their journey.

Doing

- What are the user's typical behaviors, whether in general or in response to a specific instigator?

Influences

- What the user has heard from third parties that might influence how they act? This could include friends, family, online reviews, or any other source of info they might turn to.

Pain points

- Any obstacles worth considering that a user might run into along their journey.

Gains

- Identify what the user hopes to accomplish when it comes to their journey with your business or product. What does success look like for this user?
Share your map. Once you complete the exercise, document what you and your team came up with, and make sure anyone working on content, design, or user experience has access to it.
Iterate and improve. An empathy should evolve over time. Iterate and revise as needed based on new data or customer insights. If you identified anything you didn't know about your users in the session, you can perform new research to fill in any gaps.
At LaneTerralever we ensure our content is relevant to the clients and their target market. As a full-service marketing agency, we have to consider the audience every step of the way. Whether it's our content marketing, creative, or UX design, it's always important to think of what the audience actually wants and needs!