As we approach 2014, marketers are looking for key trends that will shape the year to come. Bold predictions are made about the future of technology and we all look for the new, shiny object that will change everything. Interestingly, hundreds of millions of us have spent 2013 with this technology in our pocket, not realizing that it is quietly waiting to redefine the local and mobile commerce experience. Today, it sits dormant on your mobile device, but very soon, it will be pushing you offers and information in real-time based on your location.
What is iBeacon?
About six months ago, Apple held their Worldwide Developers Conference and subtly announced a feature of iOS7, which allows small, low-powered transmitters to send push notifications to an iPhone in real-time. These units use Low Energy Bluetooth (BLE) technology to identify the exact position of a mobile device, and then push a notification to that device through an application. The beacons are currently being sold by a number of companies, including the recently venture-backed Estimote and Kontakt. It currently runs about $100 to purchase three iBeacon units (the number required to triangulate an area). The units are quick to set up, have a battery life of roughly two years and can be managed remotely from a mobile or desktop device. When the beacon units are set up in an area, they will detect the exact location of a device within that area and have the ability to push a message through an existing application like Passbook or a retailer's application. While Apple has been quickest to embrace this technology, it also exists in some Android devices and is expected to be included in the devices moving forward.
But isn't that like near-field communications?
For a number of years, we've expected near-field communications (NFC) to be the standard for using a mobile device in a retail setting. A number of mobile payment solutions using NFC have already been adopted worldwide and the cost of NFC tags is fairly low. However, NFC tags have an optimal range that is measured in inches, whereas iBeacon units can accurately identify and communicate with devices over 150 feet away. In a practical application, including NFC tags on each item in a retail store would require thousands, whereas a handful of iBeacon units could achieve the same result. Add the fact that iBeacon technology is also capable of easily facilitating mobile payments and NFC is essentially rendered obsolete.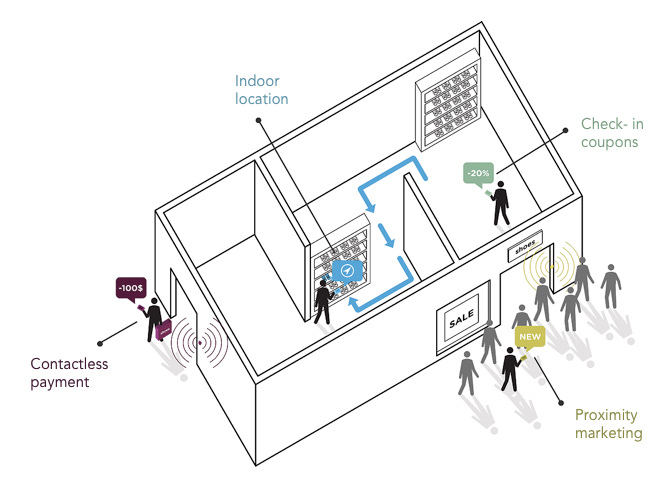 Is anyone using this yet?
While iBeacons have yet to be adopted by the majority of brands, there are already a number of companies getting involved, including Macy's, Starbucks, and American Airlines. The most obvious application is for retail stores, where iBeacons allow stores to help shoppers find products, send real-time offers based on where they spend their time and customize offers based on real-time shopper activity such as exiting the store or entering a dressing room. iBeacons have already been used not only as a push mechanism for offers and product information, but also as a utility to users. Museums and parks have used iBeacons to serve as a resource for patrons to navigate their grounds. Major League Baseball used the technology at their All-Star Game at Citi Field in New York. By using the MLB At-Bat application, attendees were guided to their seats, shown videos when they reached certain areas of the stadium, and even provided discounts when they entered the merchandise shop. On December 6, Apple deployed iBeacons across their retail stores, allowing users to receive information in the stores as they browse products.
What does the future look like?
The beauty of iBeacon technology is that the possibilities are limitless for communicating in real-time with consumers. Every industry, from tourism to retail shopping to travel, has the potential to be dramatically affected by this technology. Future uses of the technology could include the following:
A shopper can enter a store, pick out a product and make a make mobile payment without ever speaking to a store employee.
A shopper looking at a pair of sunglasses for a certain period of time could be prompted to upload a photo through an application to see what they would look like in those glasses.
An attendee at a concert can be guided to their seats, get directions to a restroom, receive offers when they walk past the merchandise table and locate their car in the parking garage when the concert ends.
By integrating with a grocery store loyalty card, a shopper can walk into a store, see their customized shopping list and be guided aisle-by-aisle to purchase those products.
With the technological infrastructure in place and a lot of the largest brands in the world getting behind iBeacons, it is only a matter of time before they are seen everywhere. Marketers have been looking for the tool that can allow them to communicate with their customers in real-time based on their location and actions. iBeacons provide precisely that opportunity and savvy brands will surely reap the benefits.
[Tweet "We've spent 2013 with it in our pocket, not realizing that its quietly waiting to redefine the commerce experience. -@thatguyscott"]