LaneTerralever Appoints Chris Johnson CEO as Beau Lane Moves into Executive Chairman Role
After twenty-five years as CEO at AdAge-honored, independent marketing agency, LaneTerralever, Beau Lane is passing his title to current President and partner, Chris Johnson. Moving forward, Johnson will serve as President and CEO while Lane will continue to guide the company mission as newly appointed Executive Chairman.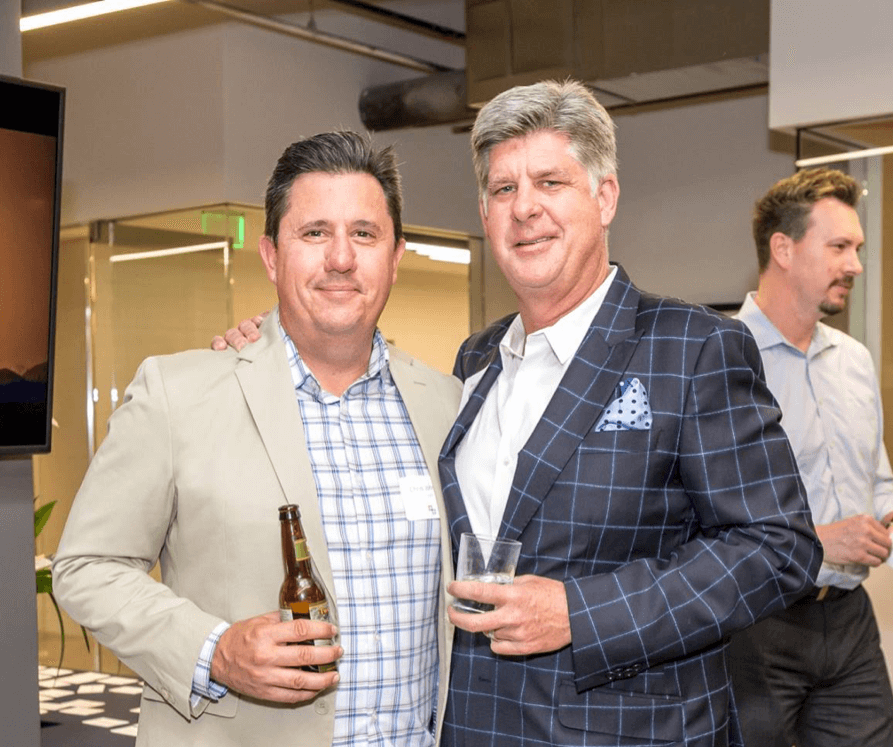 Johnson and Lane toasting to the new LaneTerralever Missouri Falls location
"Chris and I have always operated as true partners, making this a natural evolution of the roles we are each already fulfilling in the business. Chris is a superb operator, visionary and strategic leader, which are ideal skills for the CEO position," shared LaneTerralever Executive Chairman Beau Lane.
Lane and Johnson originally met while their respective companies, Phoenix advertising agency, E.B. Lane, and Tempe digital marketing firm, Terralever, saw an opportunity to create an improved agency model to better serve the needs of the modern marketer. By unifying traditional advertising with digital capabilities, they could create a one-stop shop. From there, a mutual courtship begun with the two forming LaneTerralever in 2013. Today, their combined focus on client satisfaction and marketing innovation has solidified the company as one of the Southwest's largest, award-winning, independent marketing agencies.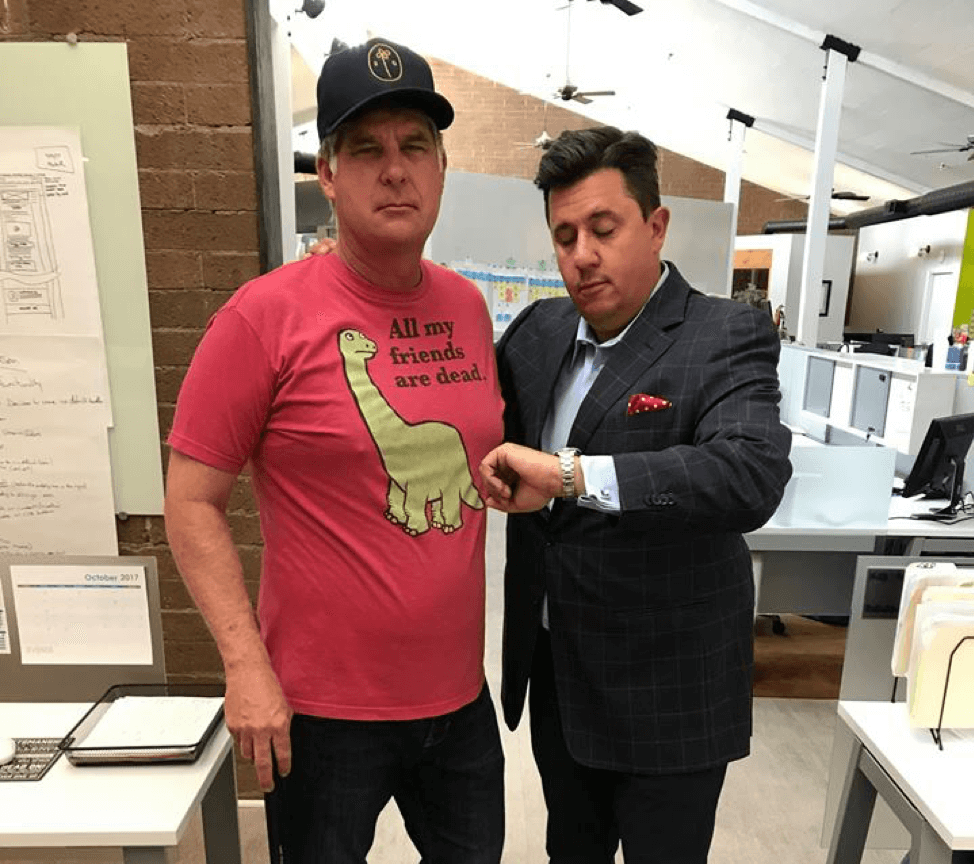 Lane and Johnson swapped places Halloween 2017
Lane comes from a family of marketers, with both his parents founding E.B. Lane & Associates in 1962. Lane officially joined the family agency in the mid '80s after working in the publishing, broadcasting and advertising business in Colorado. In 1994, at 32 years old, he took over as CEO of E.B. Lane after acquiring the agency. In his time, he helped garner national and local recognition for award-winning work and secured numerous high-profile clients such as the Arizona Cardinals, Cox Communications, Paramount Pictures, the Arizona Lottery and Toyota.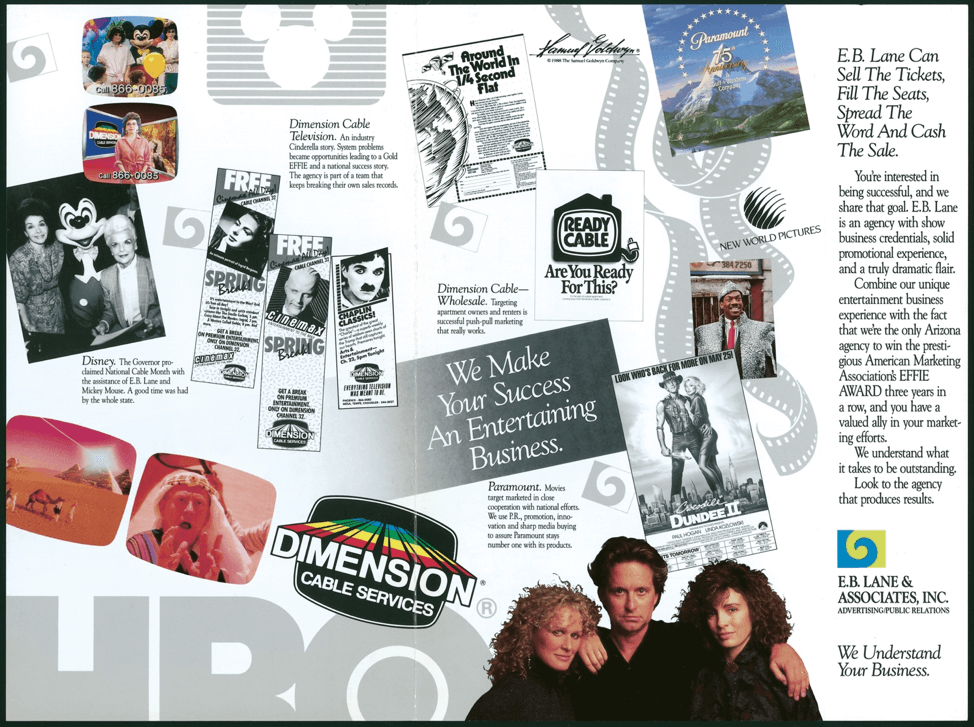 Sample of E.B. Lane work under Beau Lane's time as CEO
Johnson's experience started while working as a general manager of a publicly held professional services organization. In 2002 he recognized a need in the market for highly skilled technology competencies, creative and strategic counsel in one shop. From here Terralever was born – a firm that leveraged both technology and world-class digital design to solve real business problems. Johnson served as CEO and founder, collaborating with digital leaders like Microsoft and Facebook to lead clients like Red Bull and Time Warner Cable to success. In 2013 his team notably received a Bronze Stevie® Award in Media & Entertainment for their website IndyCar.com.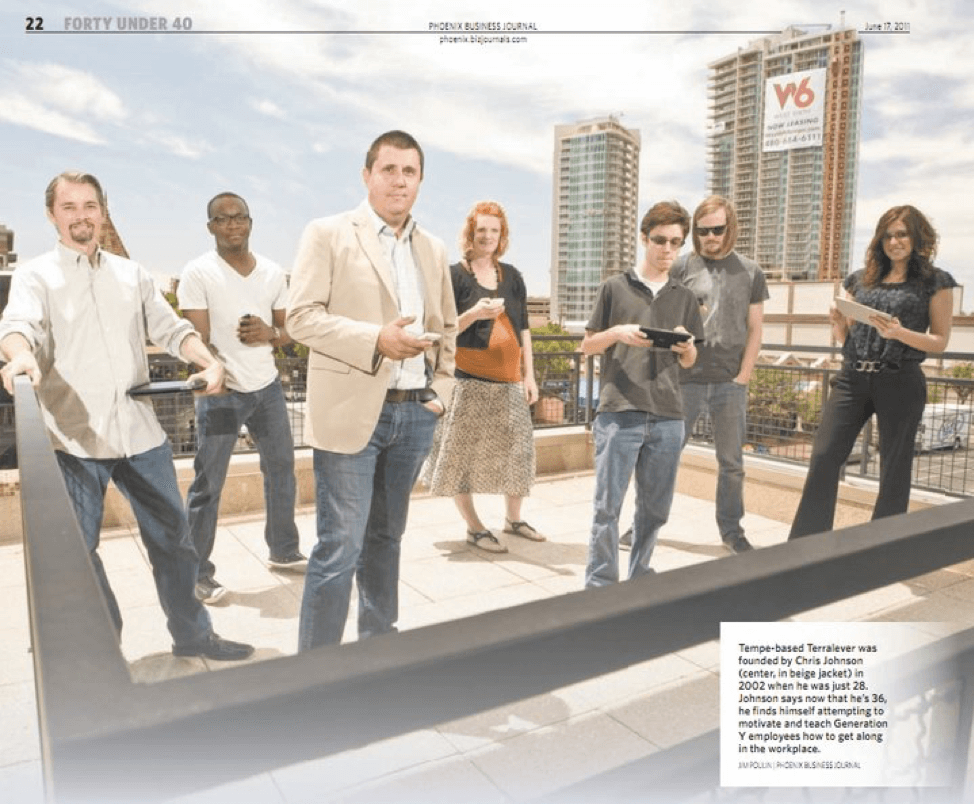 Johnson earned recognition in the Phoenix Business Journal's 40 under 40 for his work with Terralever.
While serving as LaneTerralever's President and CEO, Johnson will continue to grow the business in higher education, casinos and gaming, entertainment and attractions, real estate, multi-unit franchises and realtors, healthcare and additional industry expansion. He will also continue to drive innovation in the Valley by serving on the Arizona Technology Council board and serving as a strategic advisor to the SciTech Foundation.
"I'm excited to continue the evolution of LaneTerralever, leading our amazing collection of talented people into the future of marketing and driving innovative success for our clients," shared Johnson.
Along with serving as LaneTerralever's Executive Chairman, Lane will continue to serve as Vice Chair of the Phoenix Community Alliance, board member of the ASU Cronkite School of Journalism, board member of Grand Canyon University Colangelo School of Business, member of Greater Phoenix Leadership, member of the Marketing and Advertising Global Network, member of The Phoenix Business Journal Leadership of Trust, member of Fighter Country Partnership Foundation and as a member of YPO Gold.
"I'm looking forward to continuing to exercise my strengths in high-level client relationships, business development and community and industry relations. This, along with Chris's strategic insight and competitive expertise, makes for a powerful combination — precisely what we planned for when we merged our firms six years ago."