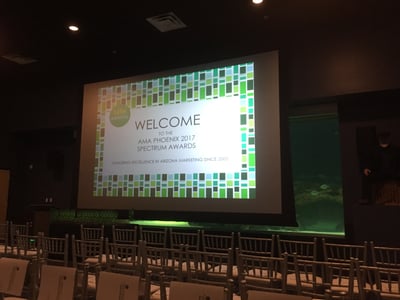 LaneTerralever is proud to announce its recognition at the 2017 AMA Spectrum Awards. Over 200 top marketers in the Phoenix area were in attendance Wednesday, May 10, at OdySea Aquarium in Scottsdale.
The Spectrum Award adds additional recognition to an already momentous year for our agency, including big wins at the 2017 ADDYs. This year, the Cable One team took home a Spectrum Award for its creative approach to broadcast television and a unique play on the popularity of Emojis within its "The Face of Fast" campaign.
The overarching campaign can be viewed here, which also informed a very successful Halloween spot.
"After years of steady growth, Cable One noticed it wasn't reaching or retaining the millennial audience as they moved toward 'cord cutting,'" explained LT Account Manager Steven Miller. "In an effort to speak to this important demographic, the Emoji campaign was launched in the summer of 2016 to position Cable One as the leader when it comes to streaming Internet across multiple devices."
Using more conversational messaging and a clearer focus on product benefits, the series of commercials spoke directly to younger customers, Miller said. The main focus was to highlight Cable One's introductory offer of $35 per month for the first three months of service. Beginning in October, the campaign was expanded to run for three weeks in a spooky Halloween-themed 30-second commercial.

The results speak for themselves: Advertising awareness for the Internet product reached a record high of 89 percent in Cable One markets, besting a mark previously set in Q2 of 2014. Of those who did recall Cable One's advertising, 16 percent noted it as the fastest Internet service provider in their market.
"It's beyond cool to see a clever idea, a dedicated team, and an ambitious client all come together to create a great end product. The Cable One Halloween spot is a perfect example of that phenomenon," Miller said.
LaneTerralever fired on all cylinders to deliver a creative solution with a compelling delivery.
"From a post-production perspective, creating the Halloween animated spot meant we needed great artwork and set pieces [landscapes, props, castles and characters]," said LT Senior Editor/Videographer Eric Tozzi.
"Storyboarding and landscaping the entire journey on paper was critical before we began composing the first shot. It's worth mentioning that in spots previous to this, we stayed on a very two-dimensional plane. With Halloween, we decided early on that we wanted to take the viewer on a journey through this world, which required a multidimensional approach," Tozzi said.
"Using Adobe After Effects, we laid out the world in 3D space, and then used the virtual camera to run, creep and even soar through the world. Custom backlighting effects were added to create mood and depth to the landscape. Layers of fractal noise were used to create clouds and fog. Visual effects elements were also employed [smoke and electricity] to enhance a science laboratory scene and a green ghost that suddenly appears from behind a wall," he explained.
"The planning and execution of this spot was enormously satisfying. With this spot in particular, we were given permission to experiment and run around the playground [metaphorically speaking] in order to try new things and invest in a very fun and unique look," Tozzi said.
LaneTerralever is honored to have been recognized for this prestigious award and looks forward to helping new businesses achieve similar results through its unified and strategic approach.
Thank you to OdySea Aquarium for hosting and for AMA Phoenix for putting on such a memorable night.