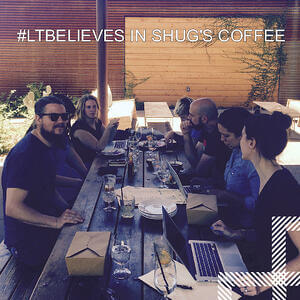 At LaneTerralever, we REALLY love coffee – some might even say we survive on it. But what we love even more than coffee is helping the local community.
This love of all things coffee and great causes is what brought LT's User Experience Architect Todd Bromley to Mercedes Murrietta, the founder of Phoenix-based Shug's Coffee.
Shug's is a startup coffee cart with a goal of making great coffee and helping local music education programs. Using the cart's physical and financial resources, Shug's plans to raise support for local public school performing arts programs.
Great cause, right? But, it was a cause without a brand, and that's where LT came in. Shug's was a blank slate, brand-wise, without a logo, website, marketing strategy, or a team to make all of those necessary things happen.
So, on Saturday, April 29, a few of LT's finest got together for a #LTBelieves create-a-thon to support Shug's, volunteering weekend time to helping to bring this cool company to life.
LT team members consulted with Mercedes and worked through her company's positioning, site map, overall "giving back" offering, and PR plan.
And, it's not over yet. In the coming weeks, more LT team members will be joining the Shug's cause and devoting time to finishing the work we started with creative and retail design, doing what we do best to help our friend, Mercedes.
Be sure to check back for Shug's new website, social channels, and more in the coming weeks!