Enjoying the outdoors is by no means a prerequisite for joining the LaneTerralever family, but it helps. Our team loves to spend their free time (and even some work hours) enjoying what nature has to offer. We range from aspiring weekend warriors to hardcore outdoorsmen and everywhere in between.
Read below as some of our team members discuss their favorite outdoor activities and what the outdoors means to them.
Alli Ligget | Content Strategist
"One of the best feelings is being on top of a mountain, covered in a thin layer of dirt and sweat, savoring the quiet, the view and the sense of accomplishment. The second-best feeling is eating a giant burrito afterward."

P
ete Schaer | VP / Creative Director
"I was 28, overweight and on blood pressure medication. I got a bike to simply be more active. I never imagined that it would become my therapy, my escape, my passion."

Valeria Lopez | Tactical Marketing Analyst
"We started camping as a family when I was in elementary school, and each summer we would go almost every other weekend. Now I camp and adventure outdoors to escape; I like turning off. Even if there's a signal available, I turn everything completely off. Getting outdoors is a detox for me."

Kirsten Kraklio | Content Marketing Specialist
"I moved to Arizona five years ago from Iowa. I've always enjoyed the outdoors, but getting the opportunity to explore the desert is special. Staring at the stoic cactuses, smelling the creosote, and sometimes even finding water along the trails — there's just nothing better. Plus, it's amazing how diverse this state and its trails can be; there's always a new adventure to be found."

Fraser Elliott | Senior VP, Media Director
"I love hiking, camping, and canoeing because of the opportunity to spend the best kind of time with family and friends, reconnecting with nature and overcoming timeless challenges."

Diana Martinez | Copywriter
"Longboarding isn't something I grew up doing. I taught myself about six years ago. So when I fall, I pick myself back up because I know I have to work twice as hard at it. And I think that's why I enjoy it so much, it reminds me that persistence is more valuable than ability."

Gil Rodriguez | VP, Business Solutions
"From the time I was 4 years old, my brother and I would spend countless hours exploring the desert behind our house. In my adult life, outdoor activities take me back to my childhood, when life was much simpler and adventurous. Now, my bike is lighter and my hiking boots are waterproof, but the experience is always the same."

Emily Ferrall | Intern, Content Marketing
"I have always been a competitive person, and when it comes to hiking, it is no exception. There is something so exhilarating about completing a long and difficult hike and being rewarded with an amazing view."

Jennifer Ennesser, VP Account Services
"My body craves fresh air. Getting outside after being in the office all week helps to keep me grounded and clears my mind. I'm always striving for that perfect work/life balance, and exploring the outdoors helps."

Matt Martinez | SEO Specialist
"There's something about outdoor activities that promotes solitude that other pursuits seem unable to offer: something beyond satisfaction, perhaps fulfillment."

Elise Gould | Senior Director, Content Marketing
"Being outdoors, whether hiking, camping or training for an obstacle course race, always helps me gain perspective. When I train, I keep in mind that it's just me and the mountain or the course. Joy is found not only in finishing an activity, but also in doing it."

Nick Dan-Bergman | Business Solutions Manager
"Whenever I travel, I always make a point to go for a hike. In some cases that 'hike' takes me to the top of a hill in a bustling city, other times it might take me to a secluded beach. The idea is to see a location from a perspective that allows you to truly connect with a destination."

Melissa Forbes | VP, Public Relations
"Since moving from Arizona from California, I've been exploring our local outdoors scene – and it is amazing! I horseback ride at South Mountain, visit incredible birds at the Liberty Wildlife Center, hike Camelback Mountain and bike around the amazing downtown that's evolving every day. Even in the hot Phoenix summers, there are amazing options like getting out on a trail at 5 a.m. to catch the sunrise with my dog, or driving an hour or two to Sedona for a cooler outdoor experience. I'm so lucky to live in a place where my outdoorsy inclinations are fulfilled every day."

Tyler Kurbat | Content Marketing Manager
"My dad and grandfather taught me the art of exploring our own backyard. Arizona has everything to offer if you just look around. Nowadays, I'm crossing off bigger trips to Alaska, Yosemite, Paria Canyon and more by way of hiking, biking and backpacking. The inspiration I gather out there always has a way of informing the work we do in here."

Jennifer Campbell | Business Manager, Vendor Relations
"This year, I have made it a goal to go on more adventures. Ultimately, I just want to be outside more in general, whether it's going on random hikes during the week after work, or planning weekend getaways. I just need that to break up the day-to-day routine."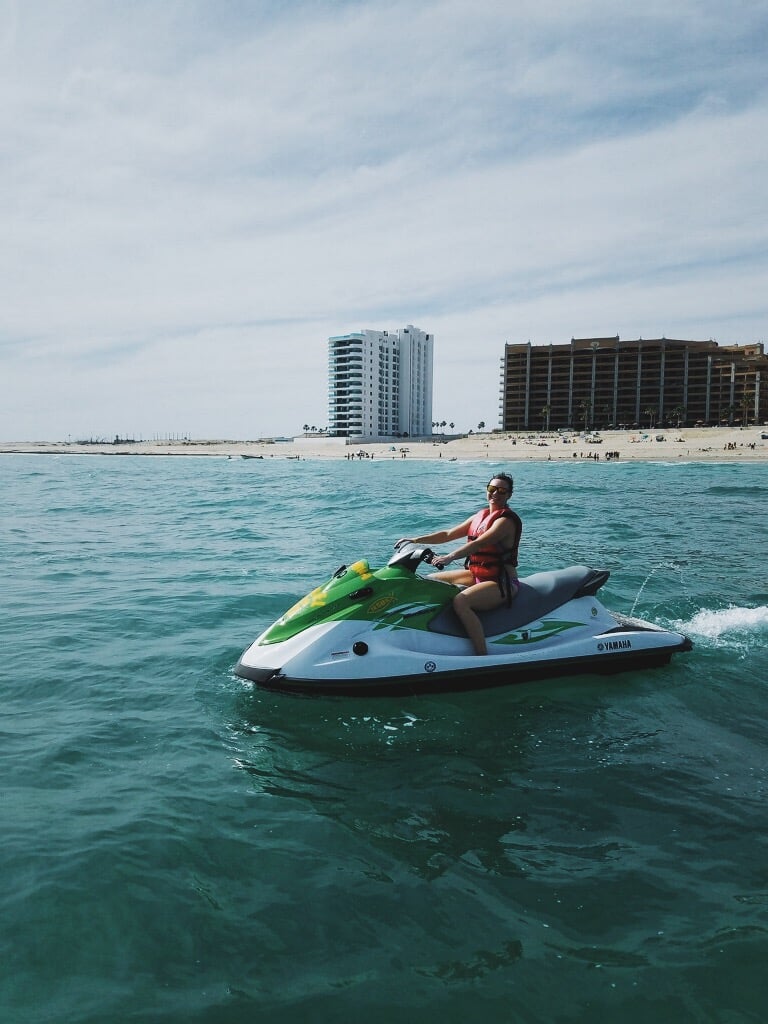 To see how we combine our passion for the outdoors with our marketing skills, head over to our #LTOutdoors site!