American consumers are diverse in terms of age, communication habits, and lifestyle choices. A one-size-fits-all marketing approach is just not going to cut it. Understanding the needs of each generation and effectively communicating to them has become increasingly challenging to marketers. Today we will look at the differences between three key generations: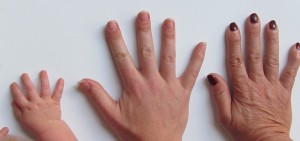 Millennials (1977-1994, or 20-37 years old),
Gen Xers (1965-1976, or 37-49 years old),
Boomers (1946-1964, or 50-68 years old),
We will evaluate their communication habits and preferences. According to a recent survey, consumers across all three generations are prioritizing savings as their main financial goal. Increasing their retirement saving is their second most important goal.
Millennials (ages 20-37)
The Millennial group is an important generation for marketers because of its size, being slightly larger than Baby Boomers. Their economic financial situation continues to be challenging in the rebound of the recession. While the national unemployment rate decreased to 5.9% in September 2014, Millennials still experience a high unemployment rate of 11%. They are in a difficult financial situation, particularly those on the younger end of the generation, with their average annual spending slightly higher than their average annual income. Millennials engage the most with full service marketing efforts, and only less than a quarter followed up on traditional and digital ads they received. Millennials are best recognized for their technology usage and access to multiple mobile platforms. They are also more inclined to build loyal relationships with brands they like, purchase quality products, and engage with brands that they deem socially responsible.
How to reach them
Get digital: It is imperative to place ads in the right places. If great information is there and the target audience doesn't see it, it won't have an impact. Think Pandora, think YouTube, think social media.
Get creative: Millennials don't want to be shouted at by advertisements. They want to engage and they want to laugh. Try an online video campaign hosted through YouTube like this one. Or try challenging Millennials to get involved in campaign efforts. Getting consumers involved will put your brand on the right path toward building a lasting relationship.
Get involved: Millennials will easily see through inauthentic cause marketing. Team up with a cause that you believe in and is related to your brand. Millennials will engage with brands that take on social responsibility.
Gen Xers (ages 38 to 49)
Members of Generation X are finding more balance financially, having earned on average more than they spent. They are certainly in a better position than millennials to set money aside for retirement. While Gen Xers have changed some of their spending habits to live more comfortable lifestyles, they still need assistance to continue to lower their expenses in order to increase their savings since approximately 75% of their annual income covered their expenses in 2013. Generation X places a high priority on family values and fun. Many Gen Xers value independence and rebellion from their Boomer parents. Gen Xers are more in tune with technology then the Boomer generation; however, they are still in the process of fully utilizing the huge technologic adaption that has sprouted in the wake of the Millennials.
How to reach them
Think Facebook: Facebook is the dominant social network for Gen Xers. In fact about 2/3 of the generation are active on the platform. Use geo targeted Facebook advertising.
Think Family: This generation places high value on their family and often thinks of their families before themselves. Cater to the generation by highlighting family values and generating brand awareness campaigns through online video and television.
Think Email: Boomers are still hesitant to email and Millennials tend to view it as a style going out of fashion to texting and instant messaging. For Gen Xers, email is the gold standard for both business and personal communication. They often check their email regularly, so use this to your benefit and reach out with tailored and personal offers.
Boomers (ages 50-68)
From a financial standpoint, the Boomers were able to lower their annual expenditures by approximately 3% compared to 2012. This change can be a result of more Boomers entering retirement, thereby changing their lifestyle. Nonetheless, they could benefit from assistance in managing their spending so they have more money available for saving, particularly for those who are approaching and newly entering retirement. Boomers value community involvement, health and wellness, ownership, and prosperity.
How to reach them
Think Simple: The last thing Boomers want to see themselves as is "old" avoid words like "senior, elderly, and aged." Also, in order to avoid making Boomers feel old keep ads simple, avoid confusing wording and gimmicky fonts. Make products easy to read, and as straight forward as possible.
Think Trust: The digital world of online advertising and social platforms is unsettling to people who did not grow up in the rise of technology. It is essential for marketers to be true to their guarantees and make learning step-by-step easy for Boomers.
Think Them: It is important to remember that Boomers are known as the "me" generation. Using second person ads and actively engage and cater to their needs.
By better understanding their target demographics, marketers can best determine efforts to get their attention and impact purchasing decisions. Make sure you know your audience before you reach out.
We want to hear from you. Have you noticed any campaigns lately that have done a good job of catering to Millennials, Generation X, or Boomers? Share them in the comments!