Let's take a quick stroll down memory lane: The year is 1996. Clinton is in office,
Seinfeld
and
Friends
are must-watches on TV, and everyone is obnoxiously doing
the Macarena
. You may or may not have had a personal computer, but if you did, it was running Windows '95 and weighed as much as a small child. What happened when you wanted to order a pizza? Unless you had the number to the local Pizza Hut memorized (to be called from your home phone, of course), you would fetch the all-knowing local tome that conveniently made its way to your doorstep each month: The Yellow Pages.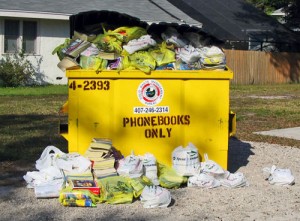 (* Note for those of you born after the late-90's: The Yellow Pages was a large, heavy book of – you guessed it – yellow-colored pages filled with the name, address, and phone number of all the businesses in your locale. While you were growing up, your parents likely used one as a booster seat, or as kindling for the fireplace.)
It was all Yellow…but not Anymore.
It's funny now to think we used to rely so heavily on those unwieldy books as our go-to source of business information. Today we use the Internet to not only find an address or phone number, but also to check business hours of operation, read recent customer reviews, and queue up directions lest we have to actually look at a map. As consumers, we've got it easy now. But what if you're a business owner? Your information used to be easily curated in a singular central location. If it wasn't accurate in the Yellow Pages, you could directly take corrective action and that was that. Nowadays, there are thousands of websites crawling the Internet to populate your information into their directories – entirely without your knowledge or consent. It may seem intimidating, but in reality, only a portion of these are relevant. The easiest way to conceptualize this hierarchy is in tiers:
Tier 1: The Usual Suspect
Google Places, Bing Places, Yahoo Local, FourSquare.
Tier 2: The Reviewers
Yelp, CitySearch, YP.com, Super Pages, Dex Knows, Angie's List, MerchantCircle.
Tier 3: The Rest of the Gang
Manta, MojoPages, Insider Pages, Hot Frog, HubBiz, OpenList, everyone else.
I know what you're thinking: "But Steven, I'm not a search engine specialist. I don't have time to monitor my presence across the Internet, much less the money to hire an intern to do it. I've got a business to run, after all!" Fear not, business owner, because there's a simple approach to follow that should help you easily establish a cohesive, relevant local strategy.
Step 1: Pick the Low-Hanging Fruit.

Regardless of how busy you may be, there's no reason you can't at least focus on the most prominent local directories. All of the directories listed in tier 1 (
Google Places
,
Bing Places
,
Yahoo Local
, and
FourSquare
) have step-by-step portals that guide you toward creating an account to update your information. Each slightly varies in their method of verification, but generally, you will be presented with the option to receive either a phone call or postcard at the number/address listed for your business, in order to confirm what they have on file is in fact accurate. The phone call route is usually ideal due to being near-automatic, while postcards can take as long as 6-8 weeks to arrive. It's important to note
Yelp
follows these same guidelines for claiming a listing, and is only listed in tier 2 due to the strong focus placed on user-generated reviews.
Step 2: Triage Accordingly
So you've established an accurate presence on the most popular of directories. Now what? The next tier of directories, such as
Citysearch
or
SuperPages
, will require a little more effort to claim ownership. They usually require a confirmation conversation with an actual human being either via email or over the phone. In the case of multiple locations under a single name, some directories offer a mass-upload option where all pertinent information is filled into a template spreadsheet and updated at once. Just because these directories may not be top-of-mind doesn't mean they should be ignored. After all, the more listings you have throughout the web with accurate information, the higher the rank you'll end up in search results (generally speaking, of course). When claiming these listings, it's recommended to go above and beyond just verifying the NAP (name, address, & phone number). Fill that page up with as much business information as you can offer, including but not limited to:
Detailed description (including URL & keywords).
Hours of operation.
Business imagery (location, logo, product, etc.).
Products & services offered.
Categories.
Social media links.
Even if you don't want to go through the trouble of building out these listings with rich content, it's in your best interest to at least go through the claiming process. Believe it or not, there are nefarious individuals hi-jacking competitor listings to drive ill-begotten traffic their way. Don't say I didn't tell you the Internet can be a seedy place.
Step 3: Monitor, Monitor, Monitor
Once your online presence is cleaned up, now the real fun begins. Because your listings have now been optimized, you can expect more customers to find you, and in turn, more reviews. This means you'll want to put together a strategy for monitoring and responding to these reviews - especially if they're negative.
This doesn't require sitting on the page all day waiting for feedback. Try to set aside a small amount of time each week, like Friday afternoon, to browse through your listings and see if your customers are reaching out. Some sites make this simple enough with dashboards, while others require a manual approach. However you choose to set up your routine, just make sure to stick to it. There are very few things more off-putting to a potential customer than a neglected review.
Keeping up with local directory information may not be as simple as it once was, but that's the trade-off we have to accept for having the wonderful platform that is the Internet. With a little time and effort, there's no reason your business can't be both accurate and visible to potential customers.