"True personalization of customer experience will stop being reserved for a select few and will need to become an operational principle for any marketer who wants to remain relevant in an increasingly fragmented and regulated environment." – Tamara Gruzberg
Consumers are pushing for a more individualized experience, and the numbers show it. For example, according to a 2012 Mintel study, 26% of consumers (and 40% of 18-24-year-olds) say that "customization" is an important influencing factor in shoe purchases. 72% of alcohol consumers prefer to control the strength of their own drinks. In another Mintel study, 32% of respondents said that smartphone apps help people express their personalities. Consumers want to be recognized as individuals with unique needs that need unique solutions.
Unfortunately, personalization is not a perfect art, and even some of the most respected businesses have seen their share of stumbles. You might have heard about Ellen Degeneres' public smack-down of the "BIC® For Her" line of ballpoint pens designed for women. Even Apple spent its time in the personalization hall of shame with its release of Touch ID technology on the iPhone 5S in the wake of the NSA scandal.
So how do you make personalization work? Let's take a look at some businesses that are doing it right.
Cox is expanding its company toward personalized, on-demand TV services. Contour offers DVR, show recommendations, and tablet integration, which allows you to watch your favorite shows anywhere. Following Netflix's line of thought, Contour also offers up to eight individual profiles so everyone in the family can get personalized recommendations.
Why it works: It keeps track of your personal viewing habits, but it's not creepy about it. We don't see extensive personal data being collected (at least, not on the TV screen). Further, the multiple-profile capability communicates Contour's recognition of individual preferences, even within a single family.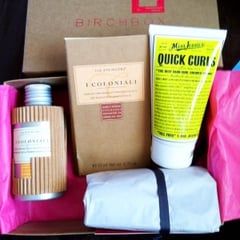 Every month for a $10-20 fee, Birchbox will send a box of sample beauty and hygiene products to your home. The products are suited to your skin type and personal style, determined by an online questionnaire completed at the time of subscription. The full-size versions of the products are available for purchase on the Birchbox website.
Why it works: The business model offers personalization while maintaining an element of surprise. Hyper-personalization can be too much of a commitment, but a one-time questionnaire is practical and makes users feel unique.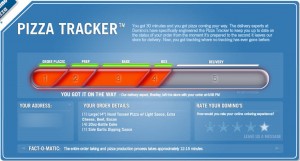 Ordering pizza online is now a highly visual experience. A series of pages helps you build your custom pizza with a wide variety of ingredients. If you choose to have it delivered, the "Domino's Tracker" appears to show every step your pizza undergoes on its way from the kitchen to your door. Users are encouraged to create a "Pizza Profile" for faster transactions.
Why it works: The entire personalization process is extremely interactive. A pizza sits in the middle of the screen that shows each ingredient as you add it. The Domino's Tracker is like a loading bar that results in a pizza at your door. Food is something that consumers don't want left to guesswork, and Domino's keeps the process simple and descriptive.
Warbey Parker has found great success with their home try-on model. After you choose five glasses frames from their site, the company will ship them to you for free to test out for a few days. Warbey Parker then pays for the return shipping, and you purchase your favorite frame with your prescription. Glasses are also given one-for-one to people in need.
Why it works: Choosing a pair of glasses in 20 minutes when you're alone at the clinic is stressful. Bringing the process into the home allows you to get feedback from friends easily and take time in the decision process. Glasses are inherently personalized; Warbey Parker makes the process easier.