Whether you're over-the-moon excited about it, or still skeptical of this leap in technology, I think it's time we talk about virtual reality. I may have been avoiding the topic until now, as I'm still not too sure how I feel about it, either. A prospect with this much possibility is equally thrilling and nerve-wracking. But after the presence and discussion of virtual reality at the CES conference a few weeks ago I think it's time marketers start really considering the technology as a field of major opportunity.
Although virtual reality truly provides endless opportunities for all industries and sectors, it seems that only after the technology is successfully adopted into gaming, will retailers begin to follow closely behind. In this blog post, I've taken a peek at how it will apply to B2C retailers who have the opportunities to interact directly with consumers at the helm of new technology.
While the concept of virtual reality can seem overwhelming, unknown, and, let's be honest, expensive, now is a critical time to work to embrace it. Recognizing virtual reality as a major presence in all online marketing activities within the next few years will put you (slightly) ahead of the curve, and present you with endless opportunities that can't be found in typical online marketing experiences.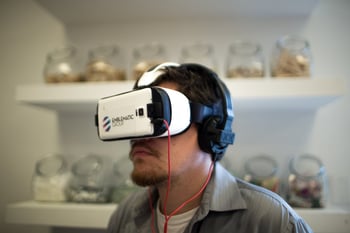 Regardless of what sector of the online industry you're operating in: e-commerce, B2B, B2C, or whatever acronym you identify with, there's a way to integrate this virtual reality in new, creative ways that will have your clients and consumers saying "oooh" and "ahhh!" But while the opportunities in virtual reality seem endless, there are also some limitations, which make me a little nervous. As someone who greatly appreciates face-to-face interaction, I'll make an extra effort to shop in-person for items I know I'll have questions about or want to see the quality of in person. Whether you really need to try on jeans, or you're interested in the quality of a pair of leather shoes, holding those items in your hands and hearing about their benefits from a sales associate can make or break a purchase.
But can we put that sales associate into virtual reality, and make them a cohesive part of the user experience? Can they show up as an avatar within your experience to offer you assistance and answer questions? Or is that just a little too creepy for the shoppers who are just becoming accustomed to virtual reality experiences?
I appreciate that online retailers like Etsy allow consumers to speak directly to vendors who are usually very helpful and eager to show you as much hospitality in their virtual world as they would face-to-face. I believe it's important to integrate the opportunity for some kind of interaction like this into virtual reality.
Finding a balance between creating a reality that speaks for itself, and providing individualized attention may be one of the biggest challenge retailers face, especially in the long-term development of the technology.
Like Cotton Delo from AdAge said in a 2014 article, consumers will need to adopt and become more comfortable with virtual reality before brands will safely invest in it as a profitable asset. Lucky for consumers, having Mark Zuckerberg at the helm of investment in virtual reality might make its accessibility more realistic for the near future.
And while you may be unsure about it, some level of virtual reality can be experienced from a laptop or mobile screen, and this is level is the perfect place to start. As a brand, becoming comfortable with the on-screen reality can help you prepare for the future – days when Oculus Rift, or it's inevitable competitors, are widespread and readily available.