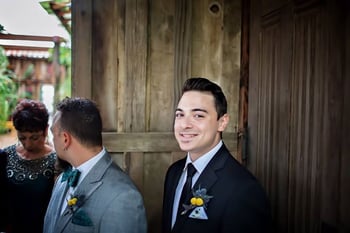 If you ask anyone in the office to describe Jamie Abbruscato, you would hear about his high energy, his vivaciousness, his success as an account manager and so much more! Jamie has worked at advertising agencies since his sophomore year of college starting with internships. After checking out all of the different departments, he started his advertising career in digital media, as a media planner for 3 ½ years.
With some of his media accounts, he served in two roles, both the account manager and media buyer/planner, which is when he discovered his love of account management. Not only does Jamie enjoy being in account management, he is awesome at it. In fact, Jamie started at LaneTerralever as an Account Manager and was quickly promoted to Senior Account Manager and, most recently, Account Supervisor. If you are looking to get into the advertising industry, he suggests being prepared for change because things are constantly changing in advertising.
His favorite part about being on the LT account team is that he gets a wider breadth of what is going on with a client and gets to experience all facets of agency life! His favorite part about LT is the people. He has mad respect for every person who works here.
Jamie grew up in Long Island, New York. At the age of 15, his parents decided to move out to Gilbert, Arizona and he has been an Arizona resident ever since. He is an Arizona State University WP Carey graduate and graduated with a degree in Marketing.
When Jamie isn't at work he is spending time with his wife, Amy and his one-year-old son, Harry. He met his wife, through some theatre friends, while visiting them at the University of Arizona. Jamie also loves vegging out and watching Game of Thrones or talk shows, like The Tonight Show and The Daily Show.
We are lucky to have Jamie on the LaneTerralever team! Be sure to look out for next month's employee spotlight featuring another one of our team members.