After 47 years at our McDowell Road office in one of Phoenix's first historic districts, we've picked up and planted ourselves at a new location in Uptown Phoenix.

Our 25,625-square-foot space is situated on the top floor of the iconic marble-clad building, known as Missouri Falls, on the southwest corner of 7th Street and Missouri Avenue.

In late February, our 85 employees moved into the office space followed by furniture, art, decor and plenty of cosmetic renovations. Our floor was entirely gutted and redesigned as a part of the seven-plus-year lease negotiation.
Stunning views of Camelback Mountain are highlighted throughout the floor plan, which is a large, open-concept layout.
"Our family began purchasing the historic McDowell buildings beginning in 1971, and over the years, assembled a campus. These buildings served as a wonderful home for many decades' worth of award-winning advertising," said Beau Lane, CEO of Lane Terralever. "We found, however, that the eclectic, multi-building layout no longer fit the growing needs of this forward-thinking agency, and we were ready to expand into a new home that could truly reflect our present and future."
The Space
RSG Builders performed the buildout, and SmithGroupJJR led the project's design and space planning, focusing on a mix of open office environments and collaborative spaces, which is a key element of Lane Terralever's model.
With the added space we have more conference rooms, open offices that can be used by employees for making a quick phone call or quiet work time, and think spaces that are casual areas designed for open collaboration.
The decor is a mix of the old office style and new modern touches, using dominant colors of navy and dark yellow. Our LT values decorate the waiting area, and quotes are spread throughout for some workday inspiration.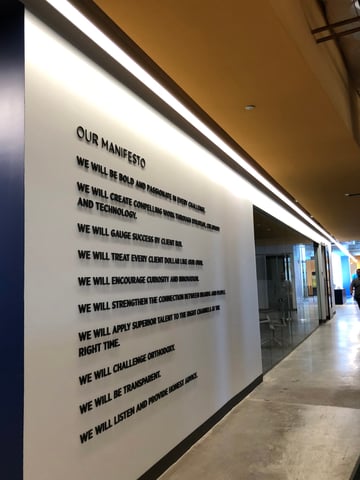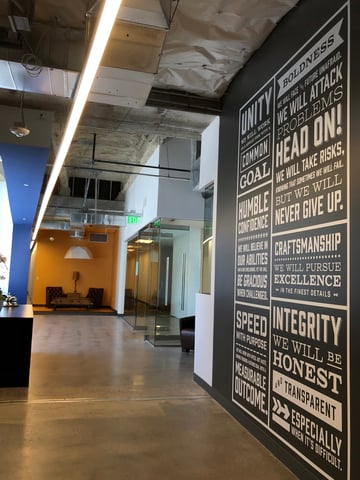 The Neighborhood
The 7th Street area is fantastic for foodies. According to Phoenix New Times, the stretch of 7th Street between Camelback Road and Glendale Avenue has become one of the fastest-growing dining districts in Phoenix in recent years. We are located right in the center of this food oasis. There isn't a shortage of great places to walk to for lunch here.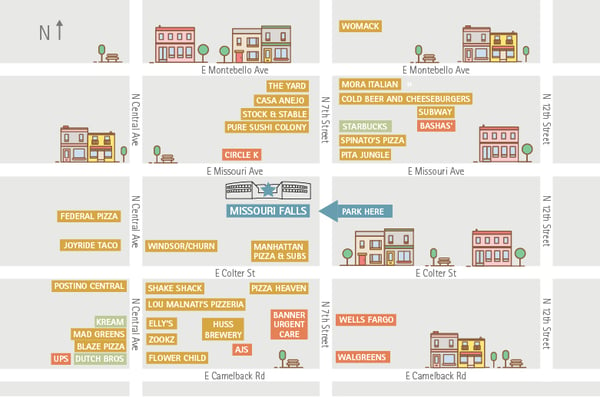 We'd love to have you see the space for yourself. Stop by for a tour or just to say hi! If you haven't already, check out our first trip to Missouri Falls. Watch through the end.