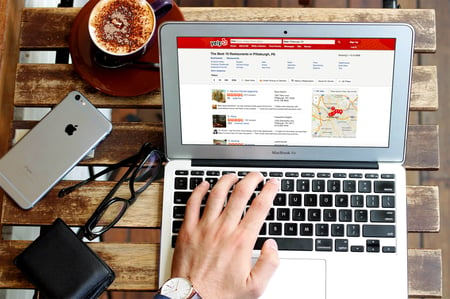 It's a hot and sticky summer day and you're craving ice cream. You remember hearing about a new ice cream parlor that just opened. You're feeling adventurous so you search for its location on your navigation app. Lo and behold, the app not only provides you with the location of this new parlor, but the most recent customer reviews as well. A two out of five stars? Suddenly you're not feeling so adventurous. You decide a pint of Ben & Jerry's from your local Walmart will suffice your craving.
A study by Invesp reveals just how integral reviews are to pre-purchase research, revealing that not only do 90% of consumers read online reviews but 88% of them trust online reviews as much as personal recommendations. Simply put: your reputation is everything.
Online review sites like Yelp and Google Reviews give consumers a powerful, highly visible platform to vocalize their experience with you. And a quick search on Google or a nav app will reveal exactly what people are saying about your brand.
What if your brand doesn't have any reviews? Well, if you're not proactive about building a positive online reputation, you're still at risk for someone else to do it for you.
While negative reviews tarnish a brand's reputation, turning away potential business, positive reviews enhance a brand's reputation, attracting a flood of new business.
Let's explore exactly how to do this.
What Are People Saying About You?
First, we need to know the state of affairs. What have people already said about you? Conduct a Google search for:
Your Name

Company

Brand(s)

Product(s)

High Profile Employees

Handles/Usernames
In a spreadsheet, tally the results by recording how many were negative and how many were positive. If your results were mostly positive -- congrats, you're off to a good start! You'll want to keep reading as we explore some ways to amplify and leverage your ORM efforts. If your results were mostly negative, do not fear, the steps below will help offset this.
How To Build A Positive Online Reputation
1. Claim Your Name
If you don't claim your domain(s) and social properties in time you may run into some potential problems. For instance, building a brand can be challenging when you can't use your handle across social media sites. Another potential problem may be "squatters" who want to take advantage of selling you a branded domain or social property at ridiculous costs. Or worst of all, spiteful customers or vengeful ex-employees may register your name and use that account to post negative remarks about you.
What you can do:
Purchase all relevant domains

This includes hate sites like [yourcompany]sucks.com.

Register your username on major social accounts:

Facebook

MySpace

LinkedIn

Twitter

Naymz
Pro tip: KnowEm allows you to check and register your name, handle, company products, high profile employees, domains, etc. across more than 200 hundred social networks. Their subscription service will even register your name as new social media sites are launched.
2. Set Privacy Settings
As the leader of your organization, what you reveal publicly may directly impact the perception of your brand. This is why you should set your privacy settings on all of your social accounts and choose what you broadcast to the world carefully.
3. Monitor Your Reputation
It's important to keep track of conversations happening around your brand so you can:
identify opportunities to get involved

locate people to engage

handle small customer service issues before they grow out of control
Establish a simple system using a free RSS reader, like Feedly, to track brand mentions. After you create an account, you can subscribe to important feeds directly related to your brand, i.e. Google Alerts, Yahoo Alerts, Twitter Search, Technorati, Yahoo Answers, BoardReader and Social Mention.
Pro tip: More robust tools like ReviewTrackers or DemandForce allow you to easily track mentions across major review platforms and automatically systemize the review collection process.
4. Be Helpful
if there isn't much being said about you, it's time to get involved. You can build both your credibility and positive search engine rankings by positioning yourself as an authority in your industry. Connect with friends and likeminded peer groups on LinkedIn. Answer questions on Quora, Yahoo Answers or industry-related message boards. Organize a group on Meetup.com. Deliver helpful, engaging content on Youtube or a blog. Do what you can to help others and provide value. When you become an authority, your community is more likely to mention you in their own content and even send referrals your way.
5. Do Something About The Feedback
If your initial audit has shown mostly negative feedback you can use this to your advantage as well. A simple solution business owners overlook is simply listening to their customers. What are they complaining most about? You can use this information to make the necessary adjustments and create an experience that your customers will love.
Pro tip: Respond to negative reviews but don't get defensive. Just apologize and offer something helpful. For example, you can invite that customer to try your service again free of charge. If it goes well, that customer may be open to re-adjusting their review.
7. Be Accessible
You can prevent most negative reviews by making sure there is open communication throughout the customer experience. Most problems occur because a customer isn't able to communicate directly with the organization. So they turn to public platforms like review sites or social media in order to vent their frustrations.
Pro tip: You must invest heavily in customer service. Online businesses can use tools like Suggestion Box or Get Satisfaction to offer help as a customer navigates a website. If your business primarily runs offline, you can use a tool like HUMM to receive live feedback about your services before your customer leaves the facility.
By diffusing their concerns onsite, they are less likely to complain offsite, and more motivated to share their positive experience of how you or your team quickly resolved their issue.
8. Leverage Positive Reviews
By implementing the steps above, you will have dramatically changed the customer service aspect of your business, opening a floodgate of positive reviews. It's time to leverage your new asset with the following pro tips:
Testimonials
Display testimonials on your website and it's instant credibility. A behavioral research study conducted by Granify revealed that "social proof" has a greater influence on purchase decisions than "lower prices". Customer loyalty expert, Fred Reichald, reports in "The Ultimate Question" that the average business can double their revenue by simply increasing their overall brand advocacy by 12%.
Ever bought something from Amazon? If you're like most people, you'll take the time to skim the reviews before purchasing. Why? Because these consumers have already risked their time and money, and they're sharing whether or not their resources were well-invested.
You can give customers the ability to add product reviews, or you can add a widget to display testimonials from another review platform, or utilize a tool like TrustPilot systemize the review process.
PPC Campaigns
Pay per click campaigns are a great way to drive highly targeted traffic to your website. Once you have collected enough reviews, you may consider integrating your consumer ratings into a PPC campaign. To qualify, you will need at least 30 reviews with at least a 3.5 out of 5 rating in the past year. Google reports that ads showcasing consumer ratings increase clickthrough rate by an average of 10%.
9. Own The SERPS
The reality is you won't be able to suppress every negative comment. But fortunatley, there are a few SEO strategies you can implement to "own" the first page results in the search engines.
Be Active On The Right Social Profiles
According to Moz.com, only a few social sites offer powerful link authority. These sites are Twitter, LinkedIn, Youtube, Flickr and Facebook. We also recommend Instagram and Vine if those platforms fit your brand strategy.
But the key here is activity. It's not enough to create profiles on big authority sites. You must also be engaging with the community, regularly posting updates and sharing helpful content. If you become passionate answering questions on Quora, or sharing content on a niche community like DeviantArt, those properties could even outrank the big social sites for your branded keywords.
Launch Alternative Blogs
Creating a blog with great content may take time to develop, but it's a great way to attract a lot of natural links and social signals. A domain like [yourbrandname]blog.com is a good start. In addition to this, you can create branded blogs according to specific sub-topics. For example, if you sell Outdoor Apparel, you could launch niche blogs like [yourbrandname]hiking.com or [yourbrandname]camping.com. Once you start publishing helpful content you'll start to see those sites rank for your brand keywords.
Use A Universal Bio
Seek opportunities to contribute your expertise and include a universal, stock bio about your brand. You can accomplish this through press releases or guest posts on related websites. This is a fantastic opportunity to collect links from a variety of sites.
Crank through the strategies in this guide and you'll be in good shape. But if you find yourself facing serious reputation problems, contact us for professional reputation management services. We'll be happy to help.