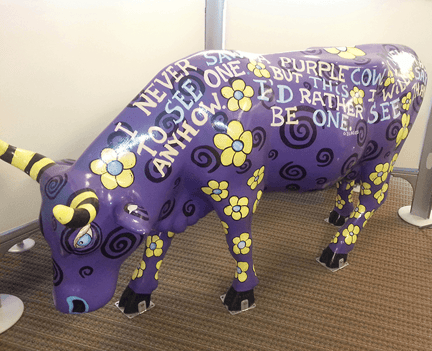 Last month we asked you to name our purple cow. Today, our bright-colored bovine gets her nametag.
Congratulations to Scott Cowley, who submitted the name Lucy Moo! Your books will be mailed to you shortly. Lucy says thanks, too.
The honorable mentions
The selection process was intense. We considered Bessie-Sue-Lucy-Jane-Moo-Clarabelle the Cow, but at the end of the day, a cow really only needs one name. Still, we wanted to show off some of the other creative names that you sent in. Here are a few others that we loved:
Violet Veal - submitted by Michelle
Moo-fasa - submitted by Jessica
Penelope - submitted by Kellie
Marigold - submitted by Nathaniel
Purplexa - submitted by Chase
Thank you everyone who submitted your ideas! If you are in Denver, please feel free to come by and see Lucy Moo in person.
LaneTerralever's Denver Office
999 18th Street, Suite 3210S
Denver, CO 80202