At the close of 2013, Adobe and Econsultancy surveyed over 2,500 marketers and digital professionals regarding digital marketing trends for the coming year. The results point to a continued surge of interest in the digital frontier, as well as plans for exploring new ways to connect through existing channels. In this article, we've pulled together our favorite highlights from the report for your reference.
What do marketers find exciting? Customer service.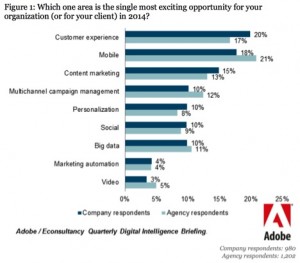 Businesses are placing a heavy emphasis on the customer experience, from website usability to appropriate email messaging to problem resolution. Much of this comes from the recognition that consumer expectations are high, and many brands are not prepared to address them. The customer expects traditional brands to meet the same standards set by elite digital brands such as Amazon and Zappos. Companies that are flexible to the changing market, and especially those that ask customers and clients how they can improve, will rise to the top.
Mobile is the present challenge and the future norm
Once regarded as a channel of unknown value, mobile has rapidly become a standard topic and target in digital marketing.
The ubiquity of smartphones and tablets has sent businesses scrambling to optimize their websites for mobile browsing. 62% of respondents said that 'understanding how mobile users research and buy products' will be very important over the next few years. Other challenges that regularly arise include whether or not to opt for a responsive page over other mobile solutions and understanding when and where customers use different devices.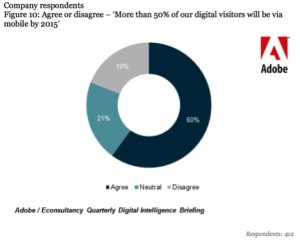 Closely tied to the push for mobile marketing is the uncertainty of how best to engage with millennials. Email is still a central tactic, but its efficiency among its younger users is still up for debate.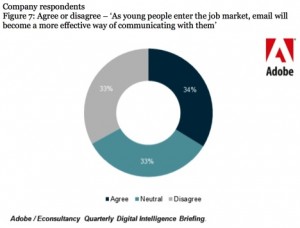 Businesses that want to maintain email as a viable option should invest in technology and design that improves the mobile email experience. Those targeting millennials specifically should diversify their channels, focusing on social media and apps.
Brands want balanced marketing teams
Marketing teams were once all about creativity and the "art of marketing." Today, digital has turned the industry on its head. Businesses now seek individuals with strong technology backgrounds who can analyze data and troubleshoot the digital sales funnel. 27% of respondents say that finding technology-minded marketers for their team is a challenge. Surprisingly, 23% of respondents say their teams lack individuals with storytelling abilities. These dearths will drive executives to focus on building a team of multi-talented individuals.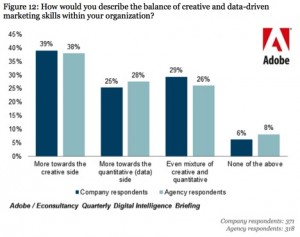 Channel experimentation leads to integration
It's no secret that the efficiency of TV marketing is dropping. Unfortunately, online channels have not proven to be as powerful of tools for building brand awareness and demand. Marketers are responding to these realities by exploring new digital solution. For example, we can see a sense of urgency in developing the capabilities of display advertising. On the other end of the spectrum, content will continue to play a powerful role in the coming years as the effectiveness of push marketing decreases. The "content is king" approach is especially true in the world of B2B, where marketers are focusing on improved targeting and conversion rate optimization (CRO).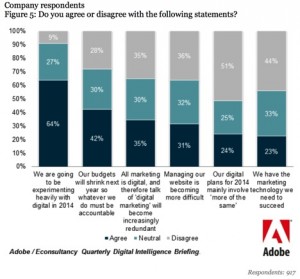 Along with this experimentation comes the question of whether or not digital and traditional avenues should even be strictly differentiated. Digital is now on par with traditional tactics, and distinction is not essential. Marketers should focus on finding the mix that communicates messages effectively and consistently while giving customers the best experience possible.
All information and images from the Econsultancy Quarterly Digital Intelligence Briefing: 2014 Digital Trends, in association with Adobe.