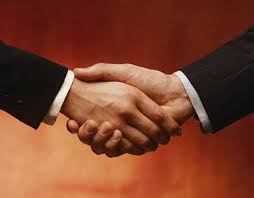 Here at LaneTerralever, we are merger enthusiasts. Combining the expertise of two outstanding agencies to form one all-inclusive powerhouse was definitely the right choice for us. But when is a merger the right choice for your brand or specific product launch?
If you need credibility in a field with which you are otherwise unassociated
When you have a brand that is well known for a certain product or service and a great opportunity arises to venture into the unknown, a merger or co-branded venture could be the perfect solution. A great example of this is displayed in the Barnes & Noble–Samsung decision to combine efforts and create a product that represents the best of both worlds. The two brands will launch a co-branded Nook tablet that combines Nook software and the hardware of Samsung's Galaxy Tab 4. The seven-inch, full-service tablets will also be able to access Barnes & Noble's library of more than three million books, magazines, and newspapers. Barnes & Noble has an exceptional reputation in the book realm, however their credibility when it comes to technology is questionable due to their lack of activity in the field. By pairing up with a well known tech device company like Samsung, they were able to create a powerhouse product that is strong from all angles.
If merging the brand or product provides a better experience for your consumer
Before LaneTerralever was an all-inclusive, full-service marketing agency, Terralever provided exceptional digital marketing strategy, tactics, and content, and E.B Lane focused primarily on public relations and advertising. By combining forces, the two successful agencies were able to provide all of the marketing services that a company could possibly need under one roof. Making services or products easily available in one place can increase consumer satisfaction and better your services.
If you are stepping up to challenge international competition
A merger can help firms deal with the threat of multinationals and compete on an international scale. "If there's someone in the neighborhood"- as in, if there's a company that matches yours in both physical location and ideology and merging amplifies the ability to provide to your consumer and compete within the top bracket of your industry nationwide, it could be the right option for you. Make sure to check both of the cultures of the involved companies before initiating a merger or acquisition. Company culture is the leading cause of merger failures.
Mergers are a sophisticated and complicated process and they aren't the best choice for every company, but they definitely have perks and are the best option in certain cases. This is not to oversimplify the process, the choice to merge is a large one, and every situation is different.