What is Apple's new video editing app all about?
You may have heard chatter about Clips, Apple's new editing app that allows you to create and design video content. It's easy to make direct comparisons between Clip's editing capabilities and those of Instagram and Snapchat. Like the two popular platforms, Clips offers an abundance of filters, stickers and captions to help jazz up your short videos. But take note: Clips itself is not a platform where users can share the content they edit. Instead, think of it as the cooler, less clunky cousin of iMovie for your iOS device.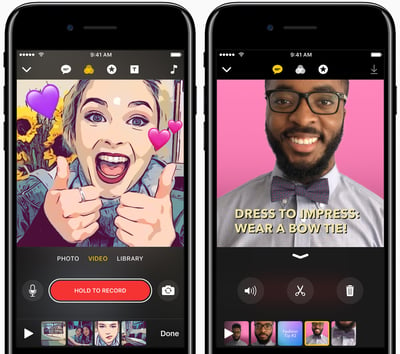 So, what's special about Clips?
Though Clips resembles Snapchat and Instagram, it has a key new feature that's pretty much unrivaled within the social media realm. The app's Live Titles feature allows users to caption their videos with voice dictation. While this sounds quite straightforward, there's growing demand for effective captioning services for social video. If Live Titles makes captioning as easy as having a conversation with your phone, then Clips has untold value for content creators and advertisers.
Why should my brand care about video captioning?
Adding captions to social video is a smart move if you're hoping to increase viewership. Captions allow users to view content in public places without turning on the sound and disrupting the people around them. Facebook performed some internal tests that show captioned video ads increase video view time by an average of 12%.
A move toward captioned videos on social media also means a move away from loud autoplay, which damages viewer sentiment. Facebook found that 80% of viewers who encounter an autoplay ad unexpectedly react negatively to both the advertiser and the social platform. So, in summary: say no to autoplay and yes to captioning when optimizing your video content.
As for Apple Clips, we'll test out the new app and keep you updated on our thoughts!