Recent times have dramatically reshaped the casino industry. Due to the rapid expansion of casinos and the fierce competition for more players, the popularity of casino loyalty programs is steadily growing. If used properly, loyalty programs can become a powerful tool for retaining customers and keeping them coming back repeatedly. Customer loyalty should become one of casino operators' strategic goals to increase brand value and profitability. Nowadays, casino brands face the need to encourage customers to stay, play, and enjoy their time through loyalty programs.
57% of all players are engaging with their loyalty program at least weekly. The majority of Millennials and Gen Xers use their rewards to play more.

Click to Tweet
As a casino marketing agency with years of experience in the industry, we did a deep dive to better understand the nuances of casino loyalty programs and how expectations differ across generations. We surveyed 1,384 players nationwide and, using the insights derived from the survey, gained a better perspective on the motivators and barriers casino players have when it comes to casinos.
The Importance of Loyalty Programs in the Casino Space
The casino industry has a long history of using customer relationship programs to provide a unique experience for its players. Today, loyalty programs must be simple to access, relevant to industry trends, and appealing to a variety of players. Loyalty programs in the casino space are considered a critical component of a successful operation and the success of repeat business often depends on the rewards offered to guests.
In addition, our research shows that casinos are more advanced than other industries in terms of how they use loyalty programs. To remain successful and drive engagement, casinos must understand the players' needs and wants which guides enhancements to their loyalty programs. Our findings showed many key identifiers surrounding players' thoughts on loyalty programs, the customer experience in both an online and in-person setting, and what drives visitation to local or destination casinos. For example, 87% of all players said they were satisfied or very satisfied with their favorite casino loyalty programs. We'll dive into additional standout statistics ahead.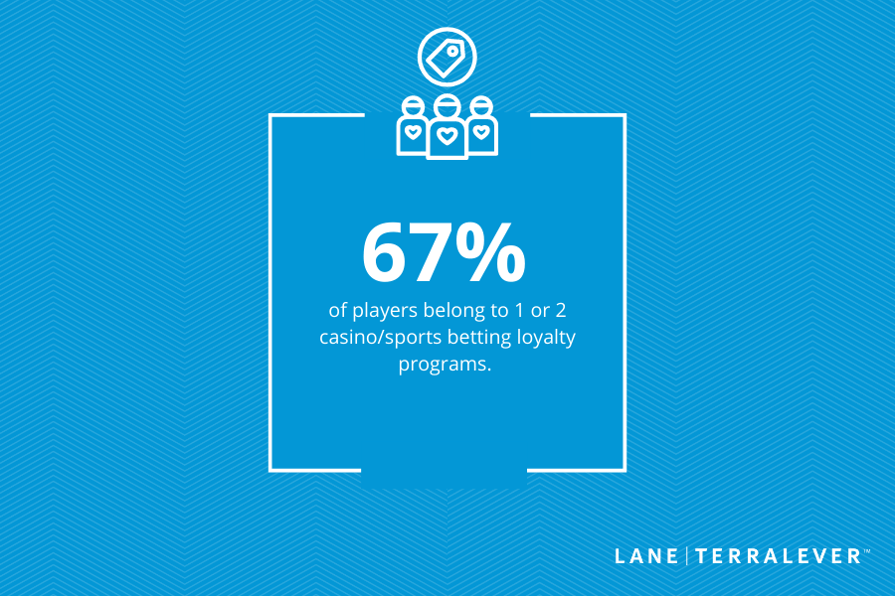 Why Player Behavior Should Drive Structure of Loyalty Programs
When looking at loyalty programs, understanding what your unique players find valuable is key. The success of loyalty programs can attract a new wave of players—perhaps even an untapped demographic that historically had little to no interest in gaming. One of the key objectives of a loyalty program is to gather information about individuals, their behavior, and their preferences. When it comes to building out a rewards program, casino operators must incorporate behavior-driven loyalty decisions. For example, if a player prefers to play slots, offering them free credits can go further than giving them a table games offer. And vice versa. Or, if a player is visiting a destination casino, they might prefer discounted room rates as opposed to free play. A one-size-fits-all approach just won't cut it. The bottom line is that for a program to be an effective marketing tool, a casino operator must truly understand the loyalty drivers of each target demographic and then create differentiated loyalty programs to offer each guest.
To promote player relationships and retention, casino operators must protect personalized, holistic gaming experiences, even when the waves of technology are demanding change.

Click to Tweet
This process of learning customer behavior allows casinos the opportunity to offer increasingly tailored value propositions to distinct customer segments. This steady improvement in these value propositions married with effective product and communication offerings generates a sustainable, competitive advantage to yield the highest long-term profits.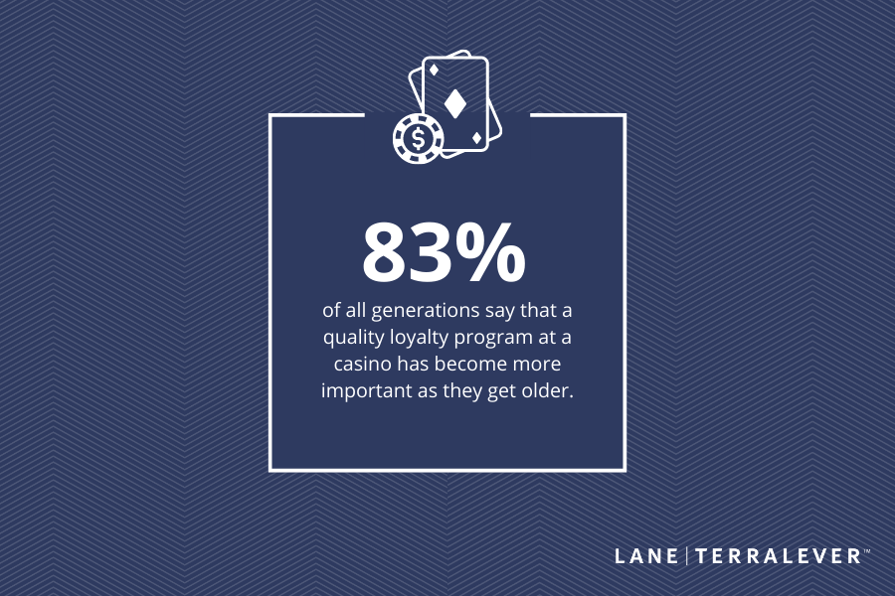 Players' Preferred Loyalty Program
Loyalty programs can deliver a more personalized experience to their members. Regardless of the player's location, everyone wants to feel appreciated for repeatedly choosing the spot they love to play. The best casinos enhance the gaming experience by offering regular bonuses, lucrative promotions, and free play. Whether players want to interact with casino brands through a mobile phone or in person, one thing rings true: a well-rounded, robust loyalty program should be the main driver to entice both.
Our findings showed that out of all the casino loyalty programs available today, the majority of players preferred their local casino. This further suggests that customers seek what they know personally and what is convenient and do not necessarily gravitate toward famous brand names. We also sought out insight into players' favorite non-casino loyalty programs and discovered that their favorite non-casino program was quick service and fast casual dining options with robust loyalty programs. This further suggests that customers seek convenience even in their non-casino rewards programs.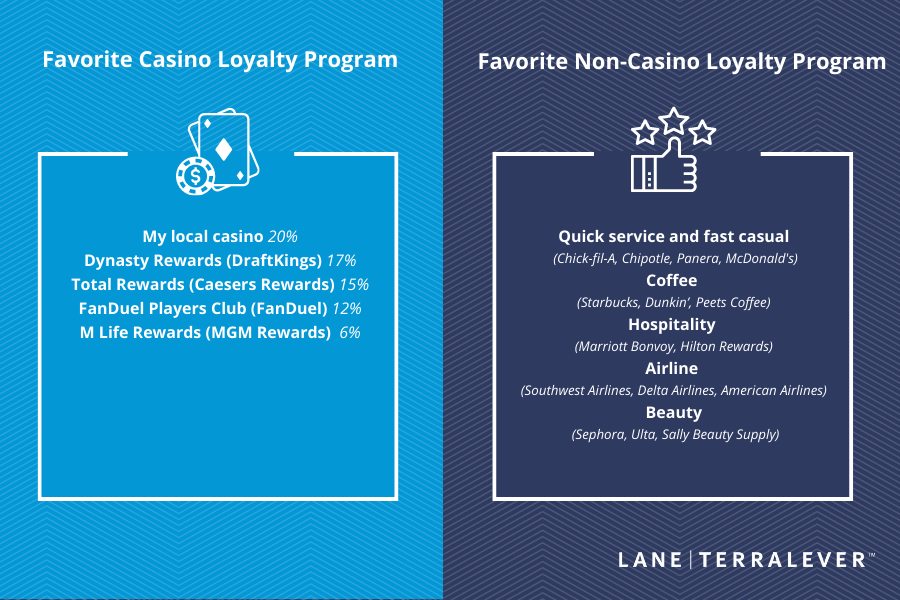 The best loyalty programs keep their sights on the customer—driving real value that speaks to the power of loyal customers and their effect on a brand.
Present and Future Impact of Loyalty Programs
Every casino operator needs to cultivate a base of devoted players to drive long-term, sustainable success. Identifying what currently works in your loyalty program is important, but expanding on those opportunities is key to developing a more comprehensive program. This can turn your players into advocates for your brand and open up new opportunities for guest engagement. Presently, casino operators are using loyalty programs as more than an incentive to generate revenue and are actively seeking more touchpoints with customers through loyalty engagement.
In addition, many casinos see the future of loyalty programs as a pathway to attract new players–especially with the growing market of online sports betting. Online sports betting is changing the way players interact with brands–which is now merging both the in-person and online experiences. Casino loyalty programs act as a bridge to connect the traditional casino experience with the online betting experiences gaining traction today.
While technology has proven to be a definitive way of advancing the guest experience, casino operators must think beyond technology when adjusting their operations.

Click to Tweet
A more holistic, relationship-based rewards program model–both online and in-person–requires casino operators to think differently about their loyalty programs and invest in new technology. These new technologies offer the ability to extract more value from loyalty programs than ever before. Casino brands that desire to reach customers in new ways and create engagement should utilize technology as a key component. Capturing players' attention consistently requires casinos to adapt their strategies and focus on engagement, strong program structures, and emotional ties to build loyalty.
The Value of Customer Loyalty Programs
Any plan for success in the casino industry must evolve with the times. At a time when customers have endless information and options at their fingertips, it is crucial to building relationships and loyalty to stay ahead of the game. Implementing an all-inclusive rewards program is a great option for attracting and retaining customers through waves of disruption. So what does an all-inclusive rewards program look like? For many casinos, whether land-based or online, this can take shape in the form of cashback, bonus rewards, regular promotions, and free plays–depending on the player's preferences. Brands that achieve true customer loyalty will put more emphasis on each of the experiences they create, no matter how small.
Market to Casino Customers with LaneTerralever
LaneTerralever is a marketing and customer experience agency focused on creating meaningful customer experiences based on deep strategic insights. We've helped tackle challenges like rebranding an entire gaming enterprise, launching new properties, developing seamless digital experiences, and increasing the adoption of loyalty programs for everyone from Tribal gaming operators to nationally recognized gaming and entertainment brands across the country. We're proud to have increased visits for partners including Palms Casino Resort, Yammava' Resort & Casino at San Manuel, Desert Diamond Casinos, The STRAT, MGM Grand, Arizona Lottery, and Blue Man Group.
For more detailed insights and marketing opportunities, access the full report here.