For the past two years here on the LT blog, I've had the fortune of writing about almost anything mildly related to the world of marketing. There's been bitcoin and Ello and Missy Elliot, and an ongoing love-hate relationship with the Yellow Pages. But, over the course of it all, there's one thing I've been dying to try. It's the most tired of tropes from amateur bloggers – so consider this a rite of passage of sorts. Without further ado: Welcome to the 3-part SoLoMo Series.
What's SoLoMo, you ask? Cue the infographic!
It may sound like it'd pass for a character in a Key & Peele sketch, but it also signifies the convergence of social, local, and mobile search. As we've advanced these past few years, a domino effect has taken place:
According to Google, May 2015 marks the official date mobile search eclipsed that of its desktop counterpart. So, we're more likely to be out in the world when we're inquiring online.
That's given more weight to local ranking factors - notably the presence of NAP (name, address, & phone number) which came in at #1 in Moz's annual industry survey.
Which leads to the final frontier: Using social ranking factors to filter results by personal relevancy, all thanks to the massive trove of information we've volunteered to platforms like the Great Book of Faces.
Yes, I realize that description is backwards relative to the kitschy phrase. I'm still getting used to marketing amalgams.
During this transformation of how we search, and in turn how results are generated, the usual suspects who provide and profit over the whole ordeal have continued to instigate each other. In turn, an arms race has developed.
The industry leaders have each leveraged their distinctly different strategies while dealing with the same overarching trends. As we move into 2016, we're about to witness a standoff - one that will leave at least one casualty (business, hopefully not human) by the end of the year.
This series of posts will focus on the main players: How they've gotten here, what their biggest risks are, and what needs to break in their favor in order to find success moving forward. In a personal homage to Grantland, I'll be structuring this series like a search-themed 'Bill and Jalen's NBA Preview.'
So, shall we? Up first: Google (err…Alphabet?)
2015 in Review - "What is Google up to?"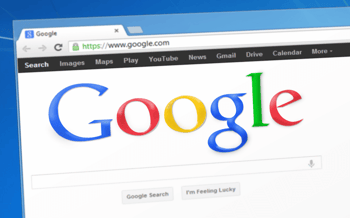 Sometimes I wonder if the entire SEO industry revolves around that question. Hell, it may not even be SEO at this point. Google's influence has grown so far and wide that search is just one piece of the modern-day-business-golem. I think one needs to start with the obscurely named parent company in order to try and understand what 2016 will bring.
Larry Page's opening salvo of the Alphabet announcement last August said it all: "As Sergey and I wrote in the original founders letter 11 years ago, 'Google is not a conventional company. We do not intend to become one." While the business world lauded this disruptive approach that allows for more moonshots, this
wasn't a particularly shocking development.
It's no secret that Google absolutely prints money ($16 billion of free cash flow in 2015) so folding it into a Warren Buffett-esque corporate structure makes sense in the boring financial structuring sense. The cash cow allows for the funding of non-Internet-specific R&D projects, such as product delivery drones or cancer detection wristbands, and allows for the potential of being the world's first trillion-dollar conglomerate. Just think if one of those moonshots (or, in typical English, gambles) pays off.
But, I digress. Alphabet is only halfway there. Let's instead delve into Google's bread and butter, the whole reason they're in a position to be making these moves in the first place. I'm talking about good ol' search. That's what we're here for anyway, right?
Social - You there, Google+?
When your attempt at social networking is "declared dead more times than Sir Paul McCartney," that's not necessarily a good sign.
Google finally admitted defeat on the social front in August 2015, and quietly took Google+ out behind the woodshed. It was a bummer, if only because it reminded us we're all stuck with Facebook.
But, oh wait, never mind, Google came back three months later and had "drastically simplified nearly every aspect of the product."
Sure, Google, glad to hear you figured it all out.
More interesting than the "will they, won't they" dramatics of Google+ is the Local Guides program Google launched last year. It was first identified as an update made to Google Maps in February, but didn't receive any promotional acknowledgement until November. Users are asked, via the Google Maps app, to review, upload photos, and suggest business information updates for local results. After 200 such submittals, the user receives a social media digital badge (lol) and an "annual 'thank you' gift of unknown value" (oooh).
There are a few factors at play here:
Note Google's blatant challenge to Yelp's established Elite
While a decent job has been done of painting this as a warm-and-fuzzy loyalty program, it really all comes back to the verification of local information. Google is essentially side stepping businesses who won't participate and relying on the customers themselves.
It's been rumored for a while that Google is, let's say, more "liberal" with its approach to reviews, and how they may influence rankings.
Local - We swear, NOW we've got it.
It makes sense - updating the almighty algorithm is Google's thing. You never "finish" a search engine.
But trying to trace the history of Google's various forays into local search is like trying to map the flight path of a hummingbird. Just look at the past few years:
One key theme stands out over the course of that timeline: Google wants to know as much as it possibly can about local businesses.
This ties into one of my favorite Google conspiracy theories. Google has scraped the web to amass a mind-numbingly large database of business information. But that's an imperfect approach, due to the inconsistency of its sources. So, it needs more credible sources to confirm what's been collected is accurate. Who better than the businesses themselves?
Seems simple enough. But, the thing about business owners is that, you know, they have a whole business to run and all. Bothering to make sure Google has the right phone number on file probably isn't a priority. But you know what might be? Not having to pay for advertising.
Let's look at this example: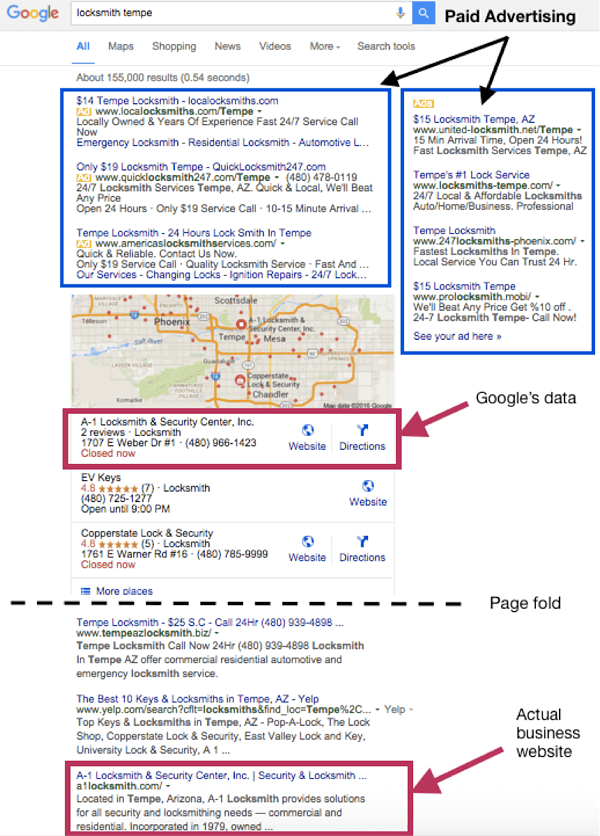 Here's a sample query for locksmith tempe. Let's look at how A-1 Locksmith & Security appears. At the top of the page are paid ads - competitors of A-1 who have explicitly paid Google for prime placement. However, A-1 does register at the top of the "local pack," which is where all that business-verified data Google's collected comes into play.
In search it's common to fear the fold - the further a user has to scroll (or *gasp* navigate to the 2nd page of results), the less likely a business is to capture that user's click. By annexing the entire top portion of the results page, Google has shifted organic results down toward obscurity. How does a business compete?
Simple: Actively participate in verifying Google's information, or pay the premium for ad space. The traditional route of solely optimizing one's site doesn't cut it anymore.
"But Steven," one might ponder, "Why would Google incentivize receiving free location information from businesses AND try to get paid? What good does that free data do?"
Ah – I'm glad you asked! You may have heard about a mapping application that goes by the name of Waze, which Google gobbled up for just over a cool $1 billion back in June 2013. It's a nifty tool that essentially crowd-sources directions.
Fun fact: Apple Maps is now used three times more often than Google Maps. What could be driving that? My untested theory is that as Siri has become more openly used, we're now squawking direction requests at our iPhones and getting kicked over to Apple's app more often than we're bothering to open up Google's. Which conveniently leads us to…
Mobile - Making the AI Leap
In early February, Google made headlines when it announced the mantle of search czar would pass to low-profile executive John Giannandrea - who would also be overseeing the merger of both the search and artificial intelligence teams. This raised eyebrows if only because it signaled a "changing of the guard" at the top, as captured by Re/Code:
"...it reveals the company's thoughts on the future of search, which is moving to places that need smart AI, like voice, and is something Google must innovate upon and control. It is especially critical on smartphones, where users prefer apps over the Web and which Google doesn't dominate the way it does desktops."
That same article finishes the announcement by heralding Giannadrea's respected rapport within the company, which came from involvement on projects such as the Knowledge Graph (ex. Search for "Da Vinci" and "Michelangelo" appears as a related result) and a reliance on machine learning).
While this is critical in the long-term, his immediate task at hand will focus on continuing the pet project established by his predecessor, Amit Singhal: Stymying the threat of in-app searches.
In-app search directs users around using a browser – and therefore presents a new frontier of difficulties for Google. The notoriously independent giant must now rely on Apple and other third-party developers as partners, instead of competitors.
It's a tough pill to swallow, but initial inroads appear to be working. A December 2015 test by the Denver Post of Google Now vs. Apple's Siri and Microsoft's Cortana featured a result where, when prompted to make a reservation at a trendy restaurant, Google interestingly opened the OpenTable app (while neither Siri or Cortana had a response). That's a good sign!
Admittedly, it's far too early to let a small sample size declare a winner - everyone's still testing - but do keep an eye on Google to up the stakes in the coming year. After all, if these folks can figure out how to cheat death, what isn't possible?