Finding the sweet spots to segment a marketing budget effectively is always a process of educated guesses and lots of tweaking. And there is no be-all, end-all answer for where it should go. Markets change and brands try to keep up. That said, there are a number of less-than-effective marketing areas that your department may be watering too heavily and other more important ones that are wilting away. In this article I will highlight three places that you should make sure you are giving attention to when divvying up your marketing budget.
Make new friends but keep the old
Deciding whether to focus more on and invest good money in acquiring new customers or to specialize the experience for the ones that you already have is a decision that is commonly tossed around in the marketing world.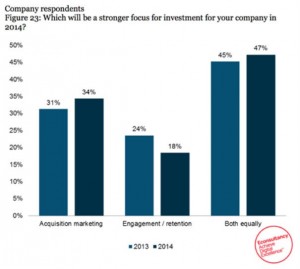 According to a 2013-2014 Econsultancy survey, 34% of marketers said that they would invest more in acquiring new costumers while only 18% said that they would focus on retention. As marketers, reaching out and acquiring new clients is in our blood. But retention is just as necessary – if not more so. At LaneTerralever, we focus some of our efforts on nurturing and deepening the relationships that our clients already have with their loyal and valued customers whenever possible.
In a similar vein, by utilizing your existing referral sources and developing a sustainable referral engine, you diminish the value of those lists. After all, isn't it easier to approach a client or customer that has already heard your good work from a trusted source?
Establish a digital presence with good content
Did you know that potential clients generally go about 60% of the way through the sales process without even speaking to a marketing representative? Having content available online is essential, whether it is a blog, active social media presence, or a hefty base of good reviews on Yelp or Angie's List. Consumers will do their own research before deciding to reach out to your sales department, so make sure the content that they find from you is helpful, appropriately represents your companies standards and practices, and serves value to your potential client.
Tip: Many companies don't realize that when they pay a copywriter to make an ad or piece of content, it can be repurposed later on (depending on copyright agreements) and redispersed through various outlets including social media, the company blog, and even public relations outreach. Have a good article? Don't waste it.
When you work with a fully inclusive agency that manages all of your content production and distribution it makes keeping track of things and uniformity much more simple and effective. If you choose to outsource to various agencies instead, make sure to coordinate and ensure that the messages you send out from each outlet are all portraying the same idea.
Don't forget the dinosaur
Email is not dead. When it comes to digital marketing, it definitely ranks among the top performing channels. It's a direct line of communication between you and your customer; never sever that.
There are pages upon pages about the best practices for email marketing, but the main idea follows the rules of content marketing: Provide valuable content. An update on how your business is growing, for example, isn't nearly as applicable to the customer as is a page of coupons or announcement of new products. If they signed up for your email list (note: signed up. No buying shady email lists!), they will likely enjoy hearing from you – or, at least, tolerate it.
Finding your perfect mix is hard. Luckily, we've been doing it for years. Have you considered an agency? See what we can do.