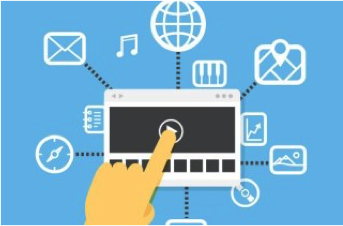 With the rapid rise of technology, I find myself stumbling across videoswith every online interaction, whether it may be on social media platforms, advertisements, company websites, etc. In the past, when consumers thought of online video, they would immediately associate all ideas with YouTube. But today, the incentive of online videos has transformed quite a bit, from originally being mostly an entertainment tool, to now increasing conversion rates by providing consumers with informative content on product how-to's, software demos, and explainer videos.
With constant advancements in technology and a shift toward mobile viewing, online video has begun to grow in popularity. Consumers are enthused to watch, share, or even produce their own video due to the effortless steps it takes. So how does this shift influence us as marketers today? Well looking forward, the future of content marketing will solely be based around the visual medium of online videos by the year of 2019. It would be silly not to use online videos to reach your audience, but marketers also have to be strategic and effective when using them. Here we have summed up seven of eMarketer's The Essentials of Digital Video Advertising best practices for more effective digital video campaigns:
Put User Experience First
Present a pleasing experience to your audience. There is nothing worse than a video that auto plays with sound. Always take into consideration what consumers want, and if you provide that experience, you will get your desired results.
Be Mobile
According to data from comScore Inc., Nielsen and ZenitOptimedia in 2015, for the first time ever, average daily time spent watching digital video on mobile devices in the U.S. surpassed desktop time. By 2017, mobile time will be almost double. It is obvious, from these numbers, that mobile digital ads are of great importance. So make sure those online videos are mobile friendly!
Be Multiscreen
Brands need to consider all potential screens, whether it is mobile, desktop, smart TV, etc. What works on one screen doesn't necessarily work on another. So cover all screens because if you don't, you will miss out on potential opportunity.
Be Multiplatform
Creating videos for multiple platforms is essential, but is definitely harder than it looks. It involves accounting for different screen sizes, specs, length parameters, and not to mention there are always new platforms popping up! Headache aside, effective advertising needs to be across all platforms and that can really be your differentiator. It is worth the trouble!
Native
Marketers need to use each platform to effectively tell the brand's story, while evoking emotion in the audience and doing it quickly. Hook the audience before they even have the opportunity to skip the ad. If you captivate your audience and they begin to share your video, increasing your engagement, then it is a success.
Short and Visual
With time parameters on many of the platforms we share videos through and the little patience consumers have, grabbing the viewer's attention quickly is very important. Tasty videos are a great example of short and very visual videos that have been wildly successful. Make sure to check them out.
Measure and Track
Data is important especially when you put time and effort into a digital campaign. You want to make sure what you are doing is working in your favor. However, there are various benchmarks used to measure success leading to controversial measurements. Regardless of this controversy, marketers and agencies should always fight for videos that have been fully viewed and not settle for half measured benchmarks.
So what are your thoughts on the rise of online video? We would love to hear from you!